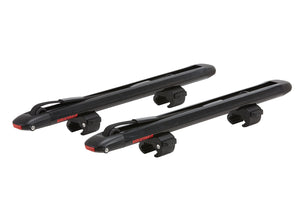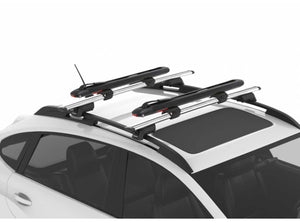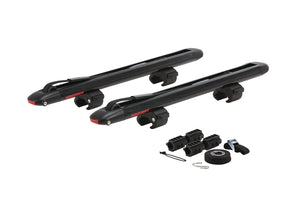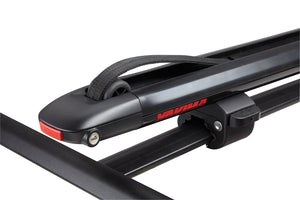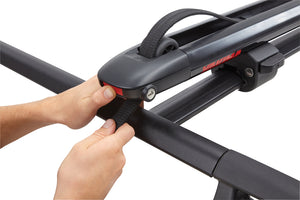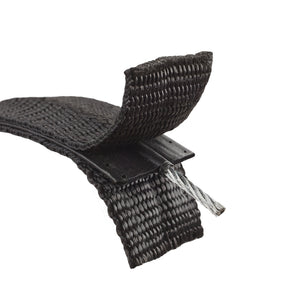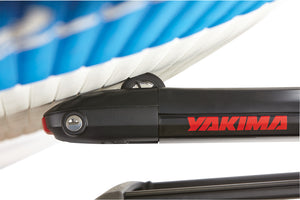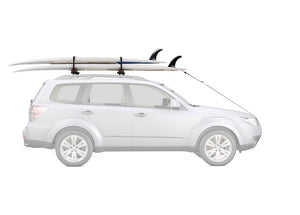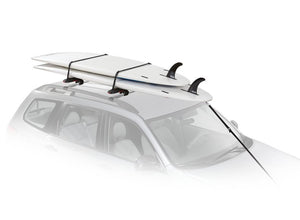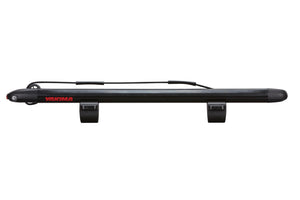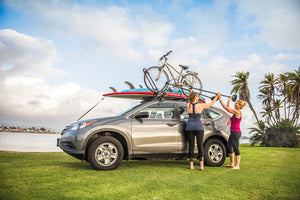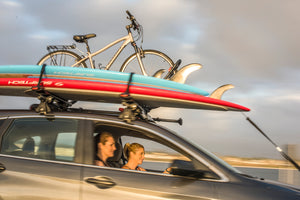 Product Details
Installation
Accessories
Spare Parts
SupDawg
Product Details
Includes everything needed to carry up to 2 SUP boards
Fully assembled out of the box
Tool-free installation
Integrated rollers for easy loading of oversized SUP boards
Fits Yakima round, factory, aero and square bars
Slider adjusts to boards up to 36" wide
Soft padding cradles and protects boards
Integrated strap management stows straps during travel
Premium, sleek glossy black finish compliments modern vehicle types
Bow and Stern Tie-Down included (HoodAnchor

,

sold separately

,

is required for vehicles with no attachment points for Bow and Stern Tie-Downs)
SKS Locks included; locks racks and board
Product Specs
Weight: 14.00 lbs.
Dimensions: L 40.00 in x W 6.00 in x H 6.00 in
Minimum Crossbar Spread 24.00in
Product Features Video
SupDawg
Installation Details
Some Assembly Required
30 Minute Install
Resources / Manuals
Installation Video
Add Accessories to Your Rack
Don't Worry, We Have A Spare
what are these "integrated rollers"?
just received my SUPDOG and put it on top of my Jeep... but I can't figure out what folks are talking about in regards to the "integrated rollers"??? nothing on my rack looks like rollers. help please.
Easy to use and install!
Great product and easy to use and install. Takes me less than 5 minutes to get my board secured. No issues driving on the highway even with 2 boards.
excellent product
Simple to attach to crossbars and easy for my wife to load and secure her 10.6", 31 lbs SUP - solo. Has handled both short hauls and 4 hour road trip perfectly.
LOVE this surfboard rack!
I purchased the SUPDAWG to carry my longboard and my daughter's fun board when we hit the waves on the weekend. It carries both boards safely and is SO easy to use. I have tried just the pads with straps, but was always a little skeptical and would constantly look in the rear view waiting to see a couple of surfboards fly down the highway, but since I bought this there are no worries at all, even at 70 MPH on the freeway, the boards are steady. Definitely recommend purchasing this carrier if you're an avid surfer or paddler! Nice job Yakima!
All about the rollers!
Owned and used our Supdawg with 11' and 12'6" displacement hulls for two full years now and am beyond pleased with its functionality and streamlined build. We've taken this board on short, fifteen minute road trips to road trips running 75 mph on the highway for 8.5 hours. Zero issues and our boards adhered to the Supdawg. What we love the most: 1) Integrated roller system is super handy after an extended paddle session. Pop a 3.5 inch edge onto the rollers and viola, you have roller assisted lift; 2) lockable security cable straps are piece of mind for your quiver when grabbing some grinds or drinks after a session. Handy tip: be sure to tuck the ends of the straps underneath your board before pulling the security cable strap through and into place. It helps keep your boards still. If you have questions on how to most effectively mount your board, stop by your local outdoor retailer and speak to a paddle sports expert to talk you through it. Pair it with a set of Topgrip paddle holders (for those local sessions) and a SlimShady and you have the ultimate setup for a day out on the water and post-sesh chill. Bravo on this Supdawg, Yakima, we'll have ours for years to come!
Would Buy Them Again!
This carrier has been incredibly useful and easy-to-use. Delivering paddle boards to customers safely and easily has been awesome, as well as feeling confident enough to take overnight trips and leaving my board strapped to the roof without having to hide it away inconveniently indoors is incredible. Added rollers are hype, as well as the tie downs for the hook on the front of the vehicle to go on the board. That strap has rubber that goes over your hood/grille so it won't scratch the paint! Being able to have them on the edge of my rack crossbars too has been beneficial; it adds more room for other gear, and does not have really any added noise while driving if the straps are fully tightened down while unloaded. I want to get two more for more friends to go paddling!
SUPDAWG is da Best
My new SUPDAWG board holders are da kine! I have an older set of Thule Board Caddys on my Van. The new SUPDAWG is way mor betta and much easier to use. I travel my SUP boards with total confidence. The Thules have a tendency to fall apart losing parts and pieces. The Thules also stripped out the tightners causing the racks to get loose on the bar. Thule did replace the tightner. The Yakima is built solid and I have not experienced any issues at all. The Yakima SUPDAWG is the best choice for a locking SUP board carrier.