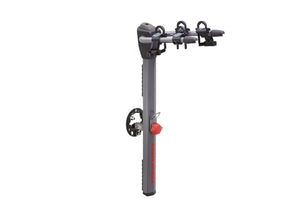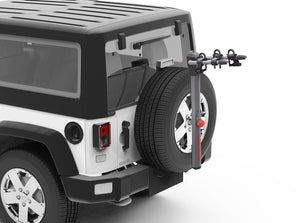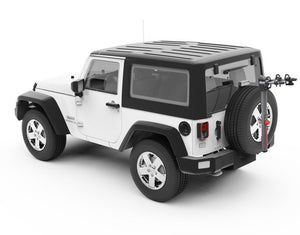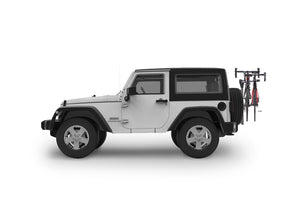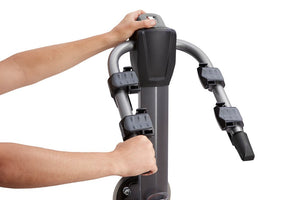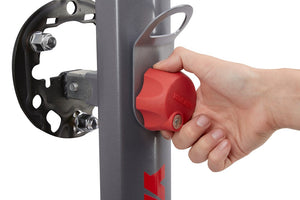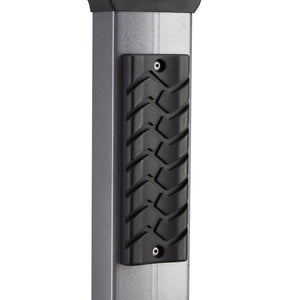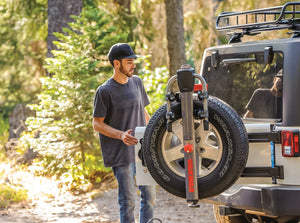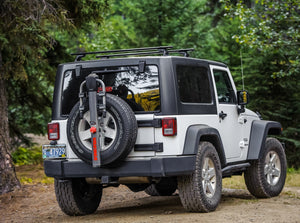 Product Details
Installation
Accessories
Spare Parts
SpareRide
Product Details
SuperCush ZipStrip™ cradles secure the bikes and make loading and unloading a breeze
ZipStrips™ secure bikes to the rack and are fully removable
Anti-sway cradle design minimizes bike-to-bike contact
Fits nearly any stock size spare
SKS locking package secures bikes to rack to help prevent theft
TireTread™ pads add stability and protection
Steel construction is strong and durable
Universal mounting plate with extension fits most lug patterns
Locking knob secures rack and sparetire to vehicle
Yakima signature bottle opener lets you enjoy a post-ride cold one
2-bike capacity
Product Specs
Weight: 21.50 lbs.
Dimensions: L 40.00 in x W 13.00 in x H 19.00 in
Product Features Video
SpareRide
Installation Details
No Assembly Required
10 Minute Install
Resources / Manuals
Installation Video
Add Accessories to Your Rack
Don't Worry, We Have A Spare
Surprising benefits....
I've had this bike rack for a few years on my 2003 Jeep Liberty and it's always worked great, but that's not why I'm leaving a review. The other day, I was rear-ended pretty hard at a red light by a pickup truck. It ended up being a hit and run, but it was okay because this bike rack (and the spare tire, to an extent) protected the rest of my car from potentially heavy damage. The only thing that broke was the red locking knob on the bike rack, while my car and the rest of the rack were left completely intact. The collision didn't even dent the bar, it just kind of scuffed it. I got a look at the guy who hit me and the front of his pickup was caved inwards in a vertical line that perfectly matched the vertical bar of the rack. I'm going to order a new locking knob for $20 and be thankful I had this rack on my car!
Love My SpareRide
I had to replace my Yakima SpareRide that was on my Jeep Liberty for 12 years because the knob screw lifting and lowering the arms was stripped. I love the improvements and upgrades to this wonderful, easy to install and simple to use bike rack. My husband purchased another brand to replace my old one , but after struggling with the complicated set up, straps, etc. we returned it and hunted for another Yakima SpareRIde. I love the new handle that lifts and lowers the arms (so quick and easy), and the very easy-to-use clips that hold my bikes in place. The rack and bikes sit higher than the old model, so a little less visibility out my back window, but I like that there is more clearance for the bikes. I can still operate my back window and tail gate, and it sits nicely tucked into the spare tire when the bikes aren't being transported. Great product with great improvements.
Question ?
Is this going to fit a 2 door Jeep wrangler with a backup camera?
When are you going to re-engineer this awesome product to fit the 2020 Jeep Wrangler Unlimited JL Hard Top w/Power Soft Top!?!?!?!
Great rack with one flaw
This rack is perfect for what it does. I have it mounted to a Toyota Tacoma with a swing out tire carrier. It works perfectly at first but after driv8ng a bit it gets wobbly. I've come to find that the bolt that holds on the stem comes loose. Yakima should either provide a locking washer or make the bolt long enough to go through and give a lock nut.
Perfect for a Wrangler
My experience with Yakima dates back to 1986 when I bought my first rack for my MTB. Time often has a way of destroying a brand's reputation, but not with my latest Yakima purchase - the Spareride rack. The rack is well made of quality materials and was very easy to install on the rear tire carrier. The most work came from pulling the tire off and re-installing it. The rack assembled easily and no grinding, fitting, or hammers were needed to "nudge" it into place. The only thing that did not fit was the short end of the supplied 8mm hex wrench - it was oversized and not completely hexagonal. The long end did fit, but it didn't provide enough torque to tighten the screw down onto the mounting plate. I used my own 8mm wrench to finish off that step of assembly. Yakima - please check with your wrench supplier and have them improve their QC. It took roughly 45 minutes to read and re-read the instructions, ensure all parts were there, get my 8mm hex wrench/torque wrench and socket, and then assemble it. All in all, a great product, a simple install, and I remain a loyal Yakima customer [since the 1980s].
Excellent Bike Rack!
Purchased the bike rack to put on a Jeep Wrangler. The fit is exceptional and the design is really nice. Priced a little higher than others but well worth the cost! Nice job. Love the way it locks in place. Also, has a great look on Jeeps. Very nice job done!
Almost a nice design
I like the general design and quality of this rack, however I have a few problems...one, I struggle to get two mountain bikes on this rack, the mounts are too close together with no adjustment capability. It would not hurt the design for the arms to be longer, in fact you could make it accommodate 3 bikes with little change to the design. The other problem is the tie downs, sometimes they are difficult to use because of tight quarters and they are loose rather than attached to the rack which in some ways is a good thing, but not a convenience.
BIKE RACK
VERY EASY TO MOUNT HIDES WELL ON BACK OF MY JEEP. THE COLORS MATCH WELL WITH MY GREY JEEP. TAILGATE DOOR OPEN EASY WITH A BIKE ON IT.
Awesome and easy to install but Plate doesn't fit our Jeep
The rack is awesome, you can install it very easy but the plate behind the spare tire Did not fit our 2010 Jeep Wrangler , we thought it would work because the picture of the box has a jeep, fortunately my husband is a fabricator and we could built one plate that fits and it works awesome.