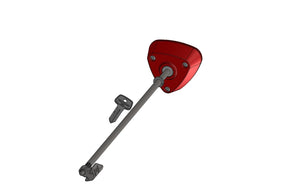 Product Details
Installation
Accessories
Spare Parts
SPEEDKNOB & WEDGE ASSEMBLY
Installation Video
Add Accessories to Your Rack
Don't Worry, We Have A Spare
Weakest Point of a good rack
I've been a Yakima and Thule client for years. Yakima racks fell behind on new cars, (slow to innovate to new rooflines etc.), so Thule took over the share of our business. That changed however when reviewing the swing away racks. Yakima was clearly the favorite using a 2" hitch support system rather over the 1" utilized by Thule. We used the rack from the minute it arrived, however we watched with increased skepticism as the speed knob started to strip away from the nut and the rack would "loosen" regardless of how we went about tensioning the assembly. As time went on (less than a year), we went down a steep driveway causing the assembly to crack. That was the beginning of the end of this product. With the product being out of stock, (seriously Yakima, find a buyer with a pair and order quantity since this clearly is a product that is defective), we had to work around this. So, we tightened it as far as we could, and used a chain around the hitch to keep it in place. It worked magnificently. The swing out rack is good, the speed knob and wedge assembly isn't.
Broken
Not working properly. When I try to tighten, the little piece is loose, so it twists but there is nothing holding it in place. I am trying to order a new one but looks like it won't be in stock any time soon. Really disappointing!
Weak point
This part is the lowest portion on the bike rack and the most susceptible to being broken off. The handle easily snapped off at a weld point and now the bike rack can not be installed. This replacement part has been unavailable for purchase for months. I do not recommend bike racks with this part to others, purely because of this issue.
Poorly made
The Speed knob and wedge is poorly made. The threads have stripped and I can't order a replacement and no dealers nea me have it in stock. I am marooned!