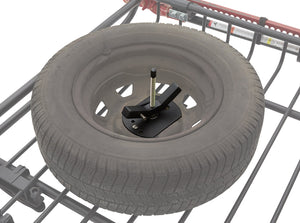 Product Details
Installation
Accessories
Spare Parts
Spare Tire Carrier
Product Details
Mount your spare tire on your LoadWarrior, MegaWarrior or OffGrid basket and free up room inside your vehicle for more toys
Keeps tire accessible and out of the way
Quick release for easy installation and removal
Carries spares up to 35"
Product Specs
Weight: 11.02 lbs.
Dimensions: L 5.00 in x W 0.79 in x H 12.00 in
Product Features Video
Spare Tire Carrier
Installation Video
Add Accessories to Your Rack
Don't Worry, We Have A Spare
Works OK, There is a Risk
We added this to a MegaWarrior rack on our Subaru Outback so we can carry a full size spare without using up interior cargo space. Overall impression: meh. It is solid and secure, but I have a few problems with the system. This is a really simple accessory (base plate, top plate, threaded rod, giant wing nut), and is terribly overpriced at $99. On mine, the threads are *very* tight and difficult to screw down, which is tough since it's roof mounted and your angle of attack is already awkward. From a design point of view, the long threaded rod is a risk. If rod is bent or threads get damaged, good luck getting your tire off. I think a cam or other non-threaded design would have been safer.
Run flat tires, still wanted a spare!
For a guy that does go off road, I went and bought a Mercedes GL350 to get better fuel mileage than my old Tahoe only to find out there was no spare tire; had run flat tires on it! To get peace of mind when heading in on those long dirt roads for some canyoneering or whatever, I decided to get a load warrior and spare tire carrier. Both were fairly easy and straight forward to install. The spare tire is big, so I like the ruggedness of the cargo basket and spare carrier and that the tire is secure up there when occasionally bouncing around on those dirt roads. I like how easy it is to put the basket with spare carrier on and off my vehicle quickly. I had purchased several Yakima products over the years, so I expected a good solution and this latest one was as expected.
Frees up interior space
We use the spare tire carrier with our MegaWarrior basket. While we only use this product while camping or off road touring, it frees up space on the rear of our 2003 Excursion which is where the spare tire is normally kept. Great product which meets all of our requirements.