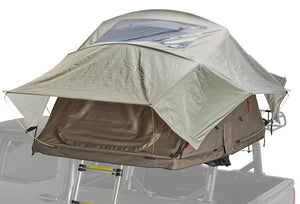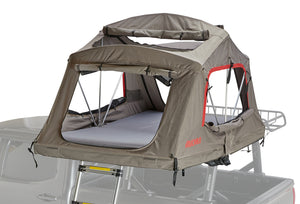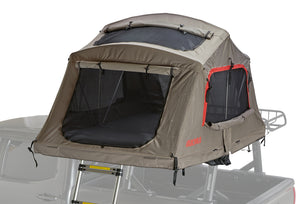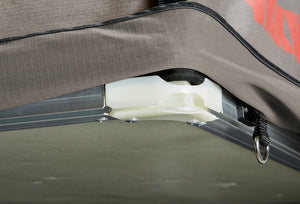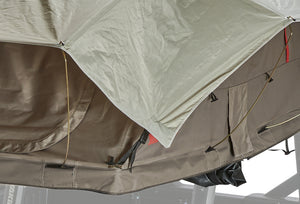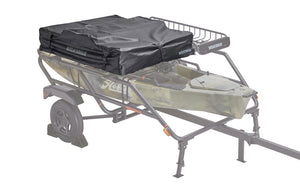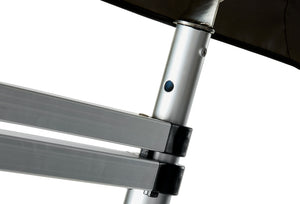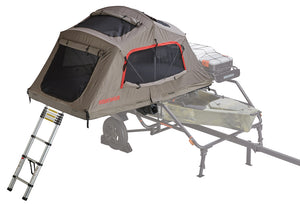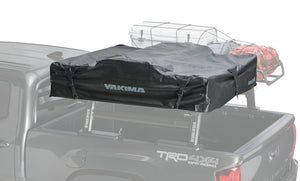 Product Details
Installation
Accessories
Spare Parts
SkyRise HD Medium
Product Details
Two size options provide room for two or three campers (small and medium)
Frame geometry offers more usable space
Large doors, windows and skylights open up the vistas
4-season weather protection: 600D Ripstop Polyester fabric with a 3000mm waterproof PU coating
Rainfly with 210D Ripstop Polyester, 3000mm PU waterproof coating
Guy lines and D-rings on the tent floor to hang gear or tie down the tent in windy conditions
Abrasion-resistant tent floor with textured finish for added durability
Ladder has mid-height adjustment points for easy set-up
Ladder auto-close function that makes it a snap to close up
Tool-free and lockable vehicle mounts—easy to put on, quick to take off
Easy-to-deploy design means less work and more play—great when it's dark or raining
2.5" thick foam mattress
Foam sleeping pad includes a removable cover for easy cleaning
Mesh panel improves ventilation and lets you view the starry skies
Aluminum tent frame is light, strong and pre-set to make pitching a breeze
Open Dimensions: 56" x 96" x 48" High
Product Specs
Weight: 114.64 lbs.
Dimensions: L 58.00 in x W 48.00 in x H 17.00 in
Minimum Crossbar Spread 26.00in
Maximum Crossbar Spread 40.50in
Product Features Video
SkyRise HD Medium
Installation Details
Some Assembly Required
30 Minute Install
Resources / Manuals
Installation Video
Add Accessories to Your Rack
Don't Worry, We Have A Spare
>60 nights and it's been awesome
Got the tent in late 2020 and since have done more than 60 nights in it in all conditions/environments (deserts, snowy mountains, ocean side, canyons, …).
It's super roomy, has vertical room to add another 2" of memory foam (huge difference) / sleeping bag when tent is closed, warm enough for 25-30F nights, sturdy. Setup takes me now about 2 min, takedown about 4 min.
Great tent
We've used this tent a few times over the summer and really like it. Super solid and sturdy. Tons of space in the medium sized tent. And so much light when you open the windows, yet it can completely dark if you want it to as well. It's also extremely easy and quick to put on/take off the roof rack, so I usually don't leave it on the truck when I don't actively use it. Overall a great tent.
Nice to stay up and dry, but lots of room for improvement
We've used this for a couple of week-long trips. It keeps you dryer than a tent, which is nice, and doesn't take up any interior space which is also nice. Its solid, and you feel very safe and sturdy. That said, there is a lot of room for improvement that should have come up in testing. First, zippers. OMG, so many. At least having the screens have different color pulls from the rain fly and all of that would make it easier, setup is a billion zippers. The rain fly supports are death defying. In the dark, leaning outside of the tent, is death-defying. Its just a bad design. The ladder gets stuck on the tent frame every single rung, clearly this was never tested. The screens block a lot of light and wind, this is a pretty claustrophobic tent and it gets hot fast. On the plus side, it isn't too hard to set up if you're very tall and young. It didn't add a lot of drag to the vehicle. And it keeps you off the ground and dry. All things said though, I'd take a tent that I could set up once and leave at a side over this which requires setup and teardown every single day, and if you start a campfire and realize your lighter is dead - you're packing up your camp just to drive to the camp store. I also wish there was some sort of storage, you've already got this thing on the roof, having a place to store some of the gear you might want up in the tent would be helpful, ideally with inside and external access.
Great tent
We used this tent for the first time in 2019 and love it. The tent is roomie and easy to set up/take down. We loved the mattress , it made it so easy to sleep.
Awesome Tent - 2018 Mitsubishi Outlander
I have really enjoyed owning my SkyRise 3 my son (7) and i love it and have used it many times this year. Haven't had any issues with it and was surprised at how comfortable it was to sleep in. Has been very good in the rain no leaks even through some pretty heavy rain. Easy to set up and break down by myself. Can be a little tricky to get the rain fly poles in but it just took some getting used to. Need 2 people to put it on and off the SUV. Used the Skyline system to mount it and it was medium/hard to install took some time but got it dialed in and think it looks good. Does create some wind noise when on the highway with the tent on little more than i expected.
Works well on reinforced camper shell
After a lot of research I selected the SKY RISE HD 3 for the top of my F150 and reinforced camper shell. Main reasons, light weight, waterproof, compatible with other Yakima gear, ladder length, 20% discount at REI, works well with Tepui 3 person insulation, anti-condensation mat, and table. I like the Yakima tent accessories which work well both on the Slim Shady awning and the Sky rise Annex. The medium is comfortable for two people at 56" wide it will allow the use of two 25" pads and sleeping bags. I found the foam pad a little hard by itself and use 2 78" x 25" Exped down mats for more comfort and insulation. Minor improvements which anyone could do, is replace the plastic ground tabs with metal ones. The attachment fabric seems very adequate to handle it. The gear loft has some neat hook and loop attachments that work very well in the annex. I think it would hang down to low in the tent itself. The sky rise has great open air views and 4 windows which provide excellent viewing and air circulation. To avoid condensation keep the fly on and leave the top windows open above your head. It converts the tent into a double wall tent. A competitors air permeable insulator kit fits fine and allow moisture to escape. Because it is 600 denier rip stop poly vs 280 denier poly cotton it will not wet out no matter how much rain and snow. The annex is much lighter fabric but also very light weight which helps out a lot in packing down. It works very well as a toilet area, changing room or gear storage. I use the longer 78" Yakima round bars with all of the components that are 82" from the ground. Yakima website say the annex will work up to 86" off the ground. I do like how the annex attaches to the tent ladder. The more you use it the quicker you get setting it up and taking it down. Because of the height of the truck and camper I do need a 10' collapsible ladder to deploy and redeploy everything.
Fantastic RTT
I have this tent mounted over a truck bed and it has been great. I like the materials and features. The ripstop fabric is durable but I use the waterproof shell most of the time. In the summer, the windows allow a lot of airflow.
Worth the price
I was able to purchase the HD at REI and it proved to be the perfect set up for my family! I love the quality of the tent and my twin 6 year old boys have tugged on or hung off of every aluminum pole at this point. (nothing has broken) Last weekend we camped in the mountains of West Virginia and the temp dipped to 30 degrees. I was able to keep us all warm with a small tent heater and the tent really held the heat. The fabrics is top notch and the locking base is simple and very strong. We mounted the tent on top of the Yakima HD bar system for a long bed 3500 GMC. It is like sleeping in a great treehouse for the boys and the ease of packing is second to none. The tent also has a high quality ladder that is really solid. If you are looking for a great car top multi season tent spend the extra cash and buy this unit. It will last and its a blast to camp with! Be warned people ask a ton of questions about it and they seem to love to photograph it. With the right truck or Jeep you will camp in cool places easily that you never thought possible. We camped on a old logging road. It was a blast.
Very happy. High quality RTT.
I have this tent mounted on a utility trailer and could not be happier with it. It has completely changed my camping experience. It's so awesome being off the ground. It gives you a tree house experience and you can look down on all of the lowly tent campers! It takes me just over 5 minutes to close down camp and there's no need to brush down the underside! The material and build quality of this tent are excellent. The HD fabric is much thicker and there are noticeable waterproofing enhancements over my previous SkyRise3. We've only experienced one night of light-medium rain and it did not leak, nor was there condensation buildup. The windows are very large and use a high quality mesh that you don't see on lower end tents. The zippers are very heavy duty (similar to the zippers on my Jeep soft top). I love that the front and back of the tent have equally sized doors that open and can be used like an awning. And yes, you can see the stars even through the mesh, and with the fly sheet on. Great feature.