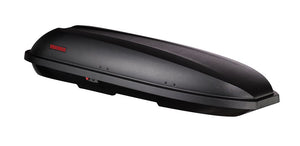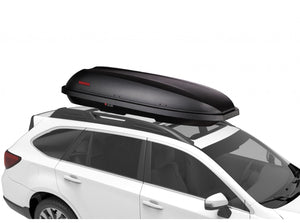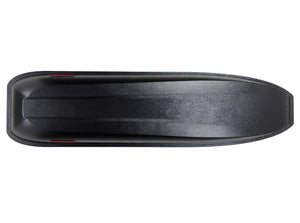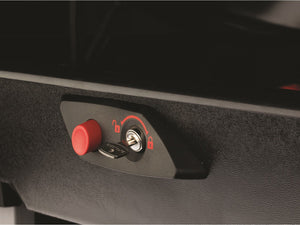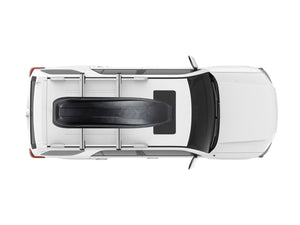 Product Details
Installation
Accessories
Spare Parts
RocketBox Pro 11
Product Details
Long and narrow design hauls plenty and leaves room for other mounts
Push button security ensures your lid is secure to its base and your gear is safe
Dual-sided opening for easy access on either side of your vehicle
No assembly required
Tool-free installation/removal from vehicle
Fits Yakima round, square, factory and aerodynamic bars
Also available in 12 and 14 cubic feet
Hauls gear for up to 2 travelers; fits snowboards and skis up to 210cm
Matte-black textured finish
SKS Locks included
Minimum and maximum crossbar spreads: 24" – 40"
Yakima cannot ship the RocketBox Pro 11 to Alaska or Hawaii – please contact a local dealer.
WARNING for California Consumers
Product Specs
Weight: 38.00 lbs.
Dimensions: L 89.00 in x W 24.00 in x H 16.00 in
Minimum Crossbar Spread 24.00in
Maximum Crossbar Spread 40.00in
Product Features Video
RocketBox Pro 11
Installation Details
No Assembly Required
10 Minute Install
Resources / Manuals
Installation Video
Add Accessories to Your Rack
Don't Worry, We Have A Spare
Can't open it!
I loved the narrowness of this box, as it allowed me to also fit my kayak on top of my Crosstrek. Unfortunately, an issue arose in the first season where it would stick when opening. When pressing the red unlock button, it seemed like one of the latches stuck and it took a lot of fidgeting and cussing to release. It didn't happen every time but eventually, by the 4th season, I couldn't open it at all. I took it back to REI who kindly tried to resolve the issue. There didn't seem to be an option to repair or replace the mechanism, so they kindly refunded my purchase price and took the box. I wish I'd kept it and searched further for a way to fix it DIY, because roof boxes are way more expensive now.
mechanisms broke down in 2.5 years
Came back from a ski trip and removed my skis from the box. Closed the box and later couldn't get the lock to work. Called Yakima who told me it was still under warranty but they don't have any support for fixing their boxes. they sent me a PDF that addresses a lock problem and it directs the owner to - FIX IT THEMSELVES with a dremel and/or a sander to try and wear done sections of the plastic box that encloses the locking mechanisms. They also said - go to REI and they will help you. REI said - we are not allowed to mess with YAKIMAS guarantee but they helped me after Yakima told me to do it on my own. We then got some of it to work after a while but there were other problems and the box was a loss. Question - if YAKIMA has a life time warranty why to they just tell you to got fix it yourself and we cannot help you except send some do it yourself guess sheets. Talk about bad business. Stay away from Yakima!
perfect fit
I have a 2019 volvo xc 40 , spent last winter pulling skies in and out or car, limiting passenger space. I had difficulty finding a box that would allow hatch to open and not overhang the front disproportionately. The rocket box pro 11 fits perfect and still allows space for my mountain bike carrier. So far very happy with my purchase. It was small enough, that i was able to install it with out any assistance.
Complexity vs. Keep it Simple Please
Sometimes making devices more flexible in their use to broaden appeal only adds to their complexity and reduces the original intent; I'm afraid the RocketBox Pro 11 now fits into this category. My family has used Yakima products since the 1980's. I'm looking out my window at two older Rocket boxes on cars we own, and they've been going strong for dozens of years. I appreciate the concept of being able to open the box from either side, and the three latches to secure the lid (each side). This convenience and security all in one package comes at a cost. The hinges, designed to open in either direction, end up bulky, somewhat flimsy (although they haven't broken) and seemingly get in the way of what used to be very usable space. I struggle to get a couple of ski bags inside (~190-205cm skis) with some ski boots/clothing. The single key mechanism to lock/unlock three latches at a time problematic. I have now bent two keys attempting to get skis out of the box. The mechanism on both sides feel like they're filled with cold molasses even on warm days. When one side totally failed to open on our last day ski tour, we struggled over the roof from the other side of the 4Runner to get the remaining side to work. We extricated the ski gear but this was a silly, time consuming situation. It is true, there are support articles on how to remedy the locking mechanism problems by opening up the mechanism with a torx wrench, etc. etc., but for the price of this box (albeit reasonable in this market) I don't think the end user should have to deal with modifications or problems like this. I will work with Yakima to make this box function because I like Yakima and their support and products have been great in the past. However, I will take a very serious look before assuming the functional Yakima engineering of yesterday continues tomorrow.
yakima fan of many years
BUT; this box is not nearly as good as my old " white one" which was at least 20 years old when it went on to its next life, rusted onto our old subaru that moved out with a teenager to college. I don't like the hinges inside which take up a ton of room and block gear, preventing me from getting as much into it as I could in my old Rocket Box. I don't care if it can open from both sides; I only use one. I don't like that I have to leave the key in it; what a pain when trying to move things around. The plastic is flimsier, tho so far, after 2 years, it's holding up fine to skis and paddles and camping gear. . Basically, I wish you still made the old white ones.
Great box, unless you live in Wyoming
This box went without flaw for the past two years. Perfect for throwing lots of gear into. However, Wyoming winds win this one. Roofbox slammed sideways (so that it was diagonal across my roof) while driving on the highway. Everything was tightened the way it should have been and there was no evidence of something breaking or something not being installed properly to cause this. Couldn't drive until I found a ratchet strap at a gas station to crank it into place. Sure, the winds were high, but a roofbox should not move and at the price I shouldn't have to buy additional items to keep it on. Still works okay and on my car today but I still strap it down if its too windy and definitely don't trust it. Also a side note, on my 1990s Subaru Outback the roofbox hits the trunk door, even though I have it fairly far forward on the bars.
Great entry level roofbox
I've owned the Rocketbox pro 11 since fall of 2016, and it's served me well, doing exactly what I was looking for it to - get skis and boards out of my car (subaru impreza) in the winter while still being protected, and extra storage for road trips in the summer. It's not a super sturdy construction, and has its flaws with the lock-unlock button being difficult to push in sometimes, as well as the clamping mechanism at each end seems a bit flimsy. That being said, I'm careful to open it with both hands, not throw boards/skis in aggressively, and it can open from either side so if one side was giving me trouble, I try the other. I've had sets of boards and skis and poles for 4 people fit fine, and it can be installed and removed pretty easily. It also adjusts without any tools so swapping to another car's roof rack was easy too. Overall, I'd recommend buying one if you're looking for an entry level box and don't want to break the bank. You get what you pay for, take good care of it and it should last a while.
Long time User
We've owned a rocketbox 11 for about 15 years - first mounted on a 1999 Honda Odyssey with Yakima crossbars. Worked great when we need extra capacity when all seats were utilized. We now have a 2017 RAV4 with factory crossbars. We are a little worried about the 100 lb. weight limit of the Toyota crossbars - not remembering what the limit of the Honda Odyssey rails were (the Yakima crossbars are STURDY!) The rocketbox itself is a good product - not without it's problems, as the latch & hinges can get 'cranky' - but overall, if a product can last 15 years as a storage on and off the car, then it should be considered a success. (When the rocketbox is not in use on the vehicle, we store our sleeping bags in it - that way, the garage space is put to use!
xc skiing and RB 11
This is a wonderful carrier for ski enthusiasts (for example). I had a first generation rocket box which lasted almost 20 years. It would have probably lasted much longer had I not left it on top of my car through several hot summers. Improvements over the first gen are numerous: 1) quick installation and de-install from your horizontal bars, 2) easy adjustment for distance between your two horizontal bars, 3) because of #'s 1 & 2, much improved and quick movement and adjustment of the cargo box between multiple vehicles. Also easy locking and access from either side (mounting either on driver's or passenger's side of vehicle. One problem I have run into in packing the carrier for a routine xc ski trip in CO, is that the longest pair of skis I have (my classic fischer skis) need a length of min of 81 inches. Although the box length is more than adequate (exterior dimensions) the interior available length is very close and it is very tough to pack these long skis into the box, along with the several other pairs we usually have for a trip.