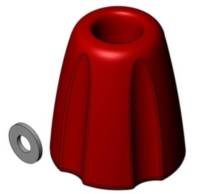 Product Details
Installation
Accessories
Spare Parts
Add Accessories to Your Rack
Don't Worry, We Have A Spare
Get A Couple of Spares
I have had to replace this part a couple of times, about once every year or two. If you are going to use a frontloader rack, definitely have a couple of these as extras. They are easy to replace on the rack, mechanically.
Works great until it strips
Without this knob the front loader is pretty much useless. The knob is held onto the threads by a metal nut molded inside of the plastic. The relatively small sized nut rotated inside of the plastic and as a result there was no way to screw the knob on or off. To remove it I ended up taking a hack saw first to the plastic then to the medal nut being careful not to damage the threads. Some of the threads were damaged from the nut being being stuck in one place so I purchased a thread fixer. If the nut had medal fins that were molded into the plastic there would be no chance the nut could slip inside the plastic.