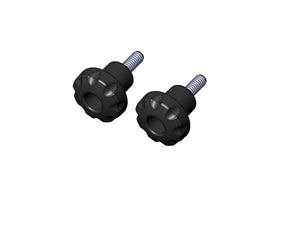 Product Details
Installation
Accessories
Spare Parts
Add Accessories to Your Rack
Don't Worry, We Have A Spare
Broke after first use
These screws were on a set of railgrab towers and broke the first time I went to remove them to change claws. The plastic stripped off all four; one screw even broke completely off. Suggest Yakima use a better grade screw next time. Everything else has been great up to this point.
Not good
I need to change the railgrab claws in my towers for my new vehicle. Three of four Railgrab Adjustment Screws are frozen, and I stripped the plastic knob covers trying to work them loose. Now, I have to figure out a way to cut them off, so I can install new ones. Not a good design.
Poor qualtity
Although I love my Yakima Rocketbox and other items, I am very disappointed with the quality of these adjustment screws. The screws themselves are made of metal while the housing is made of plastic. In an effort to make sure these screws are secure, I have stripped two of the four housings around the screws making it impossible to adjust these without taking the rack off my truck. A sturdier material should have been used.