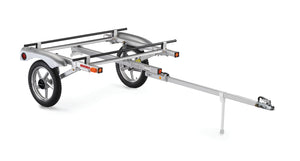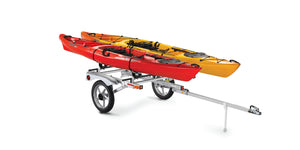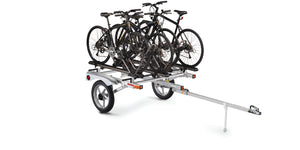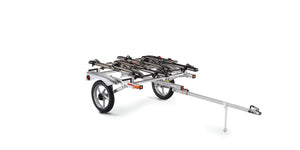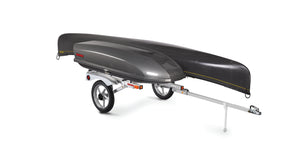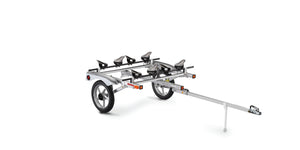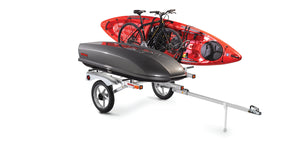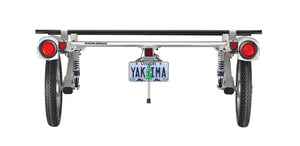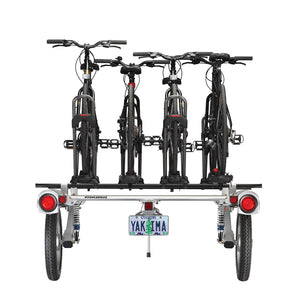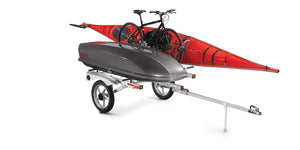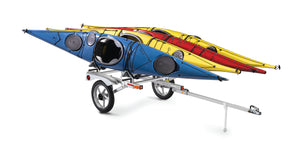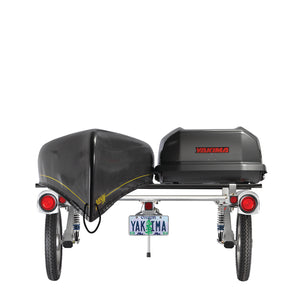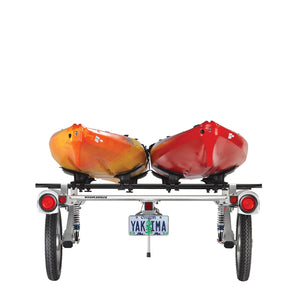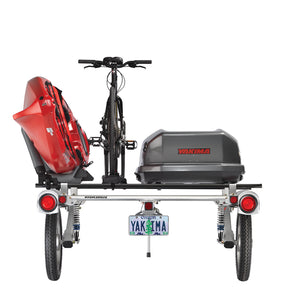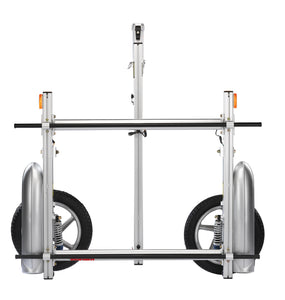 Product Details
Installation
Accessories
Spare Parts
RACK and ROLL 66"
Product Details
Lightweight aluminum construction
Shock absorbers provide 4" of independent wheel travel, providing greater stability and gear protection
Stores easily in compact upright position with removable wheels and tongue
Small wheels on rear of trailer allow you to easily roll the trailer upright for storage
Carrying capacity is 250 lbs with stock suspension.
Optional Heavy-Duty Shocks can carry up to 350 lbs (RackandRoll 78" only)
Carrying handle transforms lightweight trailer into a handcart
Includes Yakima crossbars; spread adjustable to 48"
Includes 3 Rack and Roll specific locks cores with keys (not SKS compatible)
LED trailer lights last years without needing replacement
Comes in two widths: 66" and 78" crossmembers and crossbars
Product Specs
Weight: 150.00 lbs.
Dimensions: L 132.00 in x W 66.00 in x H 22.00 in
Product Features Video
RACK and ROLL 66"
Installation Video
Add Accessories to Your Rack
Don't Worry, We Have A Spare
Make sure your canoe will fit this trailer.
The trailer is wonderful for all typical roof rack accessories except the canoe brackets. My WeNoNah Spirit II is 17' long with a bow depth of 22". If the canoe is centered on the rack, the cross bars need to be raised 3" in order for the bow to clear the hitch coupler. A good option is to move the canoe 7"-9" off center and clearance height is fine. Test first to make sure you can still make a sharp turn.
LOVE our Rack n Roll !
Bought our Rack N Roll 66 a few months ago from someone who maintained it well - 7yo and still in like new condition :-) Had planned to use it primarily for kayaking, but on our inaugural journey, we hauled 3 bikes and a custom built storage box for camping gear. Took a 6-week trip west to National Parks and wild places in South Dakota, Wyoming, Utah and Colorado, backpacking, camping and biking along the way. Lived and camped entirely out of our van due to COVID, so the trailer was an essential accessory for us to be able to bring all our gear - Skybox on the van, everything else on the trailer :-) The trailer is a breeze to haul - you hardly know it's back there - and it tackled both paved roads and dirt BLM roads with ease. We drive a mini-van, so no 4-wheeling, but some of those BLM roads are rough, so the trailer shocks were a welcome component. This trip was over 7000 miles, and we had NO trouble with the trailer at all. :-) The only change we plan to make is to convert it to a 78 so we can bring bikes AND kayaks next time ;-) Now we can leave the Skybox on the van and store the kayaks on the trailer, ready to go all season ... I do NOT miss loading heavy gear on top of the van ;-) In fact, it's so versatile that I think we will use it next to haul our family's Christmas trees home! Winter storage is also a breeze - just remove the tongue and stand it up on end - fits right in our shed or garage. If you are waiting to get one of these, don't ... just buy it ... you won't regret it!
Still Going Strong
I have had this trailer before Yakima bought Rack and Roll company and it continues to work great and is supported. I would buy again in a heart beat. Very handy and versital trailer.
Very cool
I've had my trailer for about two years and logged about 10,000 miles. No issues whatsoever. I purchased the spare, extended tongue, pole, and kickstand. A few gripes, but none take away from the overall value: kickstand should be standard equipment, the number of wrenches/tools needed to change the tire on the road seems like an afterthought of design, and the heavy duty shocks should be included with both models of trailers. It would also be nice to have a locking storage bin, small enough just to fit small items and the tools required for a wheel change, on the trailer. Also, wheels and tires are not popular sizes so carrying a spare innertube would be wise - i still need to add that to my travelling kit. The trailer looks great and gets lots of attention. Handling is amazing and is orders of magnitude better than the typical utility trailer. I have carried canoes, bikes, kayaks, paddleboarss, cargo boxes and cages, all without issue. Mileage is great while towing with my FJ Cruiser, 21 mpg or so highway at ~65mph. This compares to ~17 with that stuff on the roof. I look forward to the next iteration of yakima trailer. I told my wife that i would sell the rack and roll at that point but think i will keep both instead.
Observations on my new Rack and Roll
Quality quality quality! Shockingly easy to put together. The instruction manual is concise, complete and very easy to follow...unlike those of many competitors. Tows light and straight. It is a quality product. On the negative, the nuts used to secured the axles are CRAP!!!! Save yourself time and go buy some hardened steel 14mm castle nuts. Both of mine stripped out while attempting to torque them to the manual's specs. The locks are not well made. Two of mine had broken during shipping/packaging. I was able to repair one but had to order one replacement. They are two part locks, the tumbler portion is ok. The lower locking lug seems to be made from the same pot metal as the axle nuts. Be sure check all your wiring connectors. Three of mine had been crushed during shipping or packaging which necessitated a trip to the auto parts store for new connectors. This needs a little attention to detail. Lastly, I wish Yakima had engineered a way to remove the wheel in the event of a flat which didn't require 21 and 22mm wrenches, a pair of needle-nose and a new cotter pin. Just make a note to put these items in your vehicle anytime you're going to use the trailer. Other than those points it is a nice bit of kit!
Great Trailer
Bought our Rackandroll a year ago, and kick myself for waiting so long to buy it. It now takes me 5 minutes to hitch the trailer with two 12 foot kayaks to the car, and off we go. Easy to load and unload, great towing. Has made it very quick and easy to go kayaking. Also easy to fold up and store for the winter. Great product.
Nice trailer
I have had a 66" rack and roll for about a year and use it to haul stand up paddle boards and bikes. It had me asking myself why didn't I get this 10 years ago. Super easy to haul, very convenient and light weight. Overall I'd give quality a 9 on a scale of 10. A few running lights didn't work right and were a little tough to replace, although Yakima was quick to send replacements. The cost is a bit high but I bit the bullet since I was tired of lifting stuff over my head to put on a roof rack. We really love the thing and it works great. The only thing that could make it better is if it costs less.
Long Term Follow Up
Now on 3 years with the 66" trailer. Good news/Bad news. First the good news. It's great for hauling your boats and bikes when getting everything on top of the vehicle is a challenge, towing and tracking at highway and interstate speeds is outstanding and the stand up and fold away for storage could not be better. Using the trailer to walk boats down to the water is a major saver on the challenges of heavy lifting. The bad news, had a few failures clearly due to parts quality, the main wiring harness from the tong, 1 set of wheel bearings and a shock absorber. Yakima covered the wire harness and shock under warranty (the customer service staff are easy to work with, I give them ***** stars), I took the wheel to a motorcycle shop for the bearings. See that heavy duty shock absorber replacements are available, could be a good idea if you often have 3+ boats on the trailer and find yourself on a rough road. Did a lot of shopping around before getting this trailer, the specialized design and performance justify the cost.
Nice trailer....... BUT..
This is obviously a well built trailer for towing paddle boards, bikes, etc.... You don't even know you are towing something behind you.. The price is WAY to much for the average customer who is looking for a trailer system to tow their sports equipment. It is a very nice trailer...... BUT..
A little disappointing
My trailer arrived with the coupler assembled upside down on the tongue and the tongue wiring stuffed inside. I wanted to order a new wire assembly and this is when I found out that the parts can be hard to come by.