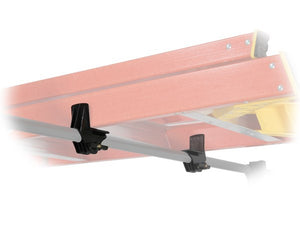 Product Details
Installation
Accessories
Spare Parts
LoadStop
Product Details
Carries ladders and lumber with sturdy L-shaped brackets
Safely holds loads by preventing lateral shifts with grippy ribbed surface
Holds thicker, taller loads with a higher vertical edge
Compatible with RoundBar only
Works well when paired with Heavy Duty Straps (sold separately)
Set of 4 brackets
Product Specs
Weight: 2.00 lbs.
Dimensions: L 4.00 in x W 2.00 in x H 2.20 in
Minimum Crossbar Spread 24.00in
Product Features Video
LoadStop
Installation Video
Add Accessories to Your Rack
Don't Worry, We Have A Spare
Make it easy to work
Love the loadstop! Easy to load and go.
Solid anchor for large gear
Been using a set of these for twenty years to keep my canoe from shifting sideways. Works very well, even under extreme crosswinds and highway speeds. On our Town and Country, there is no firm attachment for a front (bow) strap, but even with just tiedowns and a rear strap for safety, that boat goes nowhere in transit. After all this time the hardware has become a bit corroded, and two of the nuts need replacement, but we've not been taking very good care of them, either. Highly recommended.