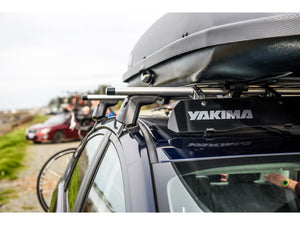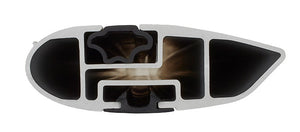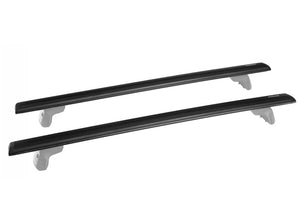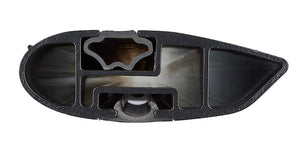 Product Details
Installation
Accessories
Spare Parts
JetStream (Pair) Small (50") / Silver
Product Details
Comes with 2 Crossbars and 4 Endcaps
Wind tunnel tested JetFlow™ teardrop shape is strong, quiet and exceptionally aerodynamic
Seamless extruded aluminum construction is light, strong and sleek
JetTruss™ internal support engineering adds serious strength for minimal weight
T-slot with SmartFill™ push-down infill for easy mount attachment and efficient airflow
Clear anodized alloy finish and high-gloss polymer end caps look awesome on your roof
Available in 3 sizes: SM (50"), MD (60") and LG (70")
Available in Black and Silver
Streamline crossbars are compatible with any StreamLine Tower
Need an adapter? Mighty Mount 39H will let you mount round and square bar accessories on your JetStreams
Find the right bar style and length to fit your needs
Compare four crossbar styles and features to learn more
Be sure to find your vehicle crossbar fit and tower information at yakima.com/fit
Product Specs
Weight: 8.50 lbs.
Dimensions: L 50.75 in x W 2.75 in x H 1.10 in
Product Features Video
Add Accessories to Your Rack
Don't Worry, We Have A Spare
Excellent!…they are great looking and work great!
JetStream, CoreBar, or RoundBar?
If you live where you have salt in the air (like Hawaii) and salt on all of your water toys at the end of the day (from the ocean) please get JetStream crossbars.
You'll get the best aerodynamics with the extruded aluminum on the JetStream crossbars. Better even, than the CoreBar. Salt will also cause steel to corrode where aluminum seems impervious. JetStream crossbars are also structurally stronger because of the 2 internal walls in the crossbar and you have a track across the top to make installation of some accessories a snap. You also get the choice of a silver or black finish without having a black vinyl coating that can degrade in the sun. After installing and servicing literally thousands of roof racks, truck racks, and van racks I recommend aluminum any chance I can. It's well worth the upgrade.
outstanding - strong and very quiet
loaded the 70" jetstream crossbars with a roof rack on the expedition, and drove 16 hours one-way to Quebec City.
No wind noise, no pull, did not feel the presence. Only time you felt it, when large gust of wind hit the roof rack. Very happy with the purchase.
Fantastic First-Time Experience With Roof Rack
I bought this a year ago and just got around to installing it on my 2018 Honda Civic Hatchback Sport. My friends complain about the noise produced with their respective roof racks, but I drive for work, and I haven't heard a peep out of this thing. I drive interstate and country roads, and I know my car very well. There's no noise at all from this JetStream. And I swear that my gas mileage has actually improved (my car is a 6-speed stick shift, so it gets great mileage anyway). But I'm super happy with this rack.. it's as if it wasn't even there. Now I'm just trying to figure out if I need the locks and what their purpose is.
Jet Stream cross bars with Timberline towers
Love this set up, it replaces the noisy factory cross bars that came on my 2021 Bronco Sport. They look great, were easy to install, and are quiet. They have had no impact on my gas mileage either that is a bonus.
An annoying whistle, but no end caps
These are the crossbars that I waited about 7 months for that I ordered to come on my Leer truck camper shell. I drove down the road after install and immediately heard the whistle. I noticed the ends are open, the end caps are missing. I was told the end caps are expected to arrive in April 2022 and this should end the whistling.
Super sleek and helps with the wind noise...
I've decided on the JetStream to utilize the T-Slot kit for my pair of High Road mounts. Love the slim profile and overall design. While there's still wind noise... I opted to get the WindShield Fairing to reduce it even more. Thanks.
Perfect!
Got these crossbars for the top of my truck canopy. They are super quiet and the black looks amazing. Everything I expected! Would recommend to anyone
Sleek and Quiet
I bought a SnugTop camper shell for my pickup and had tracks, Skyline mounts, with Jetstream crossbars installed. They whistled like crazy above 30 mph. I little research found that they neglected to reinstall the rubber inserts in the bottom of the Jetstream crossbars after setting up the Skyline mounts for track width. If you obtain the PDF install instructions you will find that rubber insert is removed to set mounts to track width. Then they should be cut and reinstalled. Once I got the rubber inserts provided to me and installed them all whistle noise ceased. The Jetstream crossbars are very sleek looking and strong. The plastic end caps should be aluminum at this price point and attached with a set screw.
Nice but whistles
Bought this rack on my truck cap, this rack whistles at 30 mph and above.