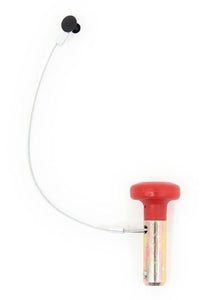 Product Details
Installation
Accessories
Spare Parts
Add Accessories to Your Rack
Don't Worry, We Have A Spare
Weakest link of the Holdup!
Honestly, I'll be getting rid of my Holdup bike rack for another brand, mostly because of this single pin. It will fail at the retention button (freezing/rusting in place), or by the retention cable failing and it dropping out on the road somewhere. I replaced the plastic push pin with a bolt and washer on replacement #1, only to have the cable fail on replacement #2. Replacement #3 had a cracked head and then the retention ball rusted into place. I am on replacement number 4, and now Yakima is out of stock, probably since everyone has the same issue. Yakima Customer Service won't give any indication when they will become available, and all the local dealers are also out of stock, leaving me with an useless bike rack and no way to transport my bikes around. Wake up Yakima! #yakimaracks are junk!
Easy to lose
The plastic retaining button that holds the pull pin to the hitch wears out very quickly which allows it to fall off the hitch and get lost. I ended up replacing the plastic push pin with a threaded stainless steel bolt and washer. That solved the problem regarding not losing the whole assembly, but then the pull pin separated from the wire and still got lost.