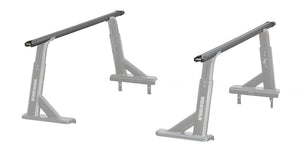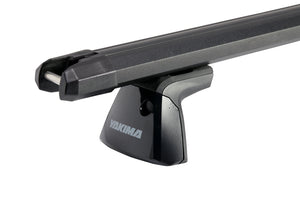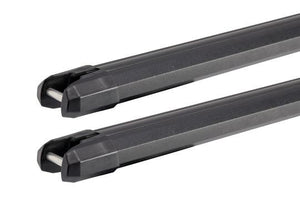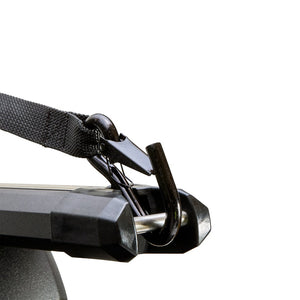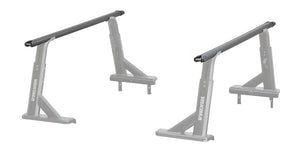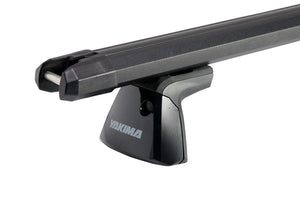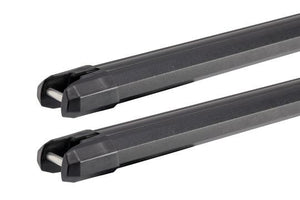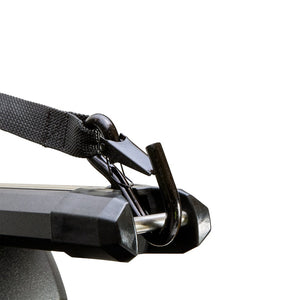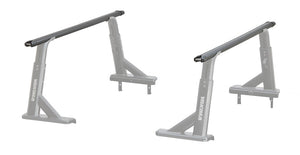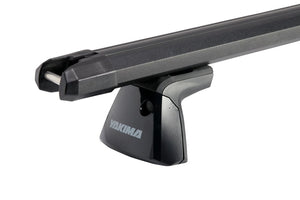 Product Details
Installation
Accessories
Spare Parts
HD Bar (Pair) Medium (60")
Product Details
Strong, lightweight aluminum construction handles heavy loads—great for rooftop tents
Integrated tie-down points on endcaps make it easy to secure gear
T-slots top and bottom to easily add compatible Yakima gear mounts
Includes rubber infill for top T-slot for load protection and wind noise reduction
Built to last—and look good doing it—with a durable black powder-coat finish
Compatible with all StreamLine towers with our new HD Bar SL Adapter (sold separately #8003541)
Available in variety of lengths—55"/60"/68"/78"—to create custom set-ups
Product Specs
Weight: 10.68 lbs.
Dimensions: L 60.00 in x W 3.00 in x H 1.50 in
Product Features Video
HD Bar (Pair) Medium (60")
Installation Video
Add Accessories to Your Rack
Don't Worry, We Have A Spare
+$300 and it doesn't come with an adaptor to attach to the towers!?
I get that Yakima products are expensive since they are niche with few competitors, but paying +$300 and not being able to attach these to the +$200 towers without going out and finding your own hardware/bolts is wildly ridiculous.
Strong and good looking but less than perfect.
These are burly, strong good looking bars. However, they have an annoying whistle at any speed from 20mph to about 60mph. Also, Yakima includes a T-Slot cover for the top slot but not the bottom. Seriously? Next, no T-Slot bolts are included and it's not clear if you have to use ONLY M8 bolts or if M6 bolts will also work. As usual Yakima's website has limited information and finding small parts is an exercise in frustration. Finally, we have the price. They were always expensive but in the years price has increased almost $100 from pre-pandemic.
these are great -- super strong
Have had this setup on my car for about 16 months, and still holding up well. I have the 10G roadshower, the GrandTour 18 box, the skinny warrior and the slim shady awning up there, and still have room :). Ive driven maybe 10,000 miles, and again still holding up beautifully. I know this is "overkill" for most folks, but living in Utah, you gotta be ready for anything :)
Awesome product....... Love my Outpost rack
Put a outpost mid with xl bars on my HMMWV. Super strong and all aluminum to match my truck. Looks great and a great base for the overland tent. THANKS YAKIMA.
Great bars, and a potential fix for whistling sound :))
These are great bars, I had one issue with them which was on my vehicle I had significant (rather annoying) whistling from speeds 30-50mph. The whistle persisted with the rubber strips in or out. I just found a great solution! I Removed the strip from the top of the front bar and cut it to size and inserted it on the underside of the bar. No more whistle. I think Yakima should provide stripping for both sides of the bars and would probably help quite a bit.
Great experience so far. Works well for my system.
I am running XL or L crossbars depending on my trip requirements. I am using these on the Overhaul HD adjustable towers attached to a Retrax XR Pro Tonneau on a 2019 Raptor (5.5' bed).
The Large sticks out a few inches from the tower on each side allowing me to fit both a large roof top tent (Tepui Autana 3 Ruggedized) and an awning (ARB). The XL sticks out an additional 5" per side which allows the mounting of the Yakima skinny warrior basket between the tent and awning!
I have not had any bowing or whistling. I have trimmed some of the rubber gasket on the top, so even the top has some of the channel exposed depending on what I am carrying. Overall, I am very happy with these bars.
Whistle While You Work
I haven't seen any other reviews so I thought I'd post my experience. I purchased a set of small length racks to replace round bars that were slightly bowing under the weight of my hardshell carrier when it was loaded. While I got a substantial amount of wind noise with my round bars, that doesn't seem to be a problem with these. HOWEVER, I do get whistling while driving between 15mph-60mph enough that my wife commented a few times about the annoyance. At highway speeds (60+), the whistle disappears. I can't tell if the whistle is coming from the open bottom T-channel or the end caps. Note: the bars are directional and so I made sure to mount them arrow pointing forward. I would recommend the bars for heavy loads, but anything <165lbs, just go with the other options.