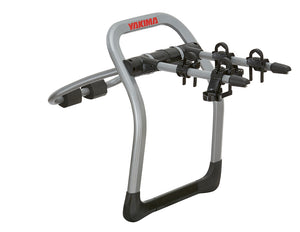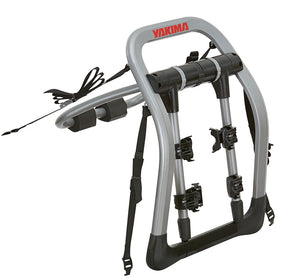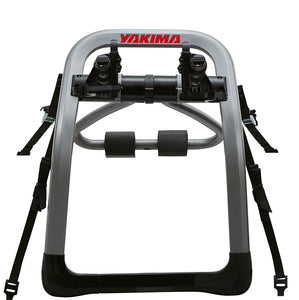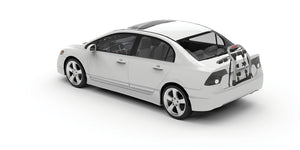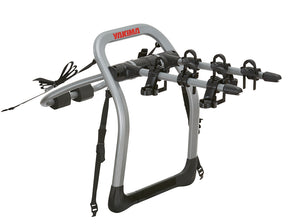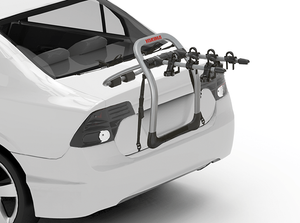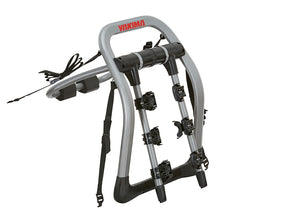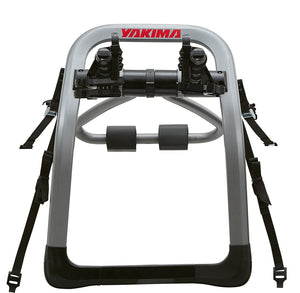 Product Details
Installation
Accessories
Spare Parts
HalfBack 3 Bike
Product Details
SuperCush ZipStrip™ cradles secure the bikes and make loading and unloading a breeze
ZipStrips™ secure bikes to the rack and are fully removable
Modern design delivers an improved fit and looks awesome
Bomber external frame holds tough, cushy padding protects your paint
Simple installation with an interlocking HUB that aligns key adjustment points
Four-strap attachment is intuitive and easy
Compact for easy storage
Yakima signature bottle opener lets you enjoy a post-ride cold one
Available in 2 or 3 bike capacity
Product Specs
Weight: 22.00 lbs.
Dimensions: L 30.00 in x W 29.00 in x H 22.00 in
Product Features Video
HalfBack 3 Bike
Installation Details
No Assembly Required
5 Minute Install
Resources / Manuals
Installation Video
Add Accessories to Your Rack
Don't Worry, We Have A Spare
Missing Link
This rack is fairly easy to install, and after practicing a couple of times, fairly easy to use. My concern is that an additional part is required for "ladies" bikes or bikes with a slanted crossbar. This leveling bar or as Yakima calls it, tube top, is not included with the rack nor is it listed as a must have when ordering online. So be forewarned fellow slanted crossbar bike owners and order the "missing link".
Fullback 2 of Jeep Cherokee
Top quality
When I bought my 2019 Honda CRV my existing bike rack from my 2014 CRV did not fit, even though according to the manufacturer's website it would. I did not want to purchase a hitch or tray design bike rack, and searched the web for a trunk style that would fit. No company had one that would fit my car except Yakima...... and what a rack they had. This rack is amazingly designed, beefy but not too heavy to manage, bikes are added easily, are secured well, and it carries two bikes without being cramped. I could not be happier.
Great bike rack for a hatchback!
Superb fit on my Subaru Crosstrek 18! The rack is very sturdy and solid, although one might think its pretty heavy (I expected it to be lighter) It comes with installation packet, however it looked more confusing then helpful. Their exact fit website link only provided information on Subaru Impreza and not the Crosstrek, which is a completely different installation process, even though two cars are somewhat similar. (On Impreza, bottom of the rack sits on the trunk above license plate, on a Crosstrek it has to sit on the bottom below the license plate) Anyway, with the help of the internet I was able to figure it out. Overall I give this rack 5 out of 5, it's sturdy, durable, doesn't wobble and my heavy mountain bike is very secure on the road. I chose halfback over fullback, because I honestly couldn't figure out what was the difference between the two, other than the price?! Thanks Yakima, another great product!
MUST-HAVE OUTDOOR Gear!
We LOVE this bike rack! My daughter unpacked it immediately and we loaded up bikes to Yosemite for the weekend. The kids road around and all over the campsite while I climbed. Incredibly well-engineered piece of gear. I bought the trunk rack to keep the car profile small for city living. Super easy to bring in and out. Far more solid than I imagined. I had no idea how nice it would be. We have the Security Strap for additional safety and security. Bikes are completely secure. Zero movement while we drive. We are planning more biking destination trips now. Perfect for getting the family away from screens and into the outdoors! Don't know how we lived without this!