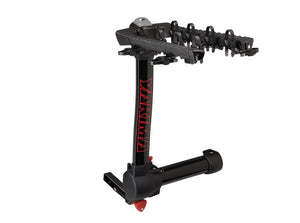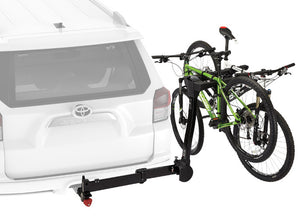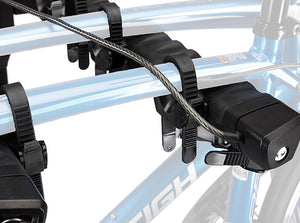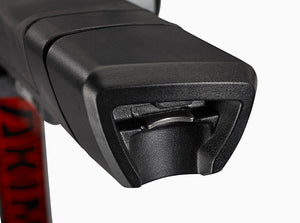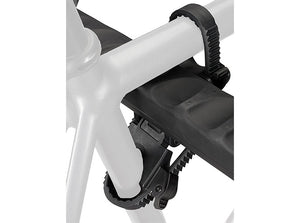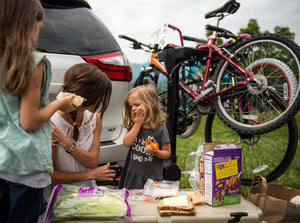 Product Details
Installation
Accessories
Spare Parts
FullSwing
Product Details
Swings away from car with bikes loaded to provide easy access to rear of vehicle
Quick and easy assembly
Tool-free installation with locking SpeedKnob
AutoPin automatically positions and secures rack to the hitch and receiver
Zero-hassle ZipStrips quickly secure bike to rack
Fully padded arms for the ultimate in bike protection
Arms fold down when not in use
SKS Locks included; locks racks and bikes
Carries up to 4 bikes
4 bikes. Total weight, 150 lbs. Maximum bike weight 40 lbs each.
Available TubeTop™ (sold separately) is required for non-conventional, step-through, BMX, and kid's bikes as well as some full suspension bikes.
Compatible with the Yakima StraightShot
Product Specs
Weight: 56.00 lbs.
Dimensions: L 43.50 in x W 26.00 in x H 46.00 in
Product Features Video
FullSwing
Installation Details
No Assembly Required
10 Minute Install
2" Hitch Receiver Required
Installation Video
Add Accessories to Your Rack
Don't Worry, We Have A Spare
Good, but not great for large bikes & mild off-road use without modifications.
I bought this rack for the full swing feature to use with my truck. I also bought this rack for the price compared to a rack from 1-UP with the same features (multiple bike carry and can swing out). After 3 seasons of use, here's my thoughts:
This rack is great for fitting 4 city/road bikes without much issue. However, this rack will not fit more than 2-3 full-size mountain bikes, unless you don't care about your bikes being all scratched and dented from smacking into each other on the drive to the trail head. I avoid this by placing padding/rags in between the touchpoints and securing each bike together with voile straps.
The anti-rattle mechanism is ok, but I still find that there is too much play in the hitch after I tighten it all the way. I fixed this by using an aftermarket hitch tightener off Amazon.
The swing-out feature is the best feature of this rack. It makes getting into my truck bed possible. Additionally, since this is a hanging-style bike rack, there is generally more ground clearance off the back your vehicle compared to a tray-style rack that sticks out low to the ground. This is useful when you are off-roading or overlanding with your bikes.
Only fits "standard" bikes!
We loved the idea of the swing away to have easy access to our cargo space. In practice, it's a tight fit to reach behind the bikes and my hand barely fit to tighten or release the knob, as others have mentioned.
I could manage it but unfortunately it did not fit ANY of our bikes. We have various sizes and styles of adult and children's bikes and not a single one fit on the rack.

We purchased the tube adaptors and found it still extremely difficult to get the bikes on. I am regretting not returning it immediately upon realizing it wasn't a good fit and will be reselling it.
In a word HEAVY.
Very well built, so well built in fact I'm surprised the weight limit is only 40lbs per bike. I bought it based on my past positive Yakima experiences and that I have a 85lb ebike among other bikes, however the total weight limit is only 160lbs, the same as their lesser solid racks. I had to "hope" that given its sturdy construction that it can handle more weight than advertised. As a test I hanged myself from it and weigh in at 245lbs and it seemed unaffected, but we'll see. The only down side so far is that given its weight and irregular shape it can be challenging connecting it to your vehicle receiver.
A good rack but the "Anti Rattle Hitch" knob is as mentioned by another user hard to use/tighten
Overall I like the rack and it is not too hard to use/install
Nice but a pain to install
First, if your hand are big, be ready to use a tool to tighten the knob. After installed, it still moves around, only one time it was very tight but most of the time is loose. You have to tight and move the whole piece around to try to get it hard. No videos explain this at all, I have been looking around since I bought it.
I just traveled 8000 miles across the U.S. and back to New England with 4 mountain bikes attached to my 2000 Dodge GreatWest Class B van using Yakima Full Swing Hitch rack. It performed flawlessly through multiple pot holes, highway construction zones, gale force cross winds, rain storms, and dirt roads. You guys make a great product and I highly recommend it!
Good for large bikes, teens, not so much
My second Yakima rack because I think they are solid racks. The system they use to secure the bikes is solid and I don't worry about bikes working loose. However, that same system uses quite bulky parts. Teen bikes with their pass through geometry and other quirks, that would fit on the older styles with rubber straps just don't fit. The same issue arises when you try to use the Too Tube accessory. The parts are so big there is little to no room.
Great Upgrade from the FullSwing 4
I had a FullSwing4, in fact I still have it. The one thing that I did not like with the old FullSwing4 was that part of the rack where the horizontal tube of the bikes rested did not fold down. When I had the FullSwing4 mounted to my Suburban without bikes on the rack, there was a lot of bike rack hanging off of the back of my Suburban at a height that would be at your chest or for shorter people their head level. It also made backing into parking spaces somewhat challenging. When I saw the NEW FullSwing, I was like this is GREAT. This is a great 4 bike rack. It is well constructed. It allows us to have four (4) bikes on the rack while allowing access to the tail gate of our Suburban. The folding head allows me to keep the rack on the Suburban when I am not hauling bikes. The new cradle mounts hold the bikes more securely than the old FullSwing4. For me the new FullSwing is easier to carry and install onto the Suburban as it is more compact, although the rack does weigh 56 pounds. As a reference the old FullSwing4 weighed 54.5 pounds. Storage of the new FullSwing also does not occupy as much garage space due to the folding head. I have been using this rack for three (3) years now.
2014 Sprinter "Full Swing" hiccups
I am very happy with the "Full Swing" bike rack. As with any add-on there are always glitches. As was mentioned previously the RH rear swinging cargo door does not open to its lock position with the "Full Swing" extended. I keep an tie down strap (spongy cord) attached to the bike rack. With the bike rack locked into its open and extended position, and the RH cargo door open, I hook the attached tie down strap to the cargo door's outside door handle. There are two receiver hitch versions available: - 1) The OEM factory hitch requires the removal of the rear step. This enables the receiver to mount higher off the ground. - 2) There is an aftermarket hitch that allows the retention of the rear step. This puts the receiver below the step and closer to the ground. I'm always repairing/replacing the lock knob/locking wedge assembly because of the decreased departure angle..
Durable,
I have used the full swing for the past two years as I travel full-time around the US. It has weather snow, sleet, rain, the desert heat, and back roads carrying one mountain bike. The paint and materials have yet to fade, and the lock is visible as a preventive notice to would-be thieves — incredibly sturdy Yakima product and seriously reliable.