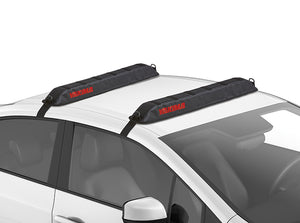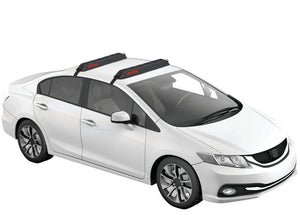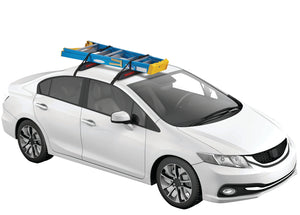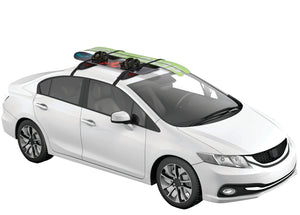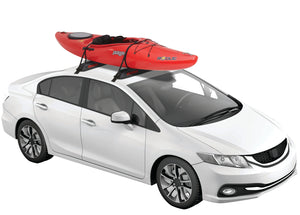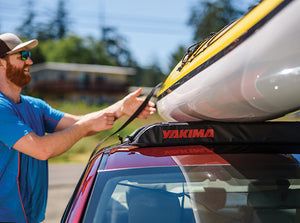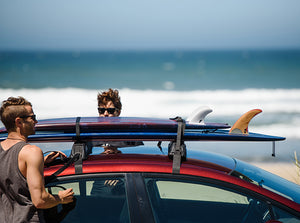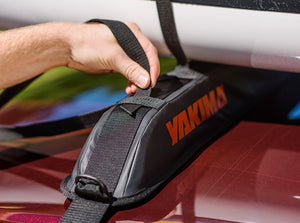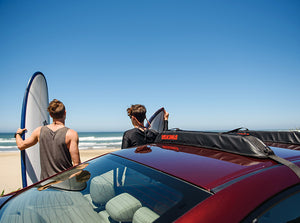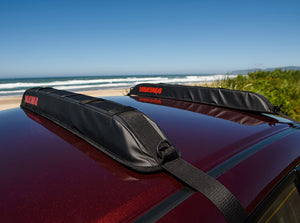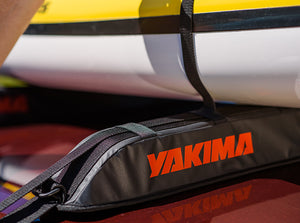 Product Details
Installation
Accessories
Spare Parts
EasyTop
Product Details
Straps on top of almost any vehicle to create an instant roof rack
Carries us to 80 lbs of gear
Great for boats, boards, skis, ladders, and other long, flat loads
Thick structural padding protects your roof and your gear
Secures easily through door frames with integrated straps
Double-latching buckle adds security
Heavy-Duty Straps and Tie-Down rope included (HoodAnchor, sold separately, is required for vehicles with no attatchment points for Tie-Down rope)
Product Specs
Weight: 4.50 lbs.
Dimensions: L 38.00 in x W 5.12 in x H 3.50 in
Product Features Video
EasyTop
Installation Details
No Assembly Required
5 Minute Install
Resources / Manuals
Installation Video
Add Accessories to Your Rack
Don't Worry, We Have A Spare
How to deal with the rain issue
If rain is a pain, try cross-pollinating an idea from tent and hammock camping. Tie a short guy line (6-8") to the strap prior to it entering the car. Properly placed, the water should hit the guy line and drip down and away from the car.
Rain
I actually really like when it rains inside my car so this is perfect
Huge dissapontment
For the price sure it works well.
Here were some issues i came across:
- Don't use in the rain, the rain straps will soak with water and get into the car.
- After a few use the straps already started to rip, and not in like one place, like multiple places (as seen below)
- After a few more uses noticed that it was scrathing the paint on the top of my car (as seen below)
Would not reccomend.
Works great! I found a better way to secure the kayak; see my review.
YAKIMA EASY TOP KAYAK CARRIER
1. Start buckle "face down" on passenger side (should see YAKIMA)
Thread D ring
Thread loop closest to the load you are carrying
Throw strap over load (buckle remains on passenger side)
2. Thread loop closest to load on the drivers side
Thread D ring
Leave strap hanging on driver's side
3. Walk over to passenger side and bring buckle across top of the load
Take loose end of strap which is hanging on drivers side and thread buckle, which is now "face up" (should see word PRESS)
Press down where indicated and thread strap under the teeth
4. Pull down to tighten using body weight
Perfect For My Hatchback
I've used this rack several times already, and I'm super happy with it! I use it to transport my 10ft Pelican kayak to the river, and I have not had any problems with it (I only use it on days when there is no rain in the forecast). By myself, it takes me only about 15 minutes to put the racks on my car and to strap in my kayak. If you want a preview of how to put it on your vehicle, I recommend watching the video on Yakima's YT channel.
DONT USE IT WHEN IT RAINS
Easy to put and take down. Works perfect in a dry day. If it rains water will get in your car!! Water will get inside thru the straps. The car ceiling will absorb most of it and then it will start dripping!
Don't use it if it's raining!
Great product, easy to put on and off but if you get caught in the rain water will get inside your car through the straps and ruin your car ceiling!!
GREAT idea at a decent price!
We got an email letting us know about this new product at the right time as we were in need of something better than using Yoga mats to transport a kayak. It seems really simple, like you could rig this up yourself...and it is..but we couldn't come up with anything like it. The price is ok...should probably be less based on the fact that you really get two foam things covered with the Yakima logo, a place to hook the strap, 2 straps, and the string/rope is kinda useless as it is too thick to go through the rings on my kayak. It does work VERY well though...SUPER easy to use, can be used on Any vehicle, doesn't take up space either! Directions were very easy for my husband to follow too. As for how durable it will be...time will tell! I anticipate the loops ripping off in a short time period and the material that covers the foam things fraying and ripping. We shall see and we hope that Yakima will warranty it if that does happen! For now, it's a GREAT solution for anyone without a rack who wants something simple and already put together!