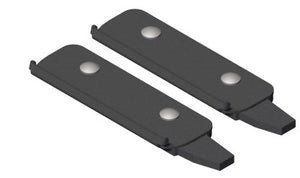 Product Details
Installation
Accessories
Spare Parts
Bolt TopLoader
Product Details
Stainless steel hardware included
If you are attempting to use QTowers and our bolt top loader for your vehicle you will need a pair of Q41 clips, sold separately.
Sold as pairs
Product Specs
Weight: 1.00 lbs.
Dimensions: L 7.10 in x W 2.50 in x H 0.75 in
Product Features Video
Bolt TopLoader
Installation Video
Add Accessories to Your Rack
Don't Worry, We Have A Spare
Nice Option
I tried multiple mounts for a pickup bed shell and luckily found these mounts. Tricky part is getting two sets squared and spaced equally is both directions. But take the time to do it right, and the bolt top loads work great.
Cheap stainless hardware
Something has changed with Yakima's quality. I was always a believer in Yakima and have over $2500 (new value) worth of their equipment. If you're installing a bolt toploader like I did tonight, save yourself some time and do yourself a big favor and throw all of the stainless hardware in the garbage and buy some different hardware. I thought it was a fluke with one incorrectly threaded nut or bolt but soon found I was glad the 5/16 x 1" carriage bolts and 5/16-18 lock nuts came in small bags instead of singular, or I would have had to make an additional trip back. I'm not sold on the neoprene pad either but time will tell. The last time I installed these, that wasn't included and I had no issues.
worked great! Need them again!
I used a pair of these on my '84 Bronco II. there were gutters over the doors, but none in the back, so I pulled my headliner and mounted a pair of the toploaders..... worked great! Put two pair in my '88 Javelin bass boat to haul my pirogue to and from the duck camp. worked great! converted my racks/towers to rail grabbers on my '07 Ford SporTrac to haul my dog training gear, and they worked great. but now I have a '14 F150 Supercrew, and I want to mount my 1A towers on the Leer camper shell I have ordered, and I need some more!!