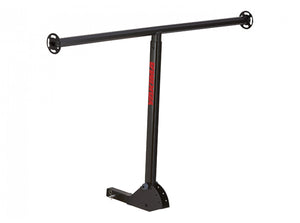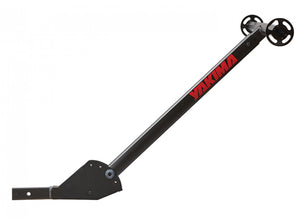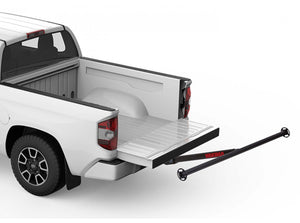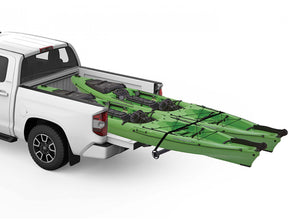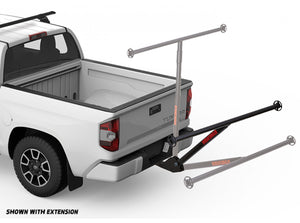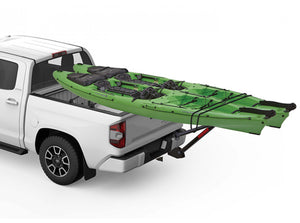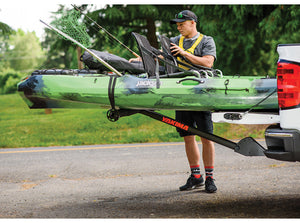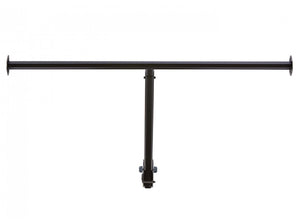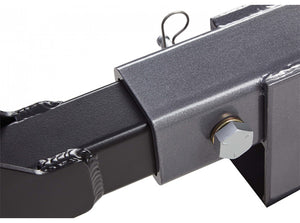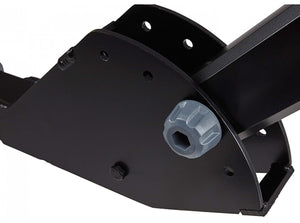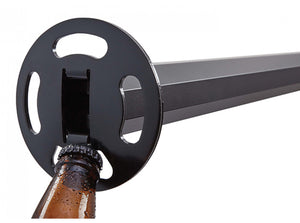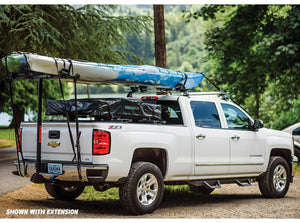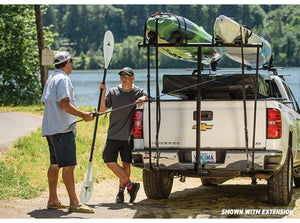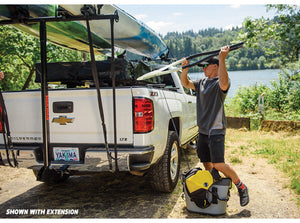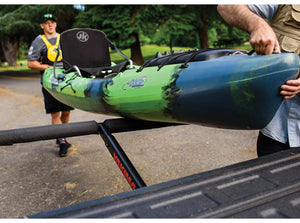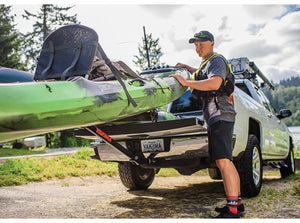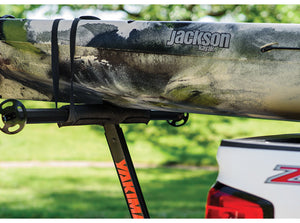 Product Details
Installation
Accessories
Spare Parts
LongArm
Product Details
Provides 4 feet of additional truck bed length with a 60" wide crossbar
Adjustable to three load-carrying positions:
Bed height for use when your truck tailgate is open (300 lb carrying capacity)
Bed rail height for use with our BedRock rack system or a tonneau cover (300 lb carrying capacity)
Truck cab height by combining the LongArm Extension with a roof rack system (165 lb carrying capacity ) (sold separately)
Installs easily and securely to any 2" hitch receiver using the included 5/8" threaded hitch bolt
Aluminum construction engineered for strength – weighs only 12 lbs!
Integrated tie-down points ensure a secure ride for your fishing kayak, canoe, ladders, lumber and more
Add any Yakima boat mount to the crossbar for added boat protection.
Yakima signature bottle opener lets you enjoy a post-paddle cold one
Durable black powder-coat finish
Add the LongArm Pad for increased load protection (sold separately)
Add the LongArm Height Extension up to cab height (sold separately).
Heights from the top of the tongue to the top of the crossbar at the four angle positions (Vertical to Horizontal):
Low Bar Heights - 40 in, 37 in, 27 1/2 in, 14 1/4 in
Mid Bar Heights- 41 3/8 in, 38 1/4 in, 28 in, 15 1/4 in
High Bar Heights- 42 3/4 in, 39 1/2 in, 29 in, 15 3/4 in
Product Specs
Weight: 13.00 lbs.
Dimensions: L 18.00 in x W 60.50 in x H 43.00 in
Product Features Video
LongArm
Installation Video
Add Accessories to Your Rack
Don't Worry, We Have A Spare
Be aware
If you're looking to use this on a late model Ram 1500, take note that there are only 2 positions that will work because the tail gate will hit the extension arm, completely horizontal ( which is useless ) and completely vertical.
Kinda weak
I must admit it works for the most part but I don't see it lasting with heavy use. Doesn't fit great from he hitch and has alot of play mostly because there's to may moving parts to be stable, and its to lightweight to be durable. Im on my second one because someone hit my first one. In case anyone has same problem Yakima does not have any replacement parts for this unit. Pros is its light weight. If they used a bit thicker aluminum and beefed up the hitch section I think it would be a solid product. Way to much sway while traveling. As far as using it as a roof rack option I would say no way.
Great for Boats Too!
Kayaks and Canoes will certainly carry well but I also use for an aluminum Jon Boat and a fully open Porta-Boat.
The Limited height adjustment did not create a problem mating up with bed height.
Light to carry and install. Suggest getting a dedicated box wrench for the hitch bolt in addition to those they supply.
No stock in the summer time?
I WISH I could review this product. Ordered it 30 days ago through REI and no word yet on delivery. Brand new SUP, new Kayak and Yakima not showing up.
Fit on older RAV4
The Yakima Longarm will fit an older RAV4 with the rear mounted spare. About 3 1/2 inches clearance. Love the light weight.
no more jerry-rigging the kayaks or canoes to our truck..
I can name a number of occasions where we have come way close to losing kayaks and canoes and causing accidents or spent countless hours trying to jerry-rig them to our truck. It's usually one or the other, so relieved to finally have another option! Easy installation and removal too.