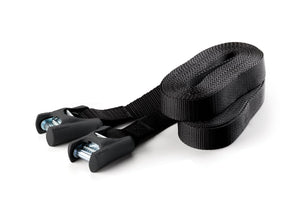 Product Details
Installation
Accessories
Spare Parts
HEAVY DUTY STRAPS
Product Details
Soft rubber coated buckle protects boat and vehicle from scratches
Super strong box-stitched polypropylene webbing
Comes with two 16-foot straps per package
Looking for a locking feature to your cargo tie-down solution? Check out the Yakima RipCords - they're lockable and include our SKS Lock Cores.
Product Specs
Weight: 0.80 lbs.
Dimensions: L 7.00 in x W 4.00 in x H 2.00 in
Product Features Video
HEAVY DUTY STRAPS
Installation Video
Add Accessories to Your Rack
Don't Worry, We Have A Spare
They save your windshields and bodywork
Used these for years and years. Durable, strong, flexible and, most importantly, the metal clasp is fully rubber-coated. So when I casually flip the strap over my boat, it doesn't wack / crack my windshield or ding the paintwork (have had other, less well protected buckles do exactly that in the past :( Good stuff. Expensive, but then so are windshields.
heavy duty straps
Lost mine yesterday in a rapid when they weren't secured in a kayak and will order more immediately. They're the best for many loads, especially two kayaks on an old subaru.