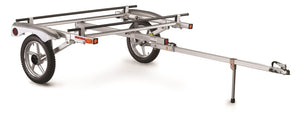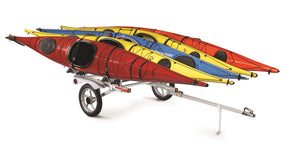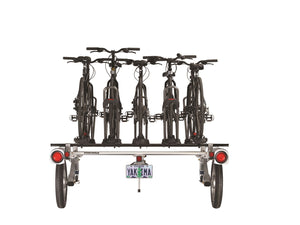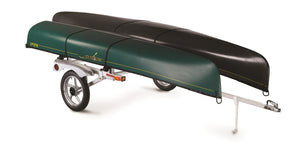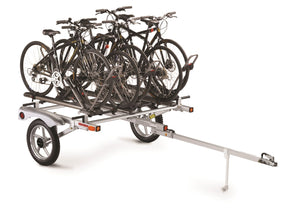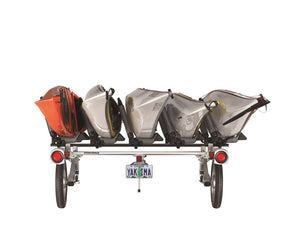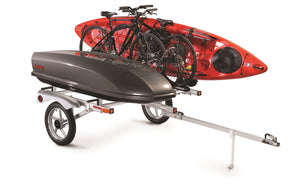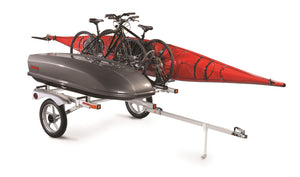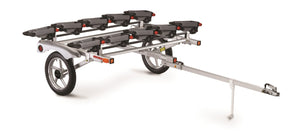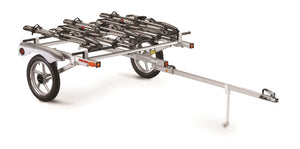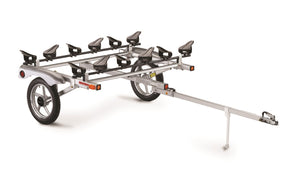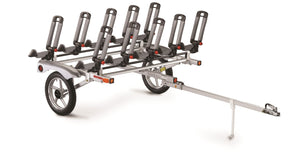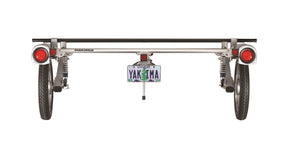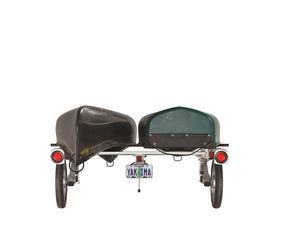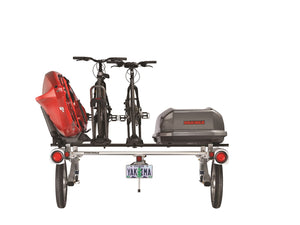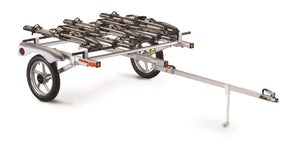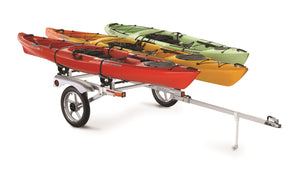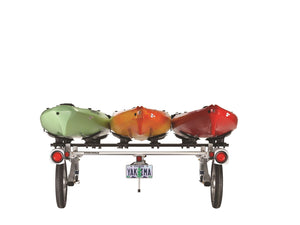 Product Details
Installation
Accessories
Spare Parts
RACK and ROLL 78"
Product Details
Lightweight aluminum construction
Shock absorbers provide 4" of independent wheel travel, providing greater stability and gear protection
Stores easily in compact upright position with removable wheels and tongue
Small wheels on rear of trailer allow you to easily roll the trailer upright for storage
Carrying capacity is 250 lbs with stock suspension.
Optional Heavy-Duty Shocks can carry up to 350 lbs (RackandRoll 78" only)
Carrying handle transforms lightweight trailer into a handcart
Includes Yakima crossbars; spread adjustable to 48"
LED trailer lights last years without needing replacement
Includes 3 Rack and Roll specific locks cores with keys (not SKS compatible)
Comes in two widths: 66" and 78" crossmembers and crossbars
Product Specs
Weight: 160.00 lbs.
Dimensions: L 132.00 in x W 78.00 in x H 22.00 in
Product Features Video
RACK and ROLL 78"
Installation Video
Add Accessories to Your Rack
Don't Worry, We Have A Spare
If you want the best buy a Rack and Roll Trailer
My wife and I have owned our Rack and Roll Trailer for six years and could not be happier with this product. We have pulled this trailer from west to east across the country back four times plus many short trips, and put well over 30,000 miles on it without any problems. We did replace the tires on our last trip home. This trailer tracks as straight as an arrow, even at speeds of 75 mph when traveling in Texas. It is an unbelievable trailer that one assembles in your garage. People approached us often when we stop and for information about the trailer. We tell them to buy a Yakima Rack and Roll Trailer if they want the best.
Very nice setup
I have had this trailer for about one year. I didn't start using it until this Spring since the order took 6 months to come in. Mine was assembled and ready to roll by the dealer. It's very easy to load and unload kayaks or canoes . I would have preferred the aero bars, but the round bars do the trick. Rides super smooth even on rougher roads .I love the storage capabilities during off season. No electrical issues that some have stated below in older posts. The wiring harness is now snake skinned which helps from cutting the wires when collapsing the tongue. I get asked questions at boat launches about this trailer. It's definitely an attention magnet !
1st customer
I have an original rack n roll, sold to me when it was a final prototype years ago. This thing has done everything from transport bikes, boxes goods for work, trash and Thule spok coffins. For years I hauled it with my mini copper s. No better pulling trailer. I use the Yakima bars and affix metal grates for large gear bags etc. I'm now looking at modifying a rack to add a tent platform. Also got some billboard fabric for a full area dry bag like carrier. I absolutely love my trailer. It is over 20 years old and has some scars. The lights were the first to go but I've added after market stuff that isn't as pretty but more robust. I've repaired the now brittle fenders but the trailer still gets looks. I've too many times loaded it beyond its rated capacity withou invent. For reference, my last trip to UTAh, I saw NO increase at all in my average full consumption. Best of its type hands down.
Rack and Roll Trailer 78"
Have had my trailer for over 3 years now and have had no issues with it pulling it all over the US. I did upgrade to the heavier shock and really like them. I have the tongue extension and only use it when I load boats over 12' in length. If you don't have it you take a chance of damaging your vehicle when backing up and the trailer turns left or right.
Wish I had bought this sooner!
I love my Rack and Roll 78" trailer and have had it for about a year now. I have taken to everywhere. It is ready to go in an instant and we have been so pleased wit how it functions. People are always say that it is the best trailer they have ever seen. They are right and we are so glad we bought one.
SPACE-X ENGINEERED TRAILER
Took *FOREVER* to get this trailer. Ordered it from our local Kayak Shop -Portland Kayak. As we want to support local businesses. Every 6 weeks I would call and bug them... is the trailer in yet? They would come back and say, 'Yakima told us it will be November." Then December... but mid January, it arrived! It is an AMAZING bit of trailer engineering. Well documented. I purchased the spare tire and the tongue extension. Was a breeze to assemble. Fantastic design. Two of the electrical bosses you slide the connectors into were hard to get to (at the forward cross rail), and the wiring slipped inside the extender... so that required a 3' curtain rod to fish it back through. Otherwise installation was a breeze. I understand Tariffs in China have raised the pricing, but hopefully future buyers won't have to wait so long. Order EARLY before you need it. It's a fabulous trailer. Expensive but well worth the money in my opinion. Much nicer in person than I imagined it would be. We have 2 17'' kayaks and a Tesla Model X, so roof racks weren't an option. This allows us to take 3-4 kayaks now.
Great trailer
Great trailer. We bought the 78" model, and we use it to transport 2 tandem kayaks, 1 single kayak, and a roof top box (for paddles and PFDs). Getting this same set of gear on and off the roof of our SUV is incomparably harder. Received it in boxes at the shop, and it took a few hours to assemble. The instructions we clear. Make sure you have a torque wrench handy. Also, I recommend adding the kickstand to support the trailer while loading.
Great design, but poorly executed
I have owned this trailer for about eight years. I have pulled it from Michigan to Florida on Interstates more times than I can count. I have also taken this trailer with kayaks from northern Michigan to southern Missouri a couple of times. I am an active member of our local paddle club and paddle about a hundred days a year so I not only see how my trailer performs, but I get a chance to see how others perform. This trailer is the best I have seen among kayak trailers. What makes it so good is the suspension system. It is the only trailer that has independent suspension that includes a shock absorber. Many small boat access sites are on bumpy dirt roads and this trailer rides better than my car. This trailer does have some significant design flaws that lead me to only give it less than stars. The standard tongue is not even long enough to handle 14 ft kayak if you mount it on the end of the bar. When you try to back up it is very easy to turn sharp enough that the kayak hits your rear fender. I did $600 worth of damage to my car this way. The tongue extension Yakima sells is not strong enough for its length. After eight years of use mine has a significant bend. The paint on the plastic fenders chips off easily. After eight years of use both my fenders have lost about half of their silver paint. The most significant flaw is with the standard duty shocks. They will break in normal use which causes the tire to go through the fender and destroy any boat that is above it. I saw this happened on a friend's Yakima trailer on a club trip. The trailer was far from being overloaded, and it happened at highway speed. Everyone in our club who has this trailer has purchased the heavy duty shocks and has made a stop on the swing arm so that if the shock breaks, it cannot go through the fender up into a kayak. The last flaw has to do with the wiring. If you disassemble the trailer for storage, it is very easy to cut one of the wires when re-assembling the trailer because the wires are very fragile. After doing this three different times I went to a trailer shop and had them protect the wires with a plastic cover called "snakeskin". I just think that for the price of the trailer, a user should not have to work around all these flaws.
Nothing but problems
I want to love this trailer and did the first year. Since then, nothing but problems with the wiring. Yakima sent a replacement harness which also didn't work, and they showed zero interest in helping us since. Our local dealer has tried a bit more but at the end of the day I can't use it or sell it. I've hooked it up to three different vehicles so it's not my car. Now what?
Yakima Fun
Hello, Thank you so much for making such a great product. We are enjoying our Yakima trailer that we purchased in 2015. We are able to get around Central Oregon easily while hauling our bicycles, canoe or kayaks on our Yakima trailer. We really appreciate how lightweight the trailer is as that makes it easy to get to the Cascade Lakes. It was so easy to hand guide the trailer to the edge of the water, unload the water crafts and have fun! Thanks again for a great product. We receive a lot of compliments on this trailer! Best regards, Jen Renzaglia Bend, Oregon