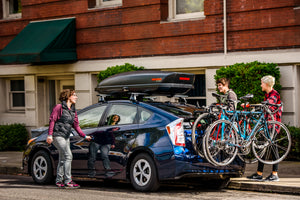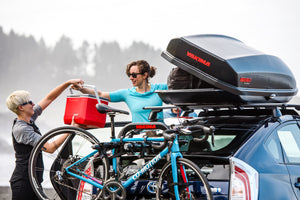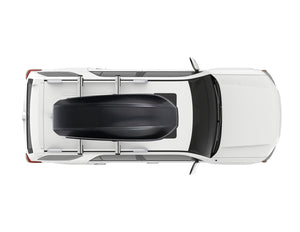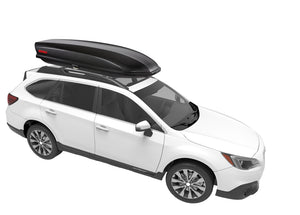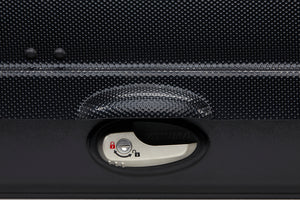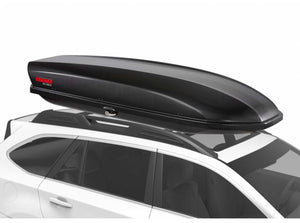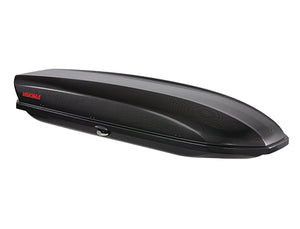 Product Details
Installation
Accessories
Spare Parts
SkyBox 18 Carbonite
Product Details
Sleek aerodynamic Carbonite textured lid
No assembly required
Tool-free installation/removal from vehicle
Universal mounting hardware fits all Yakima StreamLine™ crossbars and factory or aerodynamic crossbars
Designed with internal lid stiffeners for durability and easy open and close
SuperLatch™ security ensures your lid is secure to its base, and your gear is safe
Dual-sided opening for easy access on either side of your vehicle
Tapered design reduces hatch interference
Available in five sizes: Lo, 12, 16, 18, and 21 cubic feet
Hauls gear for up to 4 campers; fits snowboards and skis up to 215cm
Made in the USA with up to 80% recycled material
SKS Locks included
Minimum and maximum crossbar spreads: 24" – 42"
Yakima cannot ship the SkyBox 18 Carbonite to Alaska or Hawaii – please contact a local dealer.
WARNING for California Consumers
Product Specs
Weight: 52.00 lbs.
Dimensions: L 92.00 in x W 36.00 in x H 16.00 in
Minimum Crossbar Spread 24.00in
Maximum Crossbar Spread 42.00in
Product Features Video
SkyBox 18 Carbonite
Installation Details
No Assembly Required
10 Minute Install
Resources / Manuals
Installation Video
Add Accessories to Your Rack
Don't Worry, We Have A Spare
Wind gap?
Bought our Yakima a year ago using it for the first time on trip from Michigan to Colorado. Padded 3 pairs of skis and boots with a few blankets and ski jackets, snow pants- etc to keep them from rattling. The blankets and jackets find their way out, lost one jacket on I -80! Very windy day but doesn't seem right!
Tesla Model 3 Long Range 2021 installation
Getting ready to tote this roof box across country from Florida to Idaho. We used the Tesla OEM cross bars which we believe are made by Yakima as a roll up tape measure that comes with the Tesla kit is labeled Yakima. Of course the Yakima box works perfectly fine. People recommend the 12 or 16 skybox so I went with the bigger. I would have went to the 18 but worried maybe that might be too big. Anyway it looks pretty good as it is and seems like it will hold a lot of stuff so we will see just how bad it hurts the range, my guess is 15-20% but so far so good.
Awesome box - 2022 Hyundai Palisade
We love this cargo box. We had this rack on our 2020 Hyundai Palisade and now on our 2022 Hyundai Palisade. It holds 5 of our soft duffels from REI and our fishing poles and tackle box.
The only difference with the 21 ft box compared to our 18 ft box is the 21 is 5" taller. Same length and width. Fits well on Thule or Yakima aftermarket racks. It did not grab as well on the stock Hyundai/Kia crossbars that the dealer sells for $325. I definitely recommend it and would use with a Yakima or Thule crossbar system.
I'd highly recommend it. No issues with noise at "freeway+" speeds. No water leaking issues. Ours has been through rain, hail and never had a leak inside. Get one, you won't regret it. Allows us much more space inside the SUV.
Sleek Cargo Box
Just picked this cargo box up and I'm very happy with it. Fit my 2011 Mitsubishi Outlander no problem. I thought for sure the roof antenna would be in the way but the front and rear clamps have quite a bit of adjustment to move the box forward and backward. I ended up being able to easily move the box forward enough to clear the antenna, not to mention the rear hatch. I mounted it myself in the store parking lot in about 15 mintues - was impressed with how simple the process was!
Great SkyBox 18 Carbonite & Fits 2019 Honda Insight Hybrid
We have a 2019 Honda Insight Touring. Yakima as of today's date is the only one that makes a roof rack for our Honda. It took me about an hour to put everything together while watching Friends. In the pictures the cargo box isn't locked into place. I only put it together to make sure it fits perfectly and to show my wife. We can't wait for our first road trip. The cargo box is the SkyBox 18 Carbonite.
Can't close w/o locking
I guess it's intentional, but still pretty dumb. In order to remove the key the box has to be locked. In other words, you're forced to always lock it--empty or full. (this was frustrating to figure out in the dark and cold the first time we loaded it) I would seldom lock it if I could avoid it. If I'm camping, I am 10,000 times more likely to loose my key than a person steal sleeping bags off the top of my minivan. Makes no sense.
Hi Travis!
We understand your frustration. The hope in creating this process was to ensure safety so you can trust in the fact that your box is securely closed and ready to hit the open road. It doesn't make for the best experience when loading and unloading the box however, we get that!
~Yakima Team Member
Great Storage
I own a 2019 Honda Odyssey .Purchase Skybox 18 .Perfect fit with factory crossbar.The van look great with the Cargo box.I have a lot of storage now .Looking forward to travel often.
Well Worth It
So I work for a company that has one of these that we can checkout. The problem is it is usually booked around the holidays. Nonetheless, I managed to snag it a couple of times for family trips. The Skybox works out great! At the time I had 2 kids, 2 Great Pyrenees and a wife that constantly over-packs. We got tired of missing out on work's Skybox, so we got our own. My wife balked at the price but the amount of times we use it and the ease of installation has made her a believer. It is so easy to take on and off that sometimes we put it on for in-town shopping trips. The kids like that they are no longer squished between bags. One of our dogs is no longer with us but the remaining dog is happy with the extra space in the back of the car. My in-laws are impressed by how much we pack between the kid, dog, and bikes on back. If you are on the fence, I would strongly suggest this product.
Fits on Outback 2015-2018
I was concerned that the Skybox 18 would not fit on my Outback without hitting the tailgate when open. The info I found only stated that the center of the front bar needed to be 57in from the hatch. I am not using factory racks, but the landing pads with Skyline Towers. Nowhere could I find if the extra height on these towers would help clear the tailgate. I called an REI about an hour away to see if they could help me test it out. They said they would help me see if it fit since they had one on the floor. As we were walking the box out to my car, they told me that they were having a huge anniversary sale the next week. They were most likely going to sell out at that time. If I purchased it today, they would refund the difference ($175) the week of the sale. We got the box on the car and adjusted, there was about 2.5in. to 3 ins. of space between the hatch and the box. Now that the box was on my car, I had to get it! :)
Great Tried and True Space Saver
This is the third Yakima box that I've purchased over a variety of years and I can't say enough good things about this product. The design is simple and genius, the space that it saves in the car is immeasurable and I've run this box full to the gills without sacrificing mileage on the car, which is almost negligibly affected by even the heaviest of loads, worries about the cargo shifting in high winds that I drive through with some frequency, San Gregornio Pass in CA, and they last forever! I've even hauled three oak trees across the state in 5 gallon pots that arrived in perfect shape at their destination. Yakima brand rocks.