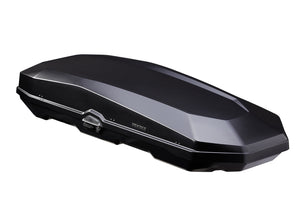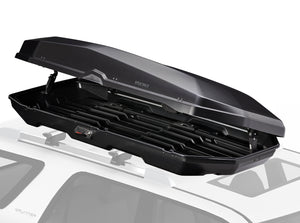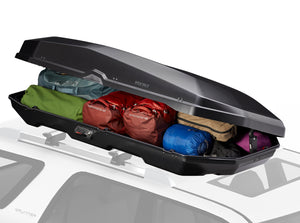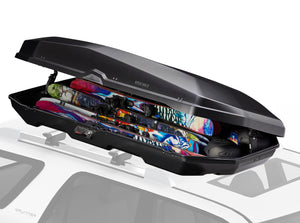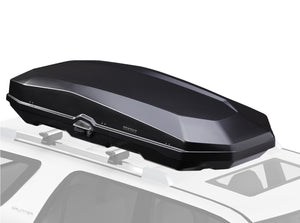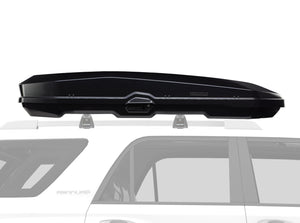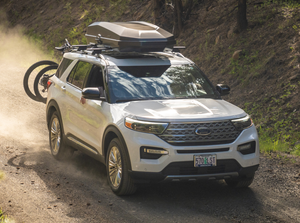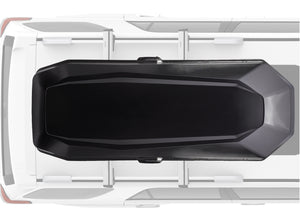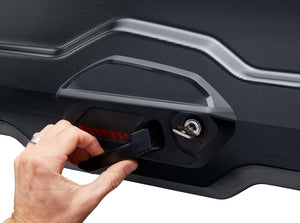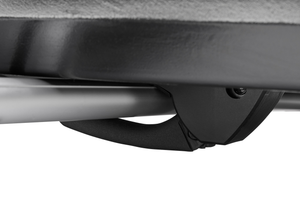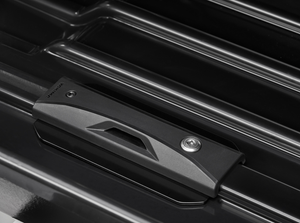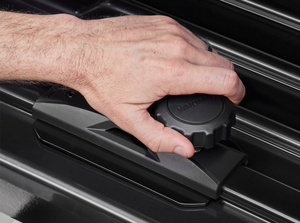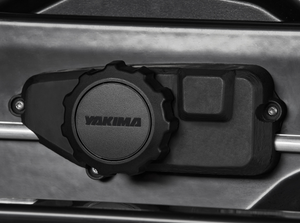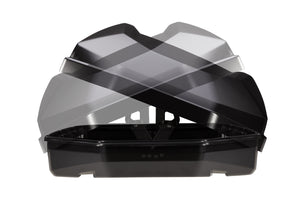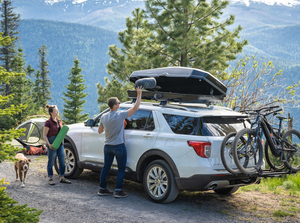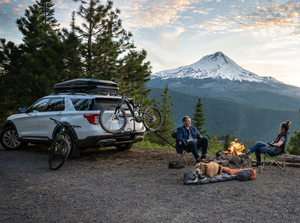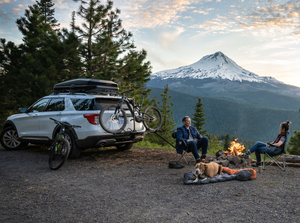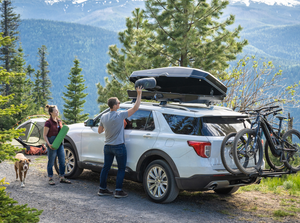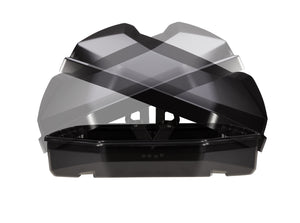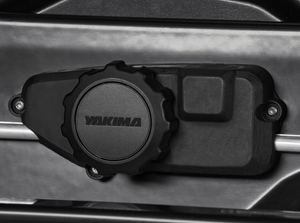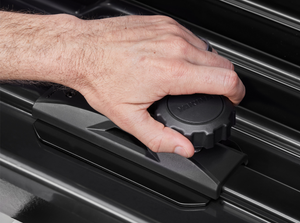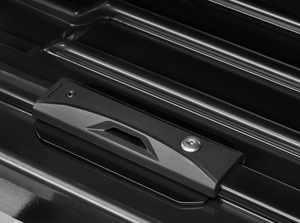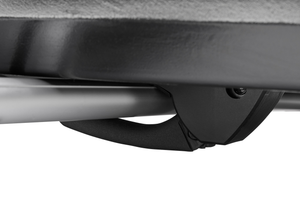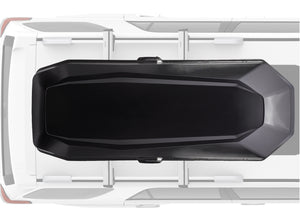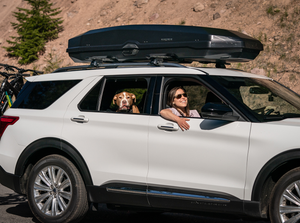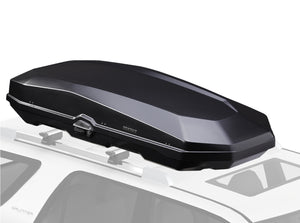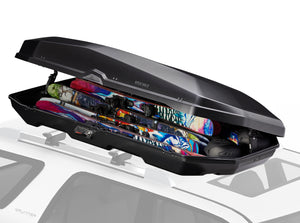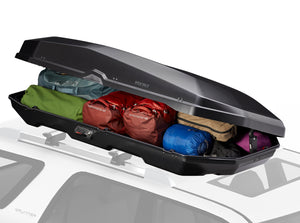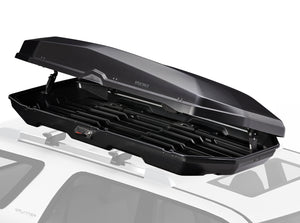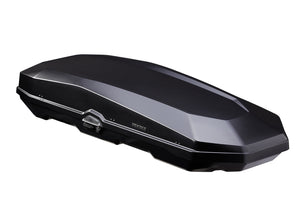 Product Details
Installation
Accessories
Spare Parts
CBX 18
Product Details
Rugged angular finish and stealth like texture stands out from the crowd
Intuitive and easy to grab lid handle locks gear inside the box and the box to the vehicle
Removable torque limiting knob ensures a safe and secure installation
Market-leading internal usable space with an unobstructed flattened floor provides more space for your gear
Optimized hatch clearance for better vehicle fit
Universal mounting hardware fits all Yakima StreamLine™ crossbars and factory or aerodynamic crossbars
Internal lid stiffeners for durability and easy open and close
Dual-sided opening for easy access on either side of your vehicle

Hauls gear for up to 5 campers; fits snowboards and skis up to 215cm

Integrated interior tie-down points
SKS Locks included for added security
Black chrome badging
18 cubic feet of cargo space
Made in the USA
Yakima cannot ship the CBX 18 to Alaska or Hawaii – please contact a local dealer.
Product Specs
Weight: 65.00 lbs.
Dimensions: L 91.00 in x W 38.00 in x H 17.00 in
Minimum Crossbar Spread 24.00in
Maximum Crossbar Spread 40.00in
Product Features Video
CBX 18
Installation Video
Add Accessories to Your Rack
Don't Worry, We Have A Spare
Looks good, works good
My only cargo box experience ever. But it seems to work well, very quiet with wind noise and maybe a .75mpg hit while on the roof of my explorer.
Nice looking box.
No complaints. It's my first cargo box so I don't how it compares to others but so far it works as advertised. It latches on well and doesn't shake loose. I have driven cross country twice now and never had any issues. Doesn't make noise and has been reliable. I will however say that the first time I opened the lock it was difficult. The lock seems to have broken in and there hasn't been any issues since the initial opening. It also looks good. So many other boxes are just not good looking. This one is.
Looks great / value lacking
The box looks awesome on my car (2022 Lexus NX). I just had it installed and haven't had a chance to go on a ski trip with it yet so this is only an initial review. I really like the low profile of the attachment hardware inside the box. This was the biggest reason why I chose this box as i don't want the hardware scraping against my skis and boards. The structure of the box seems flimsy but I'm sure this is a trade off for weight savings.
I am disappointed in the value of the box. I think it is incredibly overpriced for a big piece of plastic. At this price point I would prefer if it felt more fully featured or luxurious with included tie downs, an interior liner, lighting…
I like the look of the opening lever handle but I am unsure of how it will perform in snow and icy conditions. It appears to have very tight clearance that could introduce scratches as it's operated. There is a piece of clear tape against the box for the handle would potentially scratch. It appears that this was an issue and a bandaid was put on.
I knew all of this information prior to purchase but still reluctantly made the decision to buy as I couldn't find a better combination of solutions on the market.
Great but lacking
A quick/simple obersvation after owning for 6 months:
Pros:
-great design
-low profile
-easy to mount/dismount
Cons:
-straps not included (at this price, really should be)
-locks/hinges need to be maintained (mine are feeling pretty stiff already)
-lack of compatibility with platform racks (I do not keep the cargo box mounted full-time; with the recessed 'hooks', there is no way to mount it on a flat platform, much like their LockNLoad. Each time I need to mount/dismount, it involves a process of removing cross-bars from my full-length roof rack.)
The last bullet is a deal-breaker for me, and I wish I had considered this before purchasing. Thule makes an adapter that will allow you to mount their cargo box (even with recessed 'hooks') to a flat platform. For those that prefer flexibility in their roof setups, or for those that have platform roof rack, look elsewhere. For those that don't, I got one used for sale :)
Great first impression with this one
So far I have merely installed the larger CBX18 on top of my car's roof and drove home with it empty. It is the first rooftop box I've ever had and I've read quite a lot of complaints about wind noise in reviews for other boxes - being that I have a car with a huge panoramic glass roof (2020 Volvo V60CC) I was expecting quite a noisy ride. At speeds of up to 85mph, I did not notice any increase in road noise whatsoever - NONE. I had to literally open the glass sunroof to hear any sounds made by this box and even then, they are quite minimal (so minimal, if you really wanted to drive with the roof open for some air - you would!). I was extremely impressed by this. It must be some aspect of the design that is doing its job well, the dimpling or perhaps overall shape. Whatever the case may be, Yakima's achievements in eliminating wind noise from this box are applaudable.
The installation is really quite easy and self-explanatory - almost no need to even read the instructions. There are thoughtful features all around on this unit - from the stowable clicking torque wrench you tighten the clamps with, to the internal hanging ropes on either side in-case it is too tall for you to reach when it's fully open, so you can grab those and pull down to close it easily.
The clamps were all able to be moved forward and backwards quite easily, and it seems there was plenty of room to move them to accommodate various positioning of roofbars. When the clamps are fully loosened, you can slide the box forward/backwards with relative ease so you can position it as far back as possible with the tailgate opened to make sure you've got the clearance right.
It does not come with straps for the internal tie-down points so I will definitely be looking to get those. Does Yakima sell specific straps for this purpose? If so I was unable to find them. I saw a cargo net specifically for the Skybox series, one of those for the CBX would be quite nice and I would gladly get one.
Overall good
Great aesthetics, but got 4 stars because it does not come with straps. You pay so much money for the product to have to buy all the accessories