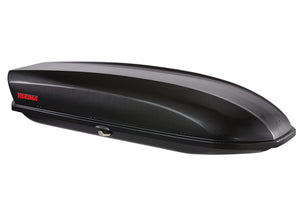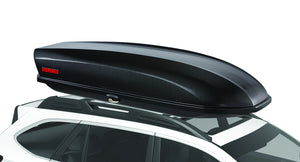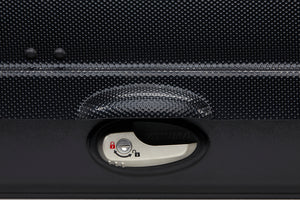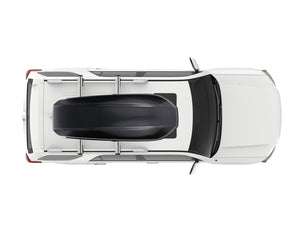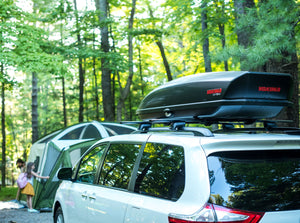 Product Details
Installation
Accessories
Spare Parts
SkyBox 21 Carbonite
Product Details
Sleek aerodynamic Carbonite textured lid
No assembly required
Tool-free installation/removal from vehicle
Universal mounting hardware fits all Yakima StreamLine™ crossbars and factory or aerodynamic crossbars
Designed with internal lid stiffeners for durability and easy open and close
SuperLatch™ security ensures your lid is secure to its base, and your gear is safe
Dual-sided opening for easy access on either side of your vehicle
Tapered design reduces hatch interference
Available in five sizes: Lo, 12, 16, 18, and 21 cubic feet
Hauls gear for up to 5 campers; fits snowboards and skis up to 215cm
Made in the USA with up to 80% recycled material
SKS Locks included
Minimum and maximum crossbar spreads: 24" – 42"
Yakima cannot ship the SkyBox 21 Carbonite to Alaska or Hawaii – please contact a local dealer.
WARNING for California Consumers
Product Specs
Weight: 62.00 lbs.
Dimensions: L 92.00 in x W 36.00 in x H 18.00 in
Minimum Crossbar Spread 24.00in
Maximum Crossbar Spread 42.00in
Product Features Video
SkyBox 21 Carbonite
Installation Details
No Assembly Required
10 Minute Install
Installation Video
Add Accessories to Your Rack
Don't Worry, We Have A Spare
MDX issue
Great product, size (21), top quality, great look. Someone give me idea how to install it on MDX. I have stock roof racks, 28 inches apart. Box fits on it but I AM NOT ABLE TO OPEN TRUNK!! Even if box is slider all the way forward. Any ideas?
Awesome Addition!
I love my yakima storage for highlander! It's such a relief when traveling with kids and pets! I do need to know- where can I get replacement keys? Mine were lost in a move and now I'm locked out of it.
Great box and service
Yakima rules. I'm on year 5 now and leave it on my Acura MDX year-round in Brooklyn, NY. Yeah, after several years it'll fade a bit, and as with any box I wish it would open a bit wider to load, but it holds a ton and I have had ZERO water issues from either driving or inclement weather. The hinges and locks have been solid as a rock, too. Camping; skiing; beach; long road trips; you name it. It's an essential automotive need for our family.
Love/hate relationship
I love this box. And I hate it. It can hold 3 fully packed adult packs and still have room for dog packs. The opening is so tight that it is hard to impossible to get all the packs into the opening though there is room to close comefortably if you can magically make it in. Other major issue- webiste shows that the box is compatible with my 2016 4Runner but when installed it hita the rear spoiler even in an improper configuration, as far forward as the box allows. Measure your vehicle closely with Yakima bars and verify fit before you trust the "compatible" marking.
Cavernous
I had the bed and back seat of my truck maxed out with stuff and then I began filling the Skybox 21. It's amazing the amount of stuff that can go in there including a standard size charcoal grill! Not a shimmy, shake or whistle on speeds up to 75mph. It made my trip possible, I love it!
Perfect!
Four years down the road now with a Skybox 21. I move it from car to car and now I'm buying a second one. No issues ever, fist rate quality and we swear the 2003 Subaru Legacy GT gets better fuel economy with it installed! We like to take our dogs everywhere and when we do we put all of the camping gear in the Skybox and have plenty of room inside the car. Yes, this does fit our car perfectly with a 1/4 inch of room clearance to the rear hatch when it is opened. It is like they designed the box for this specific car!
Great Quality
I just purchased the Skybox 21 last night so my review is based on comparing this to the THULE on the show floor and then mounting on my car. The Yakima design stability is apparent the moment you open the two cargo boxes side by side. I originally went to the store to buy the THULE witch was on sale, and I immediately switched to the YAKIMA after comparing the quality. The mounting system was a little tricky but was done within 15 minutes after installing on my Chevy Tahoe. The handles and locks are firm and quality built. The ride noise was very minimal and had to look through my sunroof to notice it. I'm looking forward to loading it up and heading to Mt Hood this weekend!
Best Quality Ever!
I've owned two Thule cargo boxes in the past. The quality of the Yakima Skybox is exemplary. I have a 21 cu. ft. on my 2017 Subaru Outback, and couldn't be happier.
Convenient and awesome
I have 4 dogs that go on trips with me all the time, this has made it much easier for them to spread around inside my 4runner. I have taken tools, groceries, luggage, etc and never any issues. If I had to mention one problem is the clearance on my garage door, unfortunately it doesn't clear it. But its still a great product.
SPACE CASE
Well I may of just lost my first review as I was not done with it but it disappeared. so try #2. I do not own a SKYBOX 21 CARBONITE. I do however own a SPACECASE 19, a 19 cubic foot box that I purchased in 1996 I believe, it was originally bought for the top of a 1993 Jeep Grand Cherokee. Picture this as I do not have any pictures that I can find, I could of swore we had some from Yellowstone. So here is this large box that is white and gray, and a beautiful 1993 Jeep Grand Cherokee that is White and Gray with hand painted pin stripes around the door handles etc., custom wheels and so AWESOME with the Yakima Space Case in White and Gray on top. Turned heads every place I went. I want to get the SKYBOX so badly, but both kids are out of the house and college now, there is just 2 of us when we go places and we have plenty of room with us in the Jeep so no need to put on the SPACE CASE when we go on a vacation. And yes we still go and we still drive, it is the best way to see the USA. Last year we could of used the SPACE CASE/SKYBOX but we flew to Maine for our oldest Son's wedding, rented a new Jeep Grand Cherokee and took off for Acadia National Park and on to Nova Scotia and Prince Edward Island and down the coast back to Portland Maine and then flew home. Had time constraints or we would of drove. I think of all the stuff I missed by not driving from Kansas to Maine. Oh Well back to the BOX. I store it and my sons come and borrow it, I have tried to give it to one of them no charge so I could buy the new one but my wife says no new box. And that is because thee is nothing wrong with the old one. Imagine being in your 30's two small children and your husband comes driving in the driveway with a rather large purchase in the way of mounts, cross bars and a Space Case and locks and tie downs and money is tight as saving for college etc is all going on at this same time. Well in later years she has said and I quote "That is the smartest thing you ever bought" but wont let me replace with a new one. GREATEST purchase ever is the truth, and the Yakima products are still going and in great shape and some like the SPACE CASE are approaching 30 years old. I might add that both boys now 30 and 28 both have Grand Cherokee's with Yakima Racks, baskets, air spoilers and bike racks on their respective Jeep's as we;; and the oldest also has a Wrangler outfitted with Yakima products. So great products built in USA and built to last. SO THIS IS A BIG THANK YOU TO YAKIMA, THE COMPANY, THE EMPLOYEE'S THE BOARD OF DIRECTORS AND WHOEVER ELSE THAT I CAN, love your products and next purchase is a bike rack for my Jeep as my personal activities have had to get a little milder so the cruiser bike is taking place of the White Water Kayak, although a lake sit on top kayak will replace the WW one on the rack. Toys change as we age. Again and again I love these products they are great.