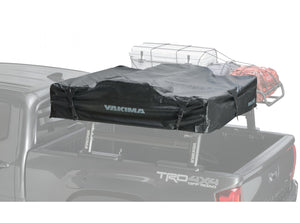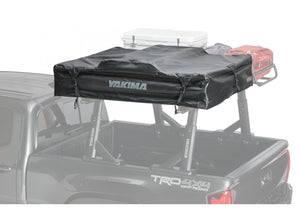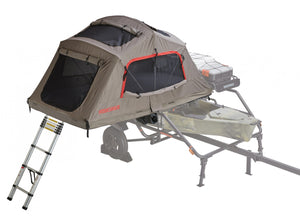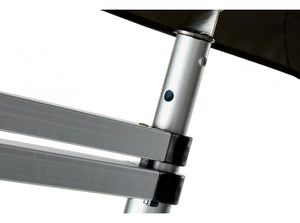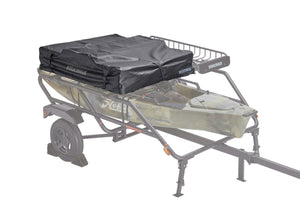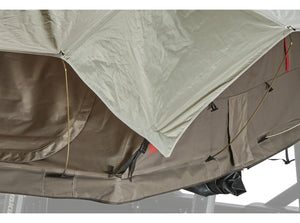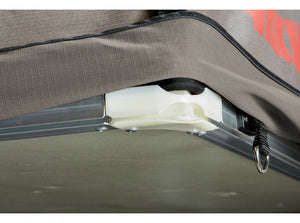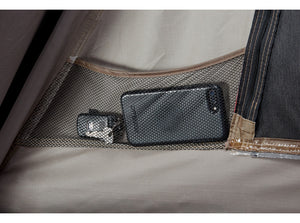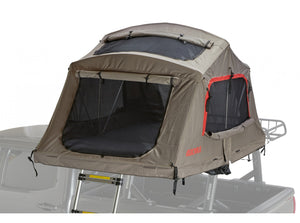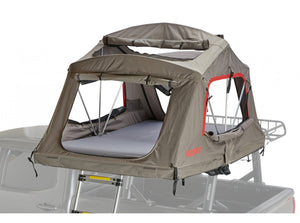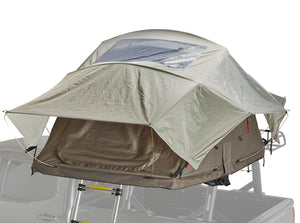 Product Details
Installation
Accessories
Spare Parts
SkyRise HD Small
Product Details
Two size options provide room for two or three campers (small and medium)
Frame geometry offers more usable space
Large doors, windows and skylights open up the vistas
4-season weather protection: 600D Ripstop Polyester fabric with a 3000mm waterproof PU coating
Rainfly with 210D Ripstop Polyester, 3000mm PU waterproof coating
Guy lines and D-rings on the tent floor to hang gear or tie down the tent in windy conditions
Abrasion-resistant tent floor with textured finish for added durability
Ladder has mid-height adjustment points for easy set-up
Ladder auto-close function that makes it a snap to close up
Tool-free and lockable vehicle mounts—easy to put on, quick to take off
Easy-to-deploy design means less work and more play—great when it's dark or raining
2.5" thick foam mattress
Foam sleeping pad includes a removable cover for easy cleaning
Mesh panel improves ventilation and lets you view the starry skies
Aluminum tent frame is light, strong and pre-set to make pitching a breeze
Open Dimensions: 48" x 84" x 42" High
Product Specs
Weight: 101.41 lbs.
Dimensions: L 48.00 in x W 42.00 in x H 16.50 in
Minimum Crossbar Spread 26.00in
Maximum Crossbar Spread 40.50in
Product Features Video
SkyRise HD Small
Installation Details
Some Assembly Required
30 Minute Install
Resources / Manuals
Installation Video
Add Accessories to Your Rack
Don't Worry, We Have A Spare
Very good product
Plus side: 6 big windows and doors that open up with or without bug screening making it great in warm weather. I've had the tent in a rain storm with 50 mph wind gusts. It stayed perfectly dry. Recently had it in a night long wind storm in Utah; gusts up to 60 mph. It handled it!
Down sides: Like other rooftop tents it's a little fiddly in set up/take down. It's too heavy for one person to take on/off car. And it's kinda pricey.
Best Tent I've Owned
This is me first RTT and I just took it out to the Olympic Peninsula. The first night I stayed dry during a full night of hard downpour even though I set the tent up in the dark and was unable to figure out the rainfly. The materials of the tent are not only sturdy but extremely high quality, Yakima put time and effort to ensure everything was done correctly, and so far it seems like it's going to last for several years of heavy use. After the first night I realized the poles for the rain fly go into the frame at about a 45 degree angle, not straight into the frame.
Night two was a lot more enjoyable even though there was still a heavy downpour, but this time the rainfly was set up correctly and I slept in peace knowing even without the rainfly properly installed I would stay perfectly dry.
I had this tent mounted on a 2007 Toyota FJ Cruiser using Timberline Towers and CoreBar crossbars. After 550 miles I experienced road noise for only a few miles while driving through a major crosswind with rain.
I rated this tent a 4 star for only two reasons, the first was the shipping company was a pain to deal with and they threatened an additional upcharge after they missed their scheduled delivery window and required a reschedule. The other reason I give this a 4 star was the mattress was a little firm, still better than any camp mat I've used. I kept a quilt and two sleeping bags in the tent while moved camp grounds and it folded up with no issue. I think you could fit a mattress topper in the tent without any issues. This was a great buy and I can't wait to take it back out.
Install was easy, even by myself. The 100lb tent was heavy but using my spare tire, I was able to rotate and flip the tent on my roof without any assistance, though I am sure a friend would make it a whole lot easier.
Very nice tent at a reasonable price
I had a Maggiolina hard shell tent before. It was a very high price unit. It fell short in the fact it was really heavy, about 40 lbs more than this tent and my wife found it claustrophobic. I tried a variety of different roof top units, particularly in South Africa, where I go for work as a Geologist. I really had no issues with any of them, just minor details. This tent was very low priced in comparison and seems to actually not leak in the rain, according to other users as well. The manufacturer actually spent some time sealing the tent. It shows, you can see how nice a job they did inside. I also like the fact it is a very light tent. So it is reasonable to mount to my Range Rover which is slightly tall. It also, in spite of the Yakima configurator saying it does not fit, actually fits just fine to my Land Rover factory accessory tracks & crossbars. It really does stow away a lot easier than almost all the tents I have had, including the hard shell tent. A couple of items that make set up a lot easier is one of the small steps that hook to the door lock on the car. Makes accessing the straps a breeze (unless you are NBA basketball eligible). Getting an LED strip light, either Yakima's or any of the myriad of others. They really do a nice job of illuminating the tent and can stay up on the top bar with velcro. My only gripe was putting the tension rods for the rainfly. It was not intuitive. After a few attempts ending in confusion and then looking directly at the hole. I realized you need to start there and slide the rod into the hole about ½" or so, then hook it to the rainfly grommet. The Yakima shoe bag is nice, but I have some mesh bags I hang with a tiny carabiner. I learned, after years in Africa, never leave you shoes on the ground. I have found all kinds of interesting insects in them in the morning. One of the gear hammocks are nice as well for the peak of the tent to store all that loose stuff in your pockets. I have a tendency to leave all kinds of stuff in the side pockets, only to discover them the next season. The overhead hammocks makes it hard to forget. You really can feel stupid if you leave your keys up there and stow the tent, only to have to open it again so you can drive away. Nice tent, reasonable pricing, well made, not noisy when mounted near the rear of your roof. Good value, nice construction.
Some minor complaints, but overall a fun and fine tent, even in fairly cold weather.
I've used the SkyRise HD to facilitate 7500 miles of self-isolated cross-country driving during this pandemic year. Here are my impressions after about two weeks in the tent.
THE GOOD: • No problems with stitching or basic design. • Windows work well and in hot weather are essential. • Rainfly (both the poles and the flexible rainfly rods) seemed difficult to use at first, but after half a dozen setups it's become easy. We weathered a 7-hour thundershower in New Mexico and the rainfly kept us dry, even with the tent windows mostly open. • Mattress isn't luxurious, but it's fine. I've learned that I need to take two pillows to compensate for a thinner mattress.
THE BAD: Nothing is really bad, but some things could be better. • Vinyl caps on the rainfly rods slip off all too easily. • There are 1" grommets in the rainfly that receive the crook in the rods; one of these fell out, so I re-peened all of them. • The telescoping ladder works well, though it took on some rainwater in its bottom section; probably needs a drain hole. • All windows and screens use tedious rings and toggles; for the front screen, I riveted some magnets that click the flap to the inside pole. • The same ring-and-toggle arrangement is used to furl the tent's heavy vinyl storage/travel cover — and this is a design weakness, because the toggle attaches with straps of thin vinyl — one of which broke almost right away, and I replaced it with a fastex buckle and nylon strap. • The vinyl cover is also tailored too tightly to the tent. It can be hard to pull the cover down to the 2" velcro strips, and I've never managed to get both corner zippers closed. If the cover were 1" larger in HxWxD, the job would be far easier. • One final annoyance is the mount: my Yakima rack has RoundBars, to which the SkyRise mounts by using four adapters — secure, but balky and fussy to align. I wish the adapters could be permanently integrated with the clamps.
OTHER STUFF: Originally, I planned not to purchase the Annex or any other add-ons, including the SideKick shoe bags — until I found them all on sale. My crew definitely recommends both. The Annex is great for changing clothes, and if you have a portable toilet it can serve as a restroom. SideKick shoe bags do keep dirty shoes out of the tent and sheltered from the rain. • I added a lightweight (folding) stool for setup and takedown. • I also strongly recommend a hooked footstep that slips into your car's door latches; on my Forester, they provide a secure foothold 40" off the ground. (Find these on eBay by searching for "Folding Door Latch Doorstep" or some such. Get two, one for each side.)
STORAGE: I use a small electric hoist to lift the tent off the car inside my garage. But to do that, you have to have enough door clearance to back the car in. My SkyRise comes close to 7'-3" when mounted, but my garage door frame is more like 7'-0". I solved the clearance problem (1) by removing the mattress before I close the tent for storage, and then (2) removing the two large bolts that constitute the main hinge of the tent platform. The profile of the stored tent thereby drops by at least two inches and clears the garage door and opener.
All in all, I'm happy with this tent and I'd buy it again.