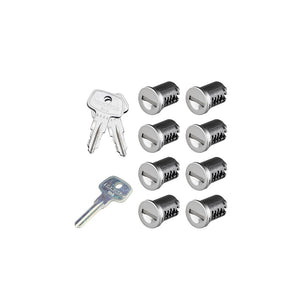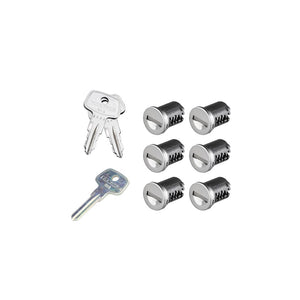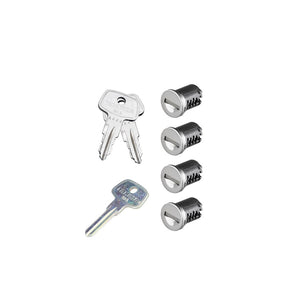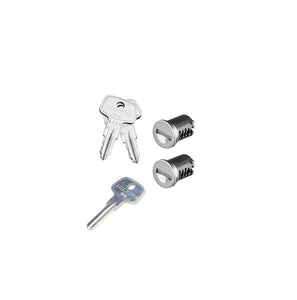 Product Details
Installation
Accessories
Spare Parts
SKS Lock Cores 2 Pack
Product Details
Fits all lockable accessories

Includes 2 SKS Cores and matching keys
2 keys included plus a control key
Core numbers included in prepackaged locks cannot be specified. If you are looking to match these lock cores to existing cores, click here to order.

Product Specs
Weight: 0.25 lbs.
Dimensions: L 0.75 in x W 0.50 in x H 0.50 in
Product Features Video
SKS Lock Cores 2 Pack
Installation Video
Add Accessories to Your Rack
Don't Worry, We Have A Spare
Just need two
I bought a complete EXO system, I was able to change a couple of locks with the provided extra (2) except I need two more with the same lock number for the cargo warrior, and a locking pin, why can't they sell them? Tired of jiggling the key to make it work. Very happy with the system though.
lock Sets
They have 2-Pack, 6-Pack & 8-Pack lock sets in stock but for over a month no 4-Pack lock sets ?
Awesome idea but not very secure
The idea is awesome and works well especially when you lose a key or buy new accessories; however, these are just a deterrent. These are easily picked and a thief will make off with not only your gear but your expensive rack system, too. Price is way too high for a basic wafer lock.
Listing is confusing
The order site lists this as a "2-pack", which I took to mean it was 2-packs of 2 locks. In other words, 4 locks for 4 towers. The price seemed to make sense, but I was disappointed to find only 2 locks at $20.00/lock. $80.00 for four locks. Expensive.
Great addition!
It is so convenient to have one key that works the Q towers, skewers and even the ankel biter. I can quickly load and secure my bikes. And just as easy to unlock and hit the trail.
Worth it
I use sks locks on all my racks, my q-clamps, and my bike locks. I have 1 key that controls everthing, and that is awesome. my keys were lost once and ordering a replacement key was simple. the only complaint i have is on a very rare occasion... once every 8-10 years i have to replace the sks cores because they get so much dirt and grime in them. but still... i can replace only one or two at a time and keep the same key for it all.
Good product
Locks are great, just as advertised. I used them for the Q tower rack system.
Overall Good
I was hoping Yakima had the option to make the locking cable for my hitch rack and the hitch lock with the same key. They did, which was awesome. The cores are very easily replaceable and quickly done too. The one key simplicity is perfect. The one thing that is not, the price. [$] is way too high for these things. Keys don't cost that much and neither do those cores. Especially when you know the owner has spent a lofty investment on one of your bike racks. Since you include the cable and lock for bike, why not include the hitch lock too and just make them the same core? why should we have to buy everything separately?
Great
Very easy and quick to install and works extremely well.