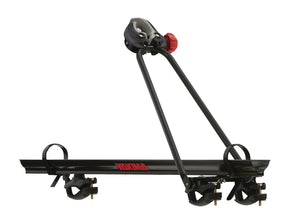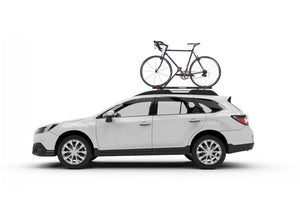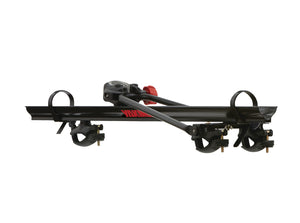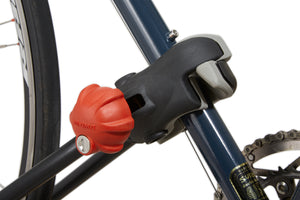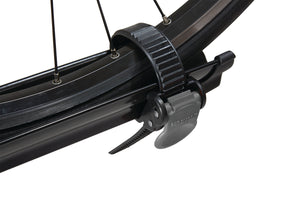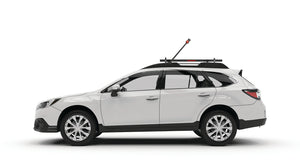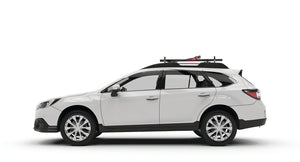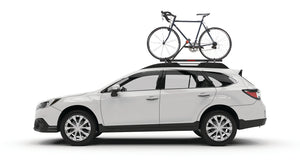 Product Details
Installation
Accessories
Spare Parts
Raptor Aero
Product Details
Carries your complete bike – no front wheel removal necessary
Great for bike frames with traditional diamond frame geometry and bikes with fenders
Fits round, square, factory and aerodynamic crossbars
Fits 1" to 3" round diameter downtubes (no aero or squared downtubes)
Accommodates disc brakes, thru axles and full suspension
Lock bike to mount with SKS Lock Cores (sold separately)
1 bike up to 30 lb at minimum of 16" Crossbar spread
Accommodates bike wheelbases up to 48"
Product Specs
Weight: 7.40 lbs.
Dimensions: L 52.00 in x W 9.00 in x H 25.50 in
Minimum Crossbar Spread 16.00in
Maximum Crossbar Spread 38.00in
Product Features Video
Raptor Aero
Installation Details
No Assembly Required
5 Minute Install
Resources / Manuals
Installation Video
Add Accessories to Your Rack
Don't Worry, We Have A Spare
Long time user
I was the Outfitter back in 1990 for Debbie Breau's entry for the RAAM. (Race Across America)
And I volunteered to set up the support vans for her team. I bought several of these racks, out of my own pocket, to use to carry her bikes during the race on both support vans. And, I borrowed a few! I mounted 4 on top of both vans and one one the side of the van, with drop down brackets so they cleared the sliding vans door, but carried the bike at waiste high for quick access should she have a flat or some other bike issue. They worked great and we had enough space for some of her support teams bikes on the support vans so we could pace her and keep her entertained. (Distraction from the pain and exhaustion)
I peferred these because it meant we could keep the tires on the bikes, plus brakes ready and the bike ready to go with little fuss about removing them. And they locked to the rail too at the big clamp! Here is is 2021 and I still have 5 of those very racks that my wife and I still use often. They have yet to fail on me. And back in the 90's and 2000's I raced all over the country, or carried my Mountain Bikes with me on the top of my Expedition Grade 4X4 truck. They have been through hell and are still working like new.
So I do reccomend them, if you want a bike carrier that will last you a lifetime. My grandchildren have asked that I leave the racks to them in my will. Mostly because of their History, and to remember me by when they go mountain biking. So they are family heirloomes in my family!
Great Product and Customer Service
After owning the bike rack for 4 years, I finally installed it except it was missing a part. I was able to make it work temporarily as I only had a short distance to drive and it worked out great. I then contacted customer service to ask if they could ship me the missing part and there was no problem. the customer service rep. was great. He got it shipped out right away, and best of all, there was no charge for it even though I have owned it for 4 years. This is a worry free bike rack. Easy to set up, durable (even with a missing bracket), and backed by great customer service! Would definitely buy from this company again!
Work horse
We are a commercial company on Maui doing downhill bike tours from Haleakala volcano. We have been using Yakima Raptoraero Racks since 2001, going up the mountain with our vans carrying 14 bikes at the time. We virtually loaded and unloaded bikes on these racks thousands of times and never had any problem. Great product. Great company
Excellent bike rack!
We purchased a 2001 Coleman camper trailer and the custom Factory installed Round tube rack (76" long) with 4 Raptor bike mounts is fabulous and in excellent condition. Considering it's 10 years old, has been on the road all over Canada and the US and is mostly stored outside, there's not a spot of rust anywhere and all the plastic / rubber parts are in great shape. A little bit of TLC will keeps my rack in great shape for a Lifetime! Excellent product.
Good bike rack
Is great bike roof rack but the problem that I see there is not a lock for the rack itself, so I don't feel comfortable leaving the bikes unattended
Great for mountain bikes
Takes a little time to put together because it's a unversal kit, so every car will be different. Intalled on my 2013 Subaru XV Crosstrek with the factory aero crossbars. Just flip the rear mount around and it fits perfectly. I have used 2 side by side with several different mountain bikes (26"-29", full suspension, hard tail, frames from 14"-22") and all fit just fine. It's very easy to adjust to different bikes becuase the down tube clamp can open so wide. And you don't have to pull the front wheel and look around for the caliper lock in your bag of bike stuff. Very happy with these racks
Great, light product
The only criticism of the raptoraero is the fact that the actual rack cannot be locked to the crossbars of the vehicle. It would be good to be able to purchase lock cores in order to secure the actual rack itself to the vehicle.