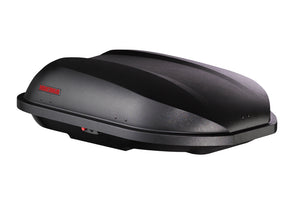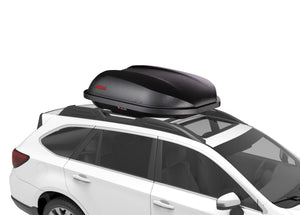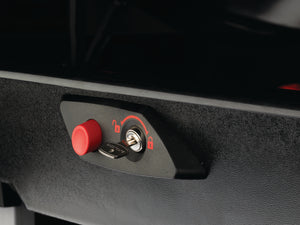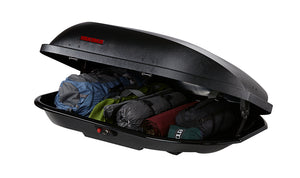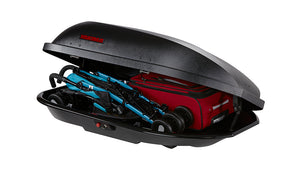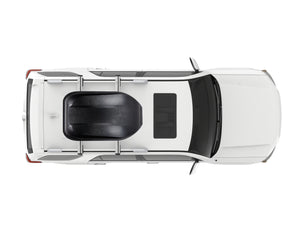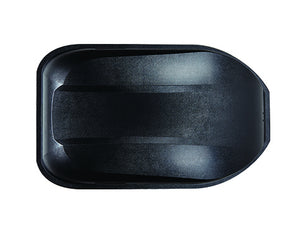 Product Details
Installation
Accessories
Spare Parts
RocketBox Pro 12
Product Details
Push button security ensures your lid is secure to its base and your gear is safe
Dual-sided opening for easy access on either side of your vehicle
No assembly required
Tool-free installation/removal from vehicle
Fits Yakima round, square, factory and aerodynamic bars
Also available in 11 and 14 cubic feet
Hauls gear for up to 2 travelers
Matte-black textured finish
SKS Locks included
Minimum and maximum crossbar spreads: 24" – 32"
Yakima cannot ship the RocketBox Pro 12 to Alaska or Hawaii – please contact a local dealer.
WARNING for California Consumers
Product Specs
Weight: 30.00 lbs.
Dimensions: L 58.00 in x W 36.00 in x H 16.00 in
Minimum Crossbar Spread 24.00in
Maximum Crossbar Spread 32.00in
Product Features Video
RocketBox Pro 12
Installation Details
No Assembly Required
10 Minute Install
Resources / Manuals
Installation Video
Add Accessories to Your Rack
Don't Worry, We Have A Spare
Long term review - Great Cargo Box
I have had this box since 2018 and I have to say it is very durable and easy to use. Opening on both sides is a big plus. This cargo box has crossed the US from PA to Montana, spent over a week at Glacier National park in rainy, heavy down pours, and the heat of the Bad Lands in South Dakota. It has carried Tuxedo's and evening gowns to Wisconsin and back along with hiking gear. The Yakima Cargo box has not let us down. Reasonable cost good capacity and a nice fit for my 2018 Subaru Forester. Soon, I will be adding a cargo platform! (Yes Yakima)
Please Do your QC well Yakima :(
This is the second Rocket box I returned within a month because both were broken right out of the shipping box. First Rocket box, the lock housing is reversed (meaning if you use the key to unlock it, it will not open and key is stuck there. if it is in UNLOCKED position, anyone can just push the red open button and it will open even without the key). I returned it and exchanged for a new one... sure enough this happened. please see picture below... the lock housing came off as you can easily pull it out. Great Job QC Manager.
Rear hinges keep breaking
I am a proud owner of a Rocket Box but the rear upper hinge that attaches to the Yakima sign keeps breaking off. After only owning it 2 weeks and using it once REI replaced my whole box for free. I've been on 3 road trips since I bought it and again he rear broke. Now I'll have to contact Yakima. Hopefully Yakima figures out how to fix this. I already have lots of stickers on mine from road trips.
rear hinge
Yakima logo on back was broke took off and replaced with nut bolt and washer . I believe hinge screws should have a more substantial anchoring system than plastic,otherwise unit seems fit for my needs
Happy customer
Travel with friends gave us that much extra room.
So Easy and Practical
I drive a Subaru Outback 2011 with the moveable crossbars so I was wary about ordering a cargo carrier after reading some user reviews, however, I needn't have worried. The box has been great. It arrived flat packed and I assembled it in about 15 minutes. You need two people to lift it onto your crossbars after that it is extremely easy to move the hooks to the appropriate distance and then turn another handle to secure to the roof. We loaded lots of stuff inside and used a kitchen drawer mat to stop stuff moving around. Noise was minimal and we love the fact that the lid opens from both sides. My wife bought a small plastic foldable one step that we used to make access a little easier. All in all we love the box. It does everything we want. One thing to remember; if you want to put a bike carrier on the crossbars as well you should get the skybox as the rocketbox is wide.
Just right for my needs
Bought this box to fit behind my cab on my Nissan Frontier 4X4. Works great and provides weather protection for my outdoor gear and still leave the bed of my truck open for over sized gear. In addition, I can also use my full sized Yakima box on top of the cab for those occasions when I need to carry a lot of gear - like moving my daughter home from college. I was a rolling Yakima advertisement.
Excellent Roof Box!
I have used Yakima racks since the 90's. We recently downsized to a Dodge Journey, but still needed cargo space, so we purchased the Rocketbox Pro12. Right out of the box it was easy to put up on the roof by myself. The only interference was the fairing already in place. This box held sleep bags and pads for 3, a lawn chair, 2 life jackets, a duffle full blankets and towels, 3 rain jackets, a 6-person tent, and five pairs of shoes with room for more! We were extremely pleased with this. I added 'idiot proof' to the pro list. A few minutes ago after we returned from the camping trip, I raced to get the car in the garage before the severe storms blew through. I forgot the box was still there. Needless to say I wedged my car in the doorway before sprinting to avoid the hail. Afterwards, my husband came out with me to survey the damage. I backed the car out and the box popped right back into shape! It still works from both sides! This is the BEST product! The only remnants are the white paint streaks from my garage! Yakima beats the competition in price, ease-of-use, and styling. One more thing.....the Yakima Railgrab towers and crossbars didn't budge either!
Yes and No
I purchased this for a trip from Oregon to Arizona an back. On the way down, it was raining heavily. Unfortunately at highway speeds, the front end opened up and soaked nearly all of our cargo. It also seemed to cause the car to be blown around on the highway. On the return trip, I put a tie-down strap around the front to keep it closed. Stability was improved immediately. I also noticed an improvement in my gas mileage. I hope Yakima will develop some sort of latch that will keep the front closed.