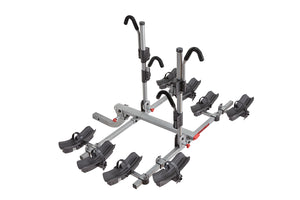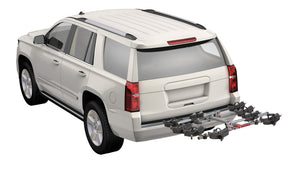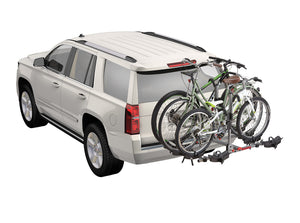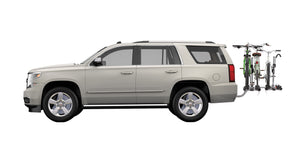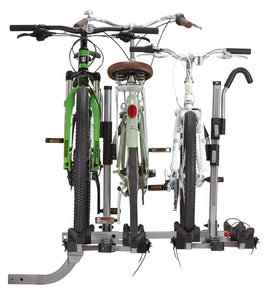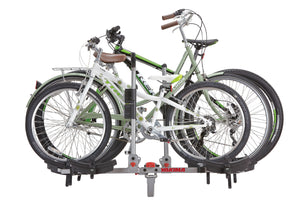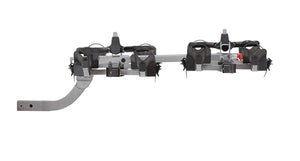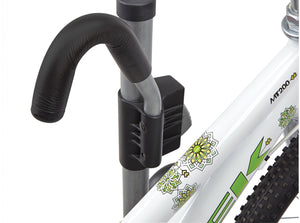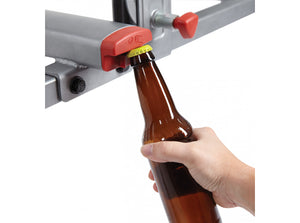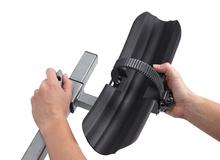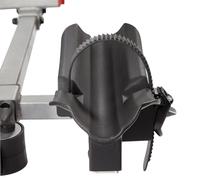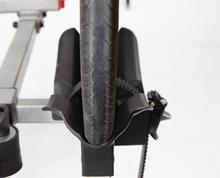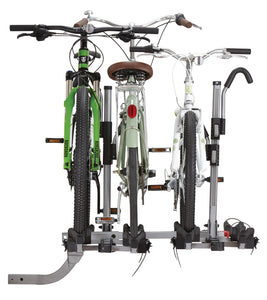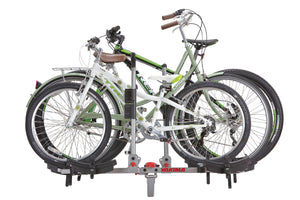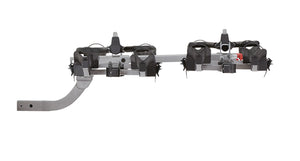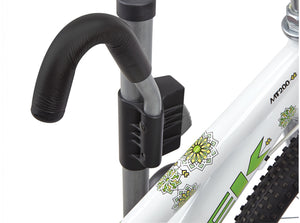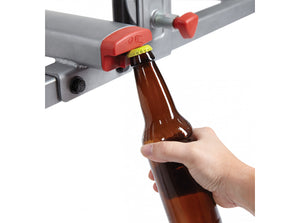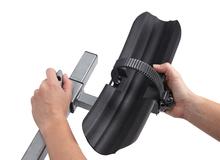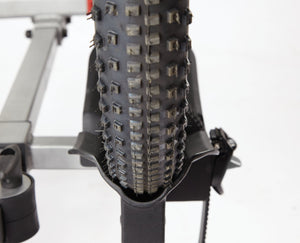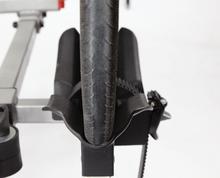 Product Details
Installation
Accessories
Spare Parts
FourTimer
Product Details
Transport up to four bikes regardless of frame design, suspension, or wheel size
Ideal for fat bikes*, kids' bikes and fenders
Low tray height for quick and easy loading and unloading of bikes
Converts from a 4 bike rack to a 2 bike rack in minutes
Folds down with bikes loaded for rear-of-vehicle access
Folds up when not in use
SKS Hitch lock included
Fits 2" hitch receiver only
Accommodates tires up to 3" wide and up to 4.5" wide with Fat Straps (sold Separately)
Accommodates bike wheelbases up to 48"

Maximum bike weight 45lbs/20.5 kg ( Total maximum load 180lbs/82 kg)
Compatible with the Yakima BackSwing

and

StraightShot
Product Specs
Weight: 66.00 lbs.
Dimensions: L 50.00 in x W 47.00 in x H 18.00 in
Product Features Video
FourTimer
Installation Details
Some Assembly Required
30 Minute Install
2" Hitch Receiver Required
Installation Video
Add Accessories to Your Rack
Don't Worry, We Have A Spare
Nice rack
Agree with JQ. Grey pull pin is a disaster. I've ended up losing it. As I live in China, I've searched taobao and found good replacement. Part number is BLP16-30[VCN120-16-30], 16mm diameter and 30mm length. It has nice button to ease installation.
Good rack with a few design issues
We've had this rack for 9 months and used it to haul 4 mountain bikes on ~4k miles of road trips. This rack is sturdy and steady but had a could of design issues. The first is minor issue of using a fragile plastic retainer screw for the Grey Pull Pin. This is a minor issue, but resulted in us losing the Grey Pull Pin. YAKIMA, WHAT IS THE SCREW SIZE FOR THIS SCREW??? I WOULD LIKE TO REPLACE WITH A PERMANENT METAL SCREW. The other issue may not be addressable, but the size and weight of this rack requires 2 people to install and remove. Even raising and lowering the rack once mounted is difficult for my 5'10" wife to do alone, but I'm able to manage with a little additional reach distance since I'm 6'2". Overall, I'm happy with the rack but annoyed that my upcoming bike trip is delayed since I can't find a replacement Grey Pull Pin and don't want to load 4 nice bikes without the right side pin locking in place.
Four timer
I researched and like this four timer bike rack very easy to use and looks durable. The only issue is the wire holding the pin to the hitch it came off the crimp and there is a screw holding it the the hitch it seems like it comes off easy so I zipped tie it the cable I threw it away and put a new one. Easy fix.
Awesome family bike rack
We have had this rack for about 5 years. It is great for camping families. We can easily load all the family bikes for our camping trips. It has been great as our kids have grown into larger and larger bikes. It took me a bit to understand how to load it properly but ever since I got that down it is a breeze to load the bikes in 15 minutes and be on the the road.
FourTimer
We just returned from a 500 mile round trip with our new FourTimer and couldn't be more pleased with the rack and how it functioned throughout the trip with four bikes attached. The four bikes were all different sizes and styles from a 16" boys bmx to a girls 20" cruiser with fenders to a 26" mountain bike. Great family rack that is easy to assemble and simple to load and unload.
Really good but not great.
I have had this rack for a few weeks now and I have loaded with 1 bike, 2 bikes and 4 bikes. I've had it out maybe 15 times in the last few weeks. So far I really, really like it! It is sturdy and I feel comfortable loading our bikes and driving with them back there. We all have mountain bikes, two 24" kids bikes with suspension, one 27.5 size small womens mountain bike with front suspension and one full susp mens small 29er. I was about an hour and a half to unbox, install and mess around with it so that all bikes fit well. Yes it's heavy but that wasn't a surprise, most reviews mention that and to carry that much bike safely, I think requires some weight. Everything about this is very good with the exception of the wheel straps. The wheel straps are garbage and honestly I can't believe Yakima uses such a low quality item on this product. I would expect it on a $200-$300 garbage product but not from Yakima. The material is a hard plastic that in my case cracked the fist time I bent it out of the way to load my bike. I live in Ottawa, Canada and as soon as the fall is here and I'm loading bikes in cold weather I expect all of these to shatter and be useless. I have started to search for a replacement already in anticipation of this. I would give this rack 5 stars if it weren't for how low quality these straps are. If Yakima can find a way to improve this, it would be fantastic!
A solid well-built bike carrier
I was in search of a bike rack/carrier. I initially, got the Yakima DoubleDown 4-bike hitch carrier. But had to return it to the seller when I realized that its double arms (with all the rubber straps on them) make it difficult to hang our 3 bikes without the need to buy the accessory top tubes! I replaced it with the Yakima Fourtimer bike carrier which I just got today. And I am very happy with my purchase. The Fourtimer is well-built; very solid construction. It is quite heavy (the package weighed about 80lbs!). I had no problem installing the Fourtimer carrier behind my CRV with the easy to follow Instruction Manual. The tire trays cradled my mountain bike (with 3" wide tires) pretty securely. I am very happy with my new Yakima Fourtimer bike carrier. Will test drive it to the bike trails this weekend, if weather permits.
Engineering faux pas
This rack was OK when used new but after only 4 uses the foam foam covers of the frame clamps wore through. The resulting damage to the frame of my $6000 SC Bronson Carbon CC required me to consult the factory and I'm now looking at a major repair job. When I examined the foam covers they are made of very light weight foam barely durable enough for even one use in this application. A better material would have been a rubber cover like often used on other racks. Now I also have to source the correct rubber cover tubes and replace before I can even hope to use the rack again.
fourtimer callout
just retired a 20 to 25 year old Yakima bike rack. Excellent piece of equipment. The new 4 - timer is way cool, a little heavy for a 60 year old fart like me, but very happy with this purchase , and very easy to set up, does not move at all when travelling, craftmanship is very good, and if you take care of it , you should get many trouble free years of use. This rack i believe is the best all around Yakima bike rack, young adults can have the mountain bikes, or the 15 speed racers, or the newer fat tire bikes, and later on you graduate to cruisers, little kids bikes, and so on so forth. Hopefully you get my drift. Excellent all around piece of equipment. Only 1 disappointment, Yakima could put some nice reflective stickers on the rear bars so the lousy California drivers can see the bike racks on the rear of the vehicles, and yes i am from L.A.
Broke
***I ONLY HAVE THE TWO TIMER*** Having used this basic setup with only the two bike rack heres what I've found. i wish i would've bought a swing away. It doesn't drop down far enough to open back lift-gate like it said. Could just be my 4runner. I have also gone thru 3 of the top tube locking mechanisms in the 1 yr i have owned this. One just flat out snapped and my bike hit the back window but thankfully didn't break it. Really loose components i think. I also would warn that it will rub the powder coated paint wherever that arm contacts the top tube. Wish id thought of that earlier. I will say they have been very good at replacing my parts free of charge but IMHO id like to find a better option to carry my more expensive hobbies...