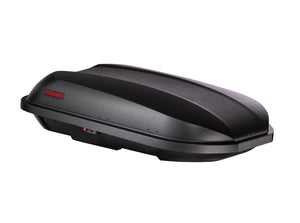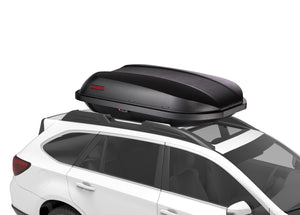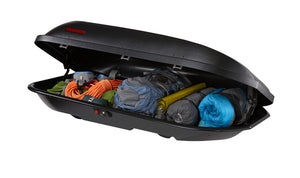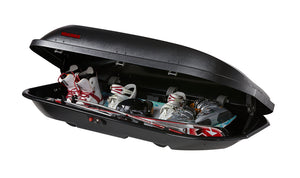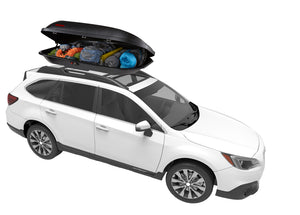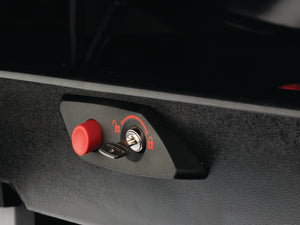 Product Details
Installation
Accessories
Spare Parts
RocketBox Pro 14
Product Details
Push button security ensures your lid is secure to its base and your gear is safe
Dual-sided opening for easy access on either side of your vehicle
No assembly required
Tool-free installation/removal from vehicle
Universal mounting hardware fits all Yakima StreamLine™ crossbars and factory or aerodynamic crossbars
Also available in 11 and 12 cubic feet
Hauls gear for up to 3 travelers; fits snowboards and skis up to 170cm
Matte-black textured finish
SKS Locks included
Minimum and maximum crossbar spreads: 24" – 40"
Yakima cannot ship the RocketBox Pro 14 to Alaska or Hawaii – please contact a local dealer.
WARNING for California Consumers
Product Specs
Weight: 40.00 lbs.
Dimensions: L 74.00 in x W 33.00 in x H 16.00 in
Minimum Crossbar Spread 24.00in
Maximum Crossbar Spread 40.00in
Product Features Video
RocketBox Pro 14
Installation Details
No Assembly Required
10 Minute Install
Resources / Manuals
Installation Video
Add Accessories to Your Rack
Don't Worry, We Have A Spare
Great Box
We love this box. Purchased for a medium-small sedan. Noise level low, have had it on during heavy rain and things were dry with minimal moisture, secure, easy to install. (We had a ' naked roof' so needed to install the Yakima towers and crossbars which work great too but those are a beast to put on). Also very roomy. We love. Highly recommended.
Strong, Safe and Secure from theft
I got one of these to put on top of my Ford E-350 after building it out and moving into it full time. I can say that it was a life (and space) saver with the capacity it held and the room it allowed me to have inside the van. Camp chairs, sleeping bags, backpacks, loads of climbing gear, slack line, hiking gear, and any other miscellaneous things worthy of traveling with.
A couple weeks ago my van was stolen and the build I spent months on was destroyed inside. They stole all of the valuable electronics: battery, inverter, solar panel off the roof, stole my Dometic fridge, just utterly ripped it up and defiled it. They tried getting into the Yakima Rocketbox by drilling through the lock. This only disengaged the release button so there was no way of getting in. They tried breaking the plastic around it but were not successful. When the van was recovered, I was able to get into the box from the other side with my key to see my belongings still in there.
I am very satisfied with the quality of this thing, though unfortunately mine is ruined now. It served its purpose so well and kept my things safe in the worst case scenario. I will definitely be looking at Yakima in the future to get a replacement.
Very Practical / Fits 5th Gen Subaru Outback
This box fits the 5th generation of Subaru Outback (2015- ) with the integrated roof racks very well. If you slide the Rocketbox all the way forward, the rear hatch can open without hitting the box. For something as long as the Rocketbox 14 (which can fit most snow skis), this is a good value, all-around roof storage solution for the Outback. It's takes me less than five minutes to pull the Rocketbox on or off. Throw the box on the car, pull down on the clamps, slide the box back onto the rails, and then 20 turns for each clamp and we are good to go. Sometimes cargo inside the box interferes with the latching mechanism, but you get pretty good at working through those snags. The box is not perfect. The latching and support mechanisms take up a good bit of room. Our rear lid support went all wonky one summer in the hot sun and it deformed. Then the rear name plate broke (this is the mounting plate for the same lid support). The cost to repair all of that is $30-40 after shipping. If I were to redesign this box, keeping the general shape and dimensions, I would try to make it a side-loader. I don't care which side; just make it a big cavity with a swing up door. I'm sure that hurts the structural integrity of the box, but it would make it much easier to load and would simplify the locking/lifting mechanisms. The door wouldn't need to be full-length, just long enough to point skis into the nose and swing them in.
ROCKETBOX PRO 14 is perfect for HONDA 2016 CR-V
Perfect tool to maximize the capacity for whole week family trip, 2 adults & 2 kids Zero interference w tail gate, 14 is actually perfect considering the loading limitation of CR-V roof structure
Awesome!!!
I drive a suburban. When we vacation with our 4 children the car is totally full. The Pro 14 rocket box is awesome. NO WIND NOISE! Perfectly stable up to 85 mph on the interstate. We generally travel with soft bags, duffel bags, etc. It's perfect for all soft sided and soft case bags. It does not work well with oversized rigid suitcases. I would buy it again in a second.
RCKTBX PRO 14 & KIA Sportage Great Match
Perfect match for our 2012 Kia Sportage.
Pure Awesomeness
Great for road trips, camping trips, snowboarding, and everything in between.
smaller than advertized
I am disappointed that the shape, size and brackets reduce the usable length of the box. The dimensions are 74 inches long but you only have about 65 inches of length on the bottom of the box. I bought this specifically for skis and luckily if I separate mine and lay them flat in the middle of the box they will fit. Don't try to get skis larger than 170 cm in there. The Yakima gear chart indicates that 180 cm skis will fit but they won't.