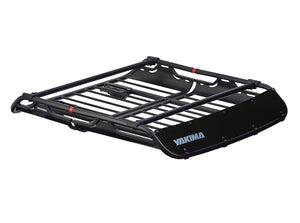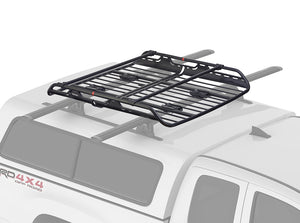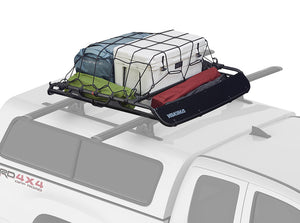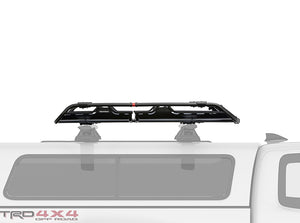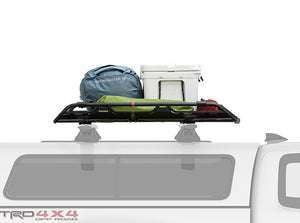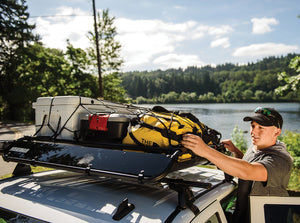 Product Details
Installation
Accessories
Spare Parts
OffGrid Large
Product Details
Burly cargo basket with a clean, modern design
Adjustable accessory bars for adding Yakima gear mounts and pinning in bulky items
Tool-free mounting hardware for easy install right out of the box
Integrated fairing reduces wind noise and drag
Made from strong, durable steel for years of rugged use
Fairing & accessory bars fully removable to handle longer items up top
Universal mounting hardware fits all Yakima StreamLine™ crossbars and factory or aerodynamic crossbars
Add SKS (Same Key System) locks for added security (sold separately)
Extension available to add 40% additional space
Available in two sizes: Medium & Large
Large Dimensions: 53" Long x 49" Wide
Product Specs
Weight: 49.40 lbs.
Dimensions: L 53.00 in x W 49.00 in x H 7.00 in
Minimum Crossbar Spread 30.00in
Maximum Crossbar Spread 38.00in
Product Features Video
OffGrid Large
Installation Details
Some Assembly Required
30 Minute Install
Resources / Manuals
Installation Video
Add Accessories to Your Rack
Don't Worry, We Have A Spare
Wind fairing doesn't stay up while driving
Submitted warranty claim on 7/24/23. Today is 10/3/23 and no response. The wind faring doesn't stay up while driving. A few weeks after using the OffGrid Cargo Basket, the fairing started rolling over while driving which caused a noticeable difference in the amount of wind noise. I will not recommend purchasing this product!!
Vibration
The sturdiness of the metal parts are excellent, looks great, and the four sliding fasteners are easy to operate and secure. However, for this price, the hex screws can get loose due to vibration so you should use locktite. The plastic piece vibrations and whistles like crazy, it actually transferred into my cabin and made me think something was loose in the 4runner. I'd use the basket without the wind deflector.
Beautiful and useful
Beautiful product. Very quiet on the highway with no sun roof at least. Looks good on almost anything and handy for Home Depot trips. Who needs a truck bed?
Very pleased
Got this to stow my oversized spare tire. Sleek design, & easy install. The SKS core locks slip right in and work perfectly. The clips to attach the wind ferrying were a pain but we got 'em. Ordering the extension because my tire takes up a lot of the room. Extensions was hard to find in stock. Hardware kit was short 1 screw but reached out to Yakima and they're sending me one. Great customer service!
Top of the line versatility, appearance, and as always amazing customers service!
Best basket on the market and even better company to back their products! After some years of use I ran into a small issue with my basket but yakima made the warranty process quick and easy (thank you Steve and Jack). This is the second time I've gone through their warranty process as my exo system, being brand new on the market when purchased, had an issue with the gear locker and they immediately sent new parts for a quality fix. I have been so loyal to only Yakima products for over 5 years due to exceptional customer service! As for the basket, very versatile for all of my California lifestyle activities; wether attaching my fatcat snowboard racks for winter season to pads on the accessory bar for the surf boards to hauling my ice chest and camping gear the offgrid has never let me down! I look forward to my next adventures thanks to Yakima
Sturdy and Good Looking
I have a 2021 Outback Onyx XT and this Large Off Grid rack genuinely looks the best on it and works so well. It is very sturdy. The adjustable top crossbars work great for really locking in gear like coolers or totes. I also purchased the SKS locks for all mounting points which makes me feel 100% more comfortable leaving it up there. I also use the netting from Yakima and they just clip on so easy and stay there so i can keep clipping around the frame. The clips can attach to the main frame or the small floor support… they have two clips on each point (large and small) very convenient and secure. I also purchased ratchet straps from Costco (CAT brand) and they also clip on perfectly and stay there to be able to ratchet the other side without someone holding it tight. It's a two piece rack so make sure to tighten that hardware down. The wind fairing can be removed and you can center longer items like 2x4's or posts. Downside is need two people to place or remove it, otherwise no problems for me.
Terrific construction and love the looks and utility
I am using the Off Grid basket atop your Outpost HD rack system and love the combination... Gives me loads of extra storage with the room remaining on bars, the space the basket provides and the Outpost Rack allows me to free up in the truck bed. Well done and recommended!
Say what???
The ONLY reason I bought this particular rack was for the accessory bars. I have a Rocket Box from 20+ years ago and the crossbars on my truck don't have a sufficient span. The LAST page of instructions, after fighting with screws and clips, says ..............wait for it ............ "Not compatible with cargo boxes or roof top rents". Gee, don't you think that should be in the product description? I sure hope my Rocket Box doesn't fly off on a road trip. It sure fits, but for some undisclosed engineering, legal, or aerodynamic principal it is "Not compatible". Anyway, it is sturdy and it is sure to be more compatible than the last method I used to mount my box. Still (start of ominous music), it is disconcerting and I'm left wondering why it is "Not compatible".
Good and Bad
I've always had Yakima racks for 20+ years now. I used to have the MegaWarrior, and never had any problems with it other than slight rusting. Now, I have the OffGrid (Medium). . . it's definitely nicer/easier to put on the car, and remove when I don't need it with the way it attaches using straps. It does the job it's intended for with regard to carrying cargo. Basically, I mostly use it for road-trips between Thanksgiving. . . and leave it up for a couple months before taking it off again. Anyway, it seemed fine last year when I used it. . . took it apart again, and stored it. This year, the difference was that I drove through a good bit of rain on one of the major trips I took. Brought it indoors, took it apart, and a ton of dirty/rusty water came pouring out of the main outer tubing. Really, how is water getting into it? Somehow the design seems a bit off with the amount of water that made it into the tubing just from driving in the rain.
Yakima OffGrid w/ extension
I have a size medium OffGrid w/ extension mounted on my 2019 Subaru Outback Limited using factory crossbars. I am using the first and last crossbar mounting points which allow for a 39" inch spread. As for the basket itself it is attractive, appears well made and solid. However, there are a few areas I feel could use improvement or improved. 1. The extension as well as the main basket relies on small metal strips inserted into a channel then bolted down to secure the halves together. Unfortunately, this leaves a bit of play and is obviously a weak spot. Those strips should be a tighter fit and made longer to give more structural rigidity. Also, I have 4 as I have the extension and 2 are solid and 2 are hollow exacerbating above issue. 2. The top bars "look" like regular round tubing but they are NOT they are some trapezoid shape with flats on 3 sides. Unfortunately, this makes mounting anything to them a challenge. I was to mount an ARM awning on one side of mine and finding a solution has so far been impossible. Yakima has tier TopGrip mounts but these are for small items under 9lbs like a shovel or ax. It would have made so much more sense to just make tubes round like every other Yakima I have ever owned.