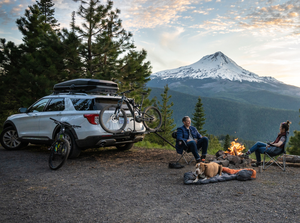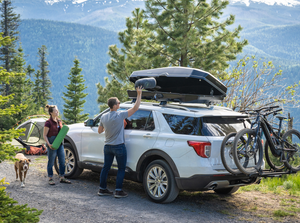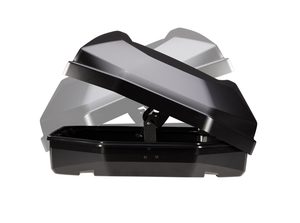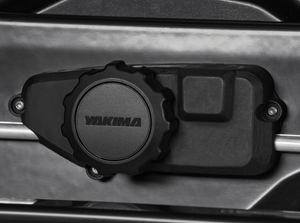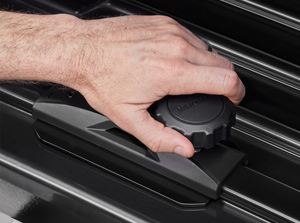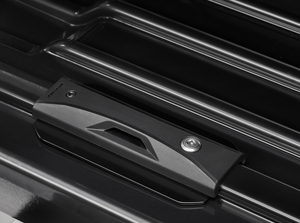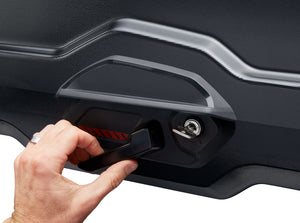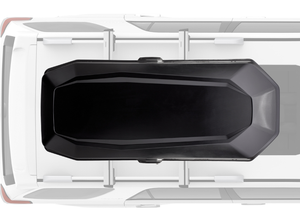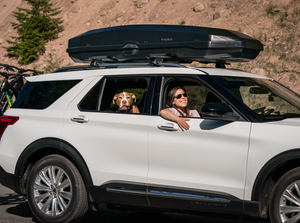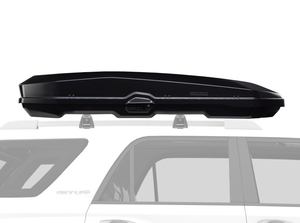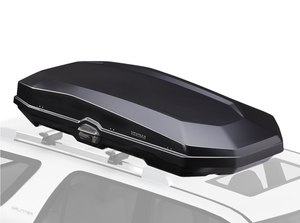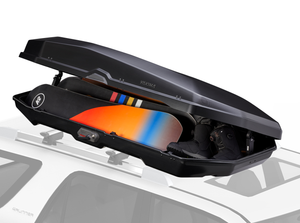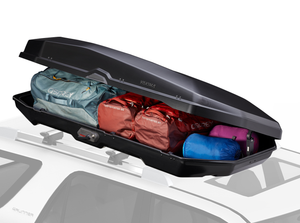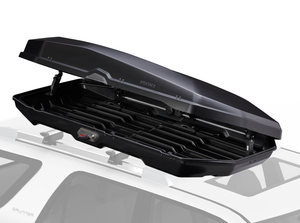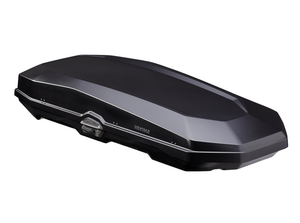 Product Details
Installation
Accessories
Spare Parts
CBX 16
Product Details
Rugged angular finish and stealth like texture stands out from the crowd
Intuitive and easy to grab lid handle locks gear inside the box and the box to the vehicle
Removable torque limiting knob ensures a safe and secure installation
Market-leading internal usable space with an unobstructed flattened floor provides more space for your gear
Optimized hatch clearance for better vehicle fit
Universal mounting hardware fits all Yakima StreamLine™ crossbars and factory or aerodynamic crossbars
Internal lid stiffeners for durability and easy open and close
Dual-sided opening for easy access on either side of your vehicle
Hauls gear for up to 3 campers; fits snowboards and skis up to 185cm
Integrated interior tie-down points
SKS Locks included for added security
Black chrome badging
16 cubic feet of cargo space
Made in the USA
Yakima cannot ship the CBX 16 to Alaska or Hawaii – please contact a local dealer.
Product Specs
Weight: 57.00 lbs.
Dimensions: L 83.00 in x W 38.00 in x H 15.00 in
Minimum Crossbar Spread 24.00in
Maximum Crossbar Spread 35.50in
Product Features Video
CBX 16
Installation Video
Add Accessories to Your Rack
Don't Worry, We Have A Spare
Looks great on my Outback Wilderness
Great box! Very little wind noise. Everything stayed dry inside. Easy to install and remove. Holds a lot of stuff and fits the size of my vehicle (2023 Subaru Outback Wilderness)
w
Does Not Fit Inside 4 Runner TRD Pro Factory Rack
Great box. Fits most of my bulky camping gear like chairs and sleeping bags. Not too noisy. Does not comfortably fit inside the TRD Pro factory roof rack (if installed on the top bars it would be too high for my parking garage). We had to install it tight to one side so the lock/handle on the opposite side is even accessible (I need to remove the key from my key chain and push the box back a bit to even get the key in). This negates the ability to open from either side, and it's frustrating. I damaged it a bit in a parking garage with a low ceiling, so I'm going to replace it with something else that fits better, but it is a great piece of equipment just the same.
Great box for my 2020 Runner
We take lots of road trips with our dogs and wanted the ability to store all of our gear up top and let the dogs have entire cargo area. This is the largest box I found that fits on my 4runner with not interfering at all with raising the tailgate. I did not use the factory crossbars as this causes the box to sit much too close to the top of the vehicle. I have been using this for about a year and so far it has exceeded my expecations.
I do wish it had some tie downs so when I am just carrying my traction boards for instance they could be secured. I had a wood jack stand in there that slammed into the front. I think with more force it would have cracked the front of the box.
One year in with the CBX 16 and wanted to share my thoughts and feedback for those considering this roof box (if it ever comes back in stock!).
First off, the overall design of the CBX series is a welcome update from other roof box series Yakima offers, providing a more low-profile aero option that can compete with things like the Thule Vector line. The CBX 16 is a great compromise between between large storage space and aero/low-profile solutions, especially for smaller cars like station wagons. The build quality of the mold is decent, and while it a little overly flexible and twitchy when there is nothing in it, once the box has some cargo, it is solid and confidence inducing. I bought this box based on good experiences other Yakima products over the years, and the company's responsiveness on the support side.
That said, while I use this box often and like it, I have some misgivings worth noting. Some of my misgivings with the product are related to fitment on my specific car, an Audi Allroad wagon (see pics). The spacing of the CBX 16 mounting clamps make it near impossible to make the box completely level with the ground - this is important for reducing wind drag. Given the curvature of the roof, the ideal placement for cross bars to get the CBX 16 parallel with the ground on my wagon is blocked by where the roof rail attach to the car. The range or front back placement for the CBX 16 mounting clamps is pretty limiting in my experience.
In the attached photos, I'm using OEM crossbars. But if you are thinking you can use any Yakima cross bar, you'd be mistaken: You'll be hard-pressed to find ANY mention of what cross bars are compatible with the CBX 16/18 on the Yakima website or instruction manual. I attempted to use the Railbar system bars, but in my experience, they brought the underside of the box too close to the roof (within a few mm). Yakima support referred me to Yakimatech.com but this site is useless in identifying crossbars that work with the CBX 16. Yakima seems to suggest using your OEM cross bars with this box.
The two sided hinge system is nice, in that allow you to open the box from both sides; not a completely unique feature, but less expensive boxes can't do this, and it is really helpful. Opening and closing the CBX 16 is pretty fussy, however, requiring pretty close alignment of the two locking points. Closing the box is definitely not a one-hand action; you need both hands to apply equal pressure to the front and back of the lid to fully close it. To be fair, this is the first and only roof box I have owned, so this may be the case with all roof boxes.
Lastly, the reliability of various parts could be better. The lid support hinge started creaking loudly within 2-3 months of use. A very small amount of WD-40 at the hinge joints solved the issue, but worth noting. In my experience, the right side lid lift handle has progressively become harder and hard to lock, and at this point, it is very difficult to lock with a lot of torque on the key. I have yet to reach out to Yakima about this issue, but need to do so ASAP. This is not due to corrosion or any dirt buildup; I clean this thing regularly with soup/water. it's frustrating that within 12 months, these kinds of issues would occur.
While Yakima has been a little slow to respond, once they do, they are great and super helpful and this is ultimately what saves this product. Despite the challenges of the pandemic, Yakima's team has been pretty good about technical support and warranty issues. I just wish they weren't so impacted by supply chain issues such that they had spare parts for the CBX 16 in stock : )