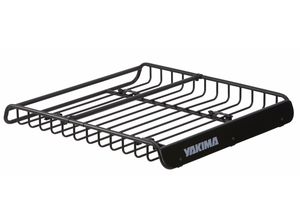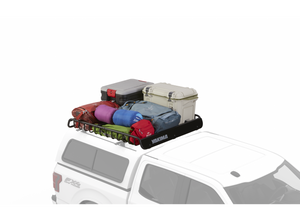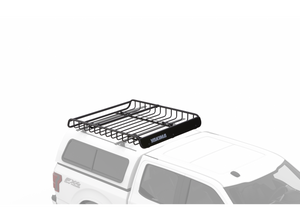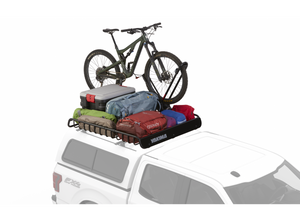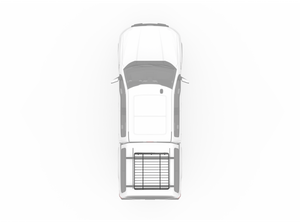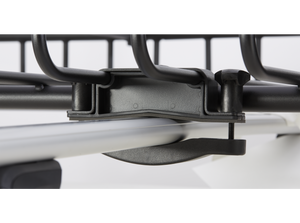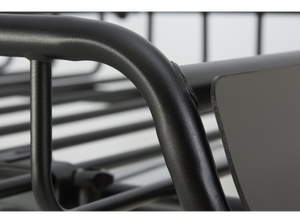 Product Details
Installation
Accessories
Spare Parts
MegaWarrior
Product Details
Quick installation and minimal assembly required
Accommodates most Yakima gear mounts for all your outdoor activities
Weather-resistant heavy-duty steel construction
Optional MegaWarrior Extension adds 22" and expands your cargo capacity by 40%
Universal mounting hardware fits all Yakima StreamLine™ crossbars and factory or aerodynamic crossbars
Best for larger vehicles like trucks, SUVs, and off-roaders
Custom wind fairing included for extra noise reduction
SKS Locking Bracket sold separately
Product Specs
Weight: 35.00 lbs.
Dimensions: L 52.00 in x W 48.00 in x H 6.50 in
Minimum Crossbar Spread 30.00in
Maximum Crossbar Spread 38.00in
Product Features Video
MegaWarrior
Installation Details
Some Assembly Required
30 Minute Install
Resources / Manuals
Installation Video
Add Accessories to Your Rack
Don't Worry, We Have A Spare
21 Years and counting
I bought a Mega Warrior with extension for my 2000 Tahoe Z71 to travel the states. 300,000 plus miles and now moving it to Dads Jeep Renegade to continue its exploration! The stories this rack can tell from raising a daughter, the endless camping trips, vacations and shopping trips to get oversized items home. It has seen beaches, mountains, snow and ice as well as America and waiting on its next adventure. Its a little faded but has another 50 years or more of life left! Made in America. Buy the best!
Best for everything (also a Canoe)
We bought this in May 2019. After a lot of research we decide that we want a cargo basket that works as well to fit our canoe. We drove from many places the mega warrior with the canoe works very well. Also, you can put all your wet gear and drybag in the basket with the Canoe (always keep in an eye on the weight limit as well) So far today at the end of winter in Vermont is still working very well.
Quality plus, a bit pricey but worth the money
I have a Mega warrior with the extension. The local Yakima store (Rack-n-Road) in Costa Mesa was helpful in explaining the system for my 2016 Grand Cherokee. The best part is they get trade-in baskets and had one in back. A bonus, the previous owner had welded a matching light bar extension with tabs for aux lighting and had done a good job of replicating the mega warrior baskets look. I got it for a steal. The MW looks perfect on top of my Cherokee. Without the extension I think it would have looked a bit dorky. I added a LED light-bar to it as well as two mini strobes to the rear.I have used the basket for suitcases as well as camping gear. I added shovel/ax bracket to it as well and it works perfectly. As to looks if you have a smaller SUV the extension is maybe not necessary but for a regular SUV the extension is THE way to go. If you can luck into a used one go for it but if you want something that will work and do it well then the Mega Warrior is the ticket. PS. I also have the rack mount for a shovel/ax and it works very well. Strong and sturdy. Next up is the HiLift jack mount...
Love it...
I have had my MegaWarrior for going on 10 years now. I added the extension and locks to secure my investment and wouldn't trade it for anything. It's so versitile and a great investment.
Great Buy!
I use this item on my 4runner and it has given me more packing space.I also attached a Yakima Copperhead bike system to it so now I can take my bike along for my mountain and interstate travels! If the price is to much, get the load warrior, it's a bit smaller, but has the same benefits!
works for me
works well, i've had it for over 2 year or so and it's held up well. my 4runner roof rack only carries 200 pounds so what more do i need? its light and there are lots of after market parts for them. get it!
Excellent product
The product is mounted on my off road vehicle- It is very well made and I like the powdercoating
By far the best cargo basket for the $$
I installed this on my 2004 Toyota 4runner after realizing this cargo basket had multiple accessory options.. I have a shovel mounted on the passenger side, with an axe mounted on the inside of the basket near the shovel.. On the driver side I have a 48" hi-lift jack mounted.. All mounts are from Yakima as well and are super sturdy with little or no vibrations/movement while offloading. They also have light mounts which are also very sturdy and support my 6" KC Daylighters.. Couldn't be more happy with this product and I use it every day . Weighs virtually nothing and I was able to install by myself in a matter of no time. Worked with factory roof rails.
MegaWarrior / 2003 Excursion
We love the MegaWarrior Basket. We have a large family and it allows us to pack so much more. We added the extension kit, the flood/driving light brackets, and spare tire carrier. We take a lot of trips to the mountains and the beach. The combination of uses makes this a great purchase - from strapping on kayaks, camping, or beach gear.