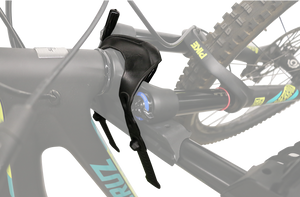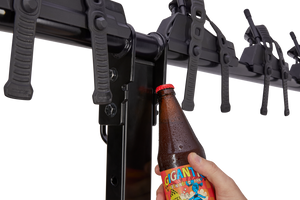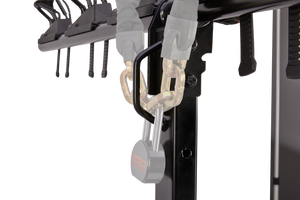 Product Details
Installation
Accessories
Spare Parts
HangOver 4 Bike
Product Details
Transports up to 4 or 6 bikes using minimal space— 37.5 lbs max per bike
Foot-operated tilt mechanism changes rack position for easy loading and unloading
Tilts down and out of the way for easy rear-of-vehicle access
Securely supports bikes by the fork crown
Fits suspension-fork bikes only
Fits fat bikes with suspension forks
Soft padding protects the fork's finish
Rotating wheel cup accommodates bikes with various wheelbases
Available in 4-bike (HangOver 4) or 6-bike (HangOver 6) sizes
2 mast height positions for improved ground clearance and ease of loading
2 mast angles to avoid bike-tire contact with your vehicle
HitchLock included
Built-in bottle opener—cheers!
Compatible with the Yakima BackSwing and StraightShot (HangOver 4 only)
Fits 2" hitch receivers only
Add your own bike lock to the integrated lock loop for greater bike security
Product Specs
Weight: 65.00 lbs.
Dimensions: L 22.00 in x W 46.00 in x H 60.00 in
Product Features Video
HangOver 4 Bike
Installation Details
Some Assembly Required
30 Minute Install
Installation Video
Add Accessories to Your Rack
Don't Worry, We Have A Spare
Straps break
The rack seems ok. Bikes shift a lot but have not fallen. My biggest complaint is 3 of the straps have broken and Yakima does not keep them stocked so you have to buy their $33 part to fix what should not break. Seems a bit like planned obsolescence to me,
Love this hangover
For mountain bikes and mounting on a Jeep wrangler, this hangover is amazing. Fits perfect and extends past me 37" spare. Best bike rack ever for mountain bikes on a wrangler
Lost a bike
Over all this is a good rack - but only if you add your own cam straps or ratchet straps to keep the bikes on. I've logged about 8,000 miles with our rack (which is the older version with only the single top strap, not the new Y-strap). On our last trip I was in a rush and did not utilize my own extra straps - just used the stock straps - and we had a $6,000 bike fall off, subsequently ran over and completely destroyed. I will keep using the rack but I will never go without adding my own straps. Yakima should update all previously bought single strap types to the new Y-type straps, free of charge. Why would they change the design...?
Poorly designed for highway speeds
This rack requires multiple extra mini webbing ratchet hold downs to secure bikes at highway speeds.I have the original model with only one upper rubber strap.It's obvious that Yakima became aware that in that form it wasnt fit for purpose and added the extra strap to stop the bikes twisting.As such they should have provided a free upgrade to their customers who had the original model(they haven't here in NZ).As such I would be unlikely to purchase any of their products again.
It was fine until road trip
So I bought the hangover 4 because we have an SUV and a truck. 95% of the time its on the truck due to having more space and being able to put our luggage in the back. This trip we used my mother-in-laws
suv and one bike was taken. The rack works well for short distance, but just got back from a road trip and let me tell you I was worried the whole way. It was a bit windy coming and going but not enough to move the bike the way it was. The bike was moving from side to side, you can here the crank slamming against the middle tube. To me it was unsafe, I was worried that the top straps would end up giving out or the bottom strap would break on how much it would move. Luckily I only took my bike and not the rest of my family because they would off all been damaged from slamming into each other. I am very disappointed because I really like the rack but to me it is unsafe for a long trip and I feel that I wouldn't be using it anymore. There's better options out there.
Needs accessories
I've had this rack for 2 years and it's been great for mountain bikes...I think it would be a game changer if there were adapters available for road bikes & skis ! In todays challenging economic environment having to purchase 3 different racks can be problematic...i do agree with previous comments regarding stability and movement during highway travel as we've had several instances were the forks have "bounced out of the holders. Come up with adapters and you'll corner the market!!! Clint, Vancouver BC
Would be better on the Moon
This is a decent rack for low speeds on back roads. Unfortunately, its flaws become apparent when operating at highway speeds on a planet with an atmosphere. The leverage on the bikes from cross winds causes them to shift in the rack. Pedal clearance to the center post requires strapping the cranks so they can't rotate backwards and contact the post.
I have the first generation rack. I add a couple of webbing straps to each bike for wind stability on longer trips. It's not clear if upgrading to the re-designed cradle would overcome the leverage from cross winds. I'll stick with webbing straps for now.
Holds bikes well but a bit noisy
I just recently bought a hangover 4 new from Yakima and I really like the adjustable mast feature and the new straps that really secure the fork to the rack. At the tallest position of the mast, I can keep it completely vertical with my Jeep Grand Cherokee with an XL 29inch bike that has a 160mm of suspension without being nervous of getting any contact between the bike and my car.
The complaint: When the mast is in the tallest position, there is some play where it telescopes with our without a bike on it which makes a bit of noise. I'm going to try to put an old bike tube around the mast to make it a bit quieter but that was a minor oversight.
Also the footswitch is great, but there is also a bit of play there and it being metal on metal, also creates some noise. I even bought a hitch clamp because I thought the hitch tightener was loose (it wasn't and it's very well made.)
One more thing that could improve this rack would be switching the bolt used to adjust the height of the mast from a bolt that you need tools for to a pin of some kind so that it would be easy to lower when you don't have bikes on it. But if it was too easy, a thief could easily take the whole upper part of the mast (which is what the bikes lock onto) so I suppose that would be out of the question. All in all, the rack does what it should and I have had no problems with bike movement at high speed, just remember to lock your front wheel in place on long trips so you don't put a couple hundred miles on your wheel bearings from the wind spinning it!
Not a good fit
For Xl frames with 29 2.5 wheels: Rack is too snug and top bar is too short for bigger bikes. If top bar could raise 2" it'd be in the sweet spot. To accommodate added a lift/extender.
Pro- more space between rack and trunk so trunk can open with bikes on the rack.
Con- weight is further from vehicle creating some dragging. Other considerations - need to shore up suspension now that we can accommodate a bike for each passenger. For use: Shore up with bungie chords for piece of mind as fork tie downs are stretched on last notch. Ingenuity will help accomodate other bike/ fork types. Pro tip: use the frame, bungie the front tire, keep the turn angle. All said it still beats multiple vehicles for same outcome.
No rack is perfect, but this one is very good.
Cutting right to the chase...
The good:
+ Holds the significant weight of 4 or 6 bikes close to the hitch, instead of multiplying the weight by leveraging it way out behind the vehicle. This is better on the vehicle's shocks, the hitch itself, and results in better handling.
+ Easy to install and set up.
+ The tilt-away mechanism works great.
+ Bikes seem very secure, even at highway speeds and on rough roads.
+ The hangover 4 holds the bikes narrowly enough that most vehicles' brake lights are not obscured.
+ A small plastic cap piece got broke during shipping, and a couple of the Y-straps broke because I stretched them too hard, but Yakima's customer service is stellar and they readily mailed me the replacement parts I needed at no cost.
+ Handles a mix of bike sizes, from adult 29ers to my daughters little 20" mountain bike.

The bad:
- Only handles bikes with suspension forks.
- Not that easy to heft bikes onto, especially for shorter people.
- While the newer Y-straps do hold the bikes very securely, they are a bit difficult to 'thread' between the fork's arch and crown when loading and they can break if stretched too far.
- Depending on bike and handlebar dimensions, there is a slight possibility of one bike's handlebar/brake lever rubbing and scratching the neighboring bike's top tube. Just watch for this after you've loaded the bikes and rearrange as needed.
- With the rack full of heavy bikes, tilting the rack (away or towards the vehicle) can be a struggle.
- I wish they offered an optional cradle accessory that would accept the bike's handlebars (instead of fork crown) so that road bikes could be carried.