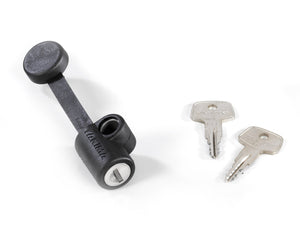 Product Details
Installation
Accessories
Spare Parts
HitchLock
Product Details
Locks your Yakima hitch rack to your hitch receiver to keep rack safe and sound
SKS Lock Core included
Product Specs
Weight: 0.44 lbs.
Dimensions: L 3.50 in x W 1.00 in x H 1.00 in
Product Features Video
Add Accessories to Your Rack
Don't Worry, We Have A Spare
Better lock
Got the hitch pin for EXO, good pin with threads to hold the hitch in solid. The lock is 1 out of 10, weak not well made, or engineered. Spent over $1000 on this system and you guys need to do better. Lazy engineering for security all the way around on the EXO system. Do better
It's frustrating trying to find this lock (or the pin), for the the Yakima on rack. Apparently, they come from China. I ordered several weeks ago from e-trailer and they (like everyone) else is waiting for a shipment. It would be helpful if Yakima could suggest an alternative product to 8007235.
HitchLock
I agree that it's a good idea to have this . . . but at the price of the Bike Rack, you'd think that this would be included.
Need Replacement
The return spring that activates the lock quit working on mine, so it fell off while I was driving. Need to order a new one.
Replacement for original pin
Replacement for original pin
Nice Addition
Great idea to help prevent rack from being stolen. Allowing for greater use of the cable to lock just bikes. Why is this NOT included??? Should be.
For a Honda Fit
So small yet gives enormous peace of mind. We did have to use the long hitch pin to put the lock on, the short one caused the lock to run up against the hitch and we couldn't lock it.
Hitch-lock works great
Part came with no instructions but when I e-mailed you someone got back to me right away and it was very easy to install.