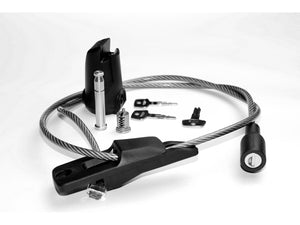 Product Details
Installation
Accessories
Spare Parts
HandCuff
Product Features Video
HandCuff
Installation Details
No Assembly Required
5 Minute Install
Resources / Manuals
Installation Video
Add Accessories to Your Rack
Don't Worry, We Have A Spare
One issue
After I assembled the lock per the included instructions, the lock on the end of the cable would not engage the post correctly. It seems that the groove in the post for the clip wasn't in exactly the right location. It didn't allow the lock to slip far enough onto the post to engage the lip at the end of the post. I removed the clip and then the lock would engage. The issue with this is that when unlocked, the post is not secured to the bike rack and will need to be removed for safe keeping.
Bad design flaw in good product
Attached the Handcuff to my SwingDaddy rack. Installs easily enough, and seems mostly solid and easy to use. The inclusion of a single key replacement lock cylinder so the lock and the rack will work with the same key is appreciated. BUT while one end of this handcuff cable is secured with a solidly attached sensible keyed lock, the other end is secured with nothing but an allen screw, easily removed with a standard allen wrench or even with a screwdriver. Better than no lock at all, but badly flawed design. Yakima could have easily replaced the allen screw with one of the many nonstandard security screws that can't be opened with just a screwdriver and vastly improved this product.
Great peace of mind
I've had one of these on my Swing Daddy for three summers and had to get one for the Ridgeback we bought for our motor home. It locks quickly and easily, securing the bikes when we're not around (think grocery store on way home). Only thing to watch out for is making sure the lock isn't touching the bike closest to the car when you go to remove the bike. The lock will swing back and whack your bumper if you're not paying attention!
ONLY REALLY LOCKS ON THE 'KEY-SIDE'
DESPERATELY NEEDS TO BE REDESIGNED TO HAVE THE SKS-KEYED LOCK CORE ON BOTH SIDES OF CABLE!! I will not explain how the non-keyed side can be manipulated/bikes stolen because I don't want to give that information to any non-savory thieves out there but a REDESIGN OF THIS COMPONENT TO HAVE A KEYED-LOCK ON BOTH ENDS IS MANDATORY!! Will keep it until that happens and then trade this out!