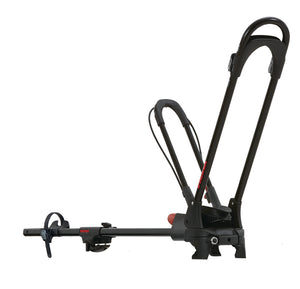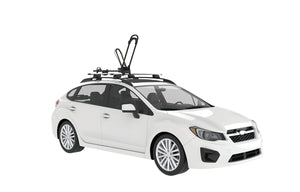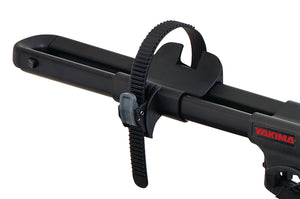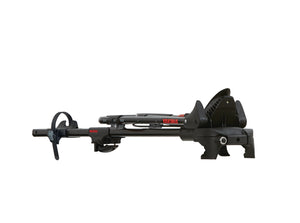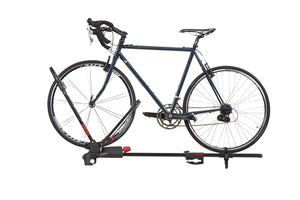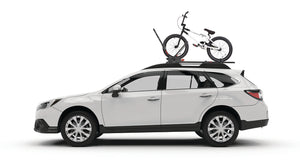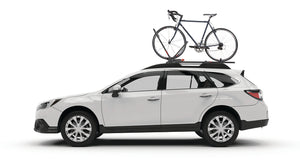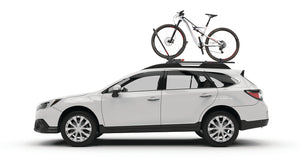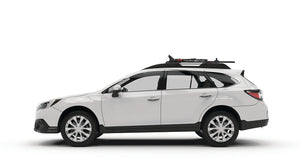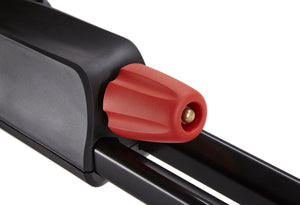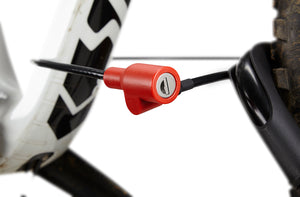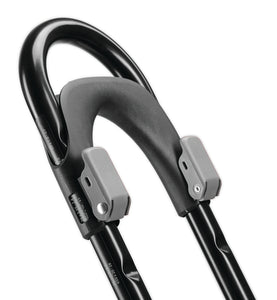 Product Details
Installation
Accessories
Spare Parts
FrontLoader
Product Details
Universal mounting hardware fits all Yakima StreamLine™ crossbars and factory or aerodynamic crossbars
Zero contact with frame; carbon fiber and custom paint jobs are protected
Accommodates disc brakes, thru axles, and full suspension bikes
Holds bike upright while you secure the bike to the mount
Leave your front wheel on for easy loading (some fenders may need to be removed to transport bike)
No tools or assembly required
Fits 20" to 27.5" wheels with tire widths up to 3" and 29" wheels with tires widths up to 2.7"
SKS Locks sold separately
1 bike, up to 40 lbs at min of 18" crossbar spread; or up to 30 lbs at min of 16" crossbar spread
Accommodates bike wheelbases up to 48"
Product Specs
Weight: 14.30 lbs.
Dimensions: L 56.00 in x W 7.00 in x H 7.50 in
Minimum Crossbar Spread 16.00in
Maximum Crossbar Spread 42.00in
Product Features Video
FrontLoader
Installation Details
Some Assembly Required
10 Minute Install
Resources / Manuals
Installation Video
Add Accessories to Your Rack
Don't Worry, We Have A Spare
Doesn't fit square bars well
Great rack for the bike. Nice secure hold. I got two of these used for our tent trailer which has a square bar. Unfortunately on bumps in the road the front bar attachment has come unhooked twice. I don't recommend this product if you have square bars.
Almost perfect
Purchased four of these racks for my camper. They look nice and will be a great addition. The only issues that I have are;
• Missing screw on front wheel support Needed to replace.
• I had to tighten other screws that were loose. I'm glad I found this out before I was carrying a bike on them
• At this price the locks really need to come with the rack installed.
• The locks are pretty much a necessity for these. In my opinion selling these separately is a money grab.
Overall I think I will be happy with this purchase.
Nice Rack!
I have owned two of these Frontloader racks for about 5 and 7 years. They are easy to use and fit on a variety of different configurations of rooftop crossbars. Last month, one of the adjustments on the rack ceased working, and made it exceedingly difficult to secure my front wheel. I honestly don't know if it was the rack I bought 5 years ago, or the one I bought 7 years ago. At any rate, I consulted with David M. in customer service, explained the problem, sent him a video showing how the rack failed, and he shipped me a brand new unit!! That's awesome customer service, and product support!! I was hoping for a deal on the knob system that needed to be replaced, maybe even a free knob assembly. Never did I think I'd get a brand new replacement unit! Way to go Yakima, and David M.!! I also own a Skybox, and a rear hitch receiver 4 bike rack, all from Yakima, and they now have an even more loyal customer!!
Still have my bike!
Someone tried to yank the entire bike mount off my car last night. My dog woke me up mid theft and they bolted.. The mount is a bit bent out of shape but I still have my ride!
My favorite Bike rack
I love my yakima bike racks definitely needing two more, I like that it locks down, on my yakima cross bars, and also locks the bike down when needed.
Durable and easy to use
I have a pair of FrontLoader racks mounted bed-rail-height in my Tacoma for 3 years. As MTB coach, these racks are used + 50 times per season and 100 times off season. They have worn well. Longer and heavier bikes with extended wheel base show a little bounce but cross rails can be adjusted to reduce the spring in the tails. sun fatigue of the plastic is not evident yet. Almost no color bleaching over the years. I appreciate the easy loading and unloading. Cross-wind flex is less than average at 75 mph. Headwind is not a concern as they hare half-sheltered by the cab. The bike mount point is ~ 3" closer to the rear compared to the other upright Yakima model. This was VERY important for my setup with a short truck bed. I recommend these racks.
Had for quite some time now...many uses and many bikes.
I've used this rack now for at least 5 years. I've used it with small kiddo 24" Mtn bikes to my M29 DH bike from Intense. I'm tall, but I do struggle putting a bike on top of my Suburban, so I've mastered the lift & placing of the front wheel by pointing my car downhill a little. This helps roll the bike into the front wheel catch. It's then easy to adjust the tension by spinning the red knob...come on people...don't force things & use common sense and things last a long time. As for the back wheel...I usually let it go wherever when I'm adjusting the front. I then lift and put it on the back catch. I did have to purchase the longer straps to accommodate my M29 DH wheels...but here too requires some common sense...I first discovered this the first time I used it with my larger DH wheels, but quickly overcame it with a handy simple strap to tie down the back wheel. Made it without any problems driving 3 hours each way from interstate to dirt roads. One recommendation: if you don't want to or can't lift your bike, then buy a different rack that goes on the back. I also have the Hold-up and it works great on the hitch.
5' 10" Tall and Doesn't Work With An SUV
I'm giving this a neutral 3 star review because there was nothing wrong with the rack per se but with my 5' 10" height and my Mazda CX-5 SUV I cannot get my mountain bike onto the rack. Yakima says that it is compatible with this vehicle and that's technically true but the way you have to get the bike 100% vertical to get the front wheel into the larger hoop and until you do that the rear wheel of my bike was longer than the tray I could not get this to work for me. Perhaps if I had a step stool it would work but that's not an acceptable solution for me when I'm trying to get the bike back in the rack after a ride.
Awesomeness
Great product!! I've driven many miles with my Giant Trance Mountain Bike loaded and have never once been concerned. Fits my 29" tires no problem
Great.... But broke
When I first got the rack it was awesome. Easy loading and unloading compared to my raptor racks. But no more than 2 months with it and the tabs that hold the front wheel down broke. I'll probably still buy Yakima products after this since they've usually always been great just got to get the warranty information to them.