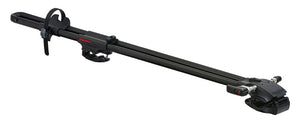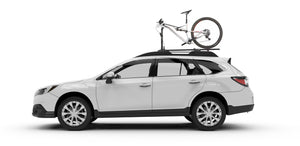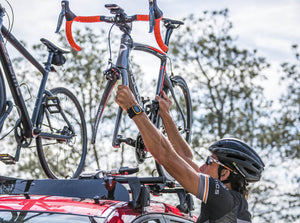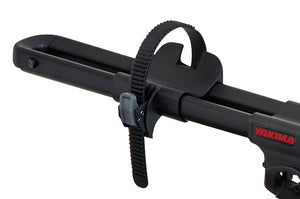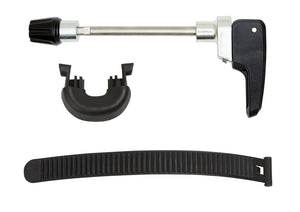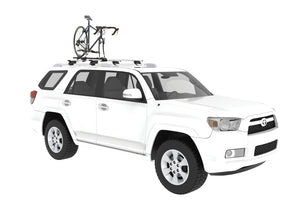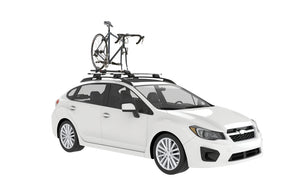 Product Details
Installation
Accessories
Spare Parts
ForkLift
Product Details
Simple tool-free installation and removal
Universal mounting hardware fits all Yakima StreamLine™ crossbars and factory or aerodynamic crossbars
Easy-to-adjust sliding wheel tray fits a wide range of bike lengths
Doesn't touch the painted surfaces of your bike
Fits most disc brakes
SKS Lock sold separately
1 bike up to 35 lb. Min of 16" crossbar spread
Fits 20-29" Wheels & Tires up to 3" Wide
Accommodates bike wheelbases up to 48"
Product Specs
Weight: 7.00 lbs.
Dimensions: L 53.50 in x W 7.25 in x H 2.50 in
Minimum Crossbar Spread 16.00in
Maximum Crossbar Spread 42.00in
Product Features Video
ForkLift
Installation Details
Some Assembly Required
10 Minute Install
Resources / Manuals
Installation Video
Add Accessories to Your Rack
Don't Worry, We Have A Spare
keep deleting my legit review
So you sell a rack that is advertised to fit 20-29" wheels and tires unless you own a legit mtb. then you force your customers to buy a flimsy adapter that has horrible reviews. I am a CNC programmer in the aerospace industry and i can engineer a better alternative than you are offering your customers. My advise, fire your engineer and find one with a brain and engineer a legit thru axle alternative for those of us who own real bikes. I am currently engineering one myself and will definitely outsell your "adapter" in a matter of minutes. cmon guys, i am a long time yakima customer and am disappointed. do better
Well built and versatile
I've used the Forklift on a '13 Outback, '16 Audi Q3 and now a '20 Q3. Factory crossbars for all three cars. There was no interference with opening the sunroof window on either of the Audis, listed as a potential concern by Yakima. There was some interference with the rear hatch door on the '20 Q3, but reducing the opening angle a few degrees addressed that. As others have noted, reducing overall length would not hurt things any. I've carried both road and mountain bikes from NJ to NH and WV at highway speeds with no problems.
Horrible fit on JetStream crossbars
I spent part of the afternoon fitting a ForkLift to my SUV, which has flush side rails, RidgeLine Towers, and JetStream crossbars. Yakima says this rack "fits nearly every crossbar right out of the box" but the fit to Yakima's own Jetstream bars is horrible. The front attachment is acceptable but sloppy (much worse than ForkChop, for example, which is pretty good). The back attachment, whether in the standard position or reversed, at most has a single section of contact with the crossbar on top and on bottom. This rack probably fits a bunch of round, square, and factory crossbars nicely, but on Yakima's own high end system, it fails. I'm very disappointed and will return the product tomorrow.
Great rack
I also have a Honda CRV with the Honda "factory" crossbars (they are a pricey option from Honda) and have a similar experience as others that have reviewed and said it was too long.. but guess what. I just shortened mine and it is great. Big fan of all yakima products.. Have two cargo boxes, two forklifts and two wheelhouses
Dislike the clamp
ForkLift Dislike the clamp I've been a loyal customer of Yakima for more than a decade. I had a roof rack with ski and bike mounts that lasted for more than a decade. The company was pleasant and generous when I had questions or parts requests. When I got a new car with factory installed rack, had to get new rooftop bike rack. Thought only of Yakima. Bought this product. For me, I find the clamping mechanism of the fork to be difficult to use, sometimes maddeningly frustrating. First, when putting the bike mounts on the roof rack, it requires a feat of dexterity since you have to hold the skewer stable, while also pulling the spring loaded locking cam away from the clamping handle... and then twist the handle to screw in the skewer. It's a pain. After getting the bike mount on roof rack, I find it difficult to then get the tension exactly right for the forks - it's a very small margin of error between too tight and too loose. If you have multiple bikes or transport friends' bikes, etc., it's not quick or easy to adjust the fork mount. Same annoyance with putting tension on the cam and twisting the handle. Finally, it takes two hands to get the rear tire strap out of the locking mechanism. I'm often realizing that I need to get it out of the locking mechanism while holding the bike. I have to set the bike down and get it out with two hands. It's a small thing, but my last Yakima rack I could get this mechanism to work with one hand. On positive side, the SKS lock core installs easily, it looks attractive, and is secure on my Outback's factory rack. Overall, for me, it's not a great product since your main interface with the rack is using the fork mount clamp and rear wheel strap. I find both to be mildly frustrating and wish it had more intuitive and easy-to-use design. Your mileage may vary.
Update
This is an update on my previous review. Still really pleased with this rack, which I bought to transport road bikes. For those, it's an excellent, quick, elegant way to move bikes using a small car. The rack's not so universal for bikes with disc brakes, because the plastic of the front-fork mount fouls the disc calliper. On one of my bikes, with Fox forks and a Shimano XTR calliper (so, calliper mounted direct to the fork), it can just about be persuaded on. The other bike, which has a Rock Shox fork and Tektro callipers (so, an adapter between the fork and the calliper) it just won't fit. I need another rack anyway, to transport two bikes at once, and I'm pleased with Yakima's build quality: plan to get a Frontloader as a counterpart to the Forklift.
Excellent rack
Great rack for road and leisure bikes, though not quite so versatile/easy to use for some high-end mountain bikes, depending on axle (fine with 9mm QR front axles). You're left with a front wheel to stow, of course, but I just put mine in a wheel bag and sling it in the back: fine even if muddy. My Frontloader mounts to Thule Wingbars on a Seat Ibiza SC: good fit to the bars, no problem with the tailgate. Overall, a great product - certainly a lot better than taking the wheels off and putting bikes in the back!
Mostly good
So I like this rack overall, I use it frequently and I can get my bike on the roof quickly and remove it quickly so it doesn't waste a lot of time. My main complaint is the locking skewer. It's an external cam skewer, and it doesn't clamp as securely to the front fork as almost any actual quick release skewer, particularly like the internal cam skewers that Shimano or Campagnolo have been making for many decades. On top of that it is wearing out making it have less and less clamping force. It's somewhat ridiculous as it's much larger & heavier than a wheel QR so it should be able to be built with large clamping force and great durability. I suppose I need to talk to Yakima and get a replacement, but my experience is these skewers will be worn out in a season if you were to mount/unmount your bike 3-4 times a week so maybe it's time to look for a locking skewer from another company that is a more reliable/durable design.
Too Long
Fit guide recommended for my 2010 Honda CRV, but the hatch hits the back of the rack when in place and pops the plastic guard right out. Haven't scratched the rear hatch yet...but used in this configuration (front facing), its just a matter of time. Going to HAVE to reverse the direction...though much less sexy aesthetic. Make the rack 2-3inches shorter Yakima! Wouldn't affect the bike sitting on the rack at all. Otherwise...awesome product.
Great so far
I installed one of these on my 2006 Nissam Murano with the factory crossbars and so far, it has been working like a charm. Installation was straightforward, it is easy to use, and the locking skewer adds a little peace of mind (like when I leave the bike on the rack in my workplace's parking lot). I have also taken three 1,000+ mile road trips since getting this rack and again no issues, even at highway speeds (well, other than the bugs).