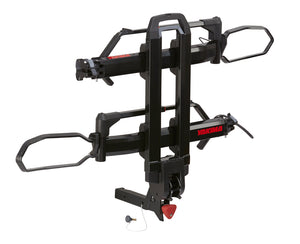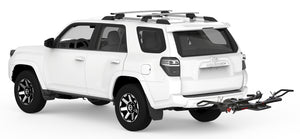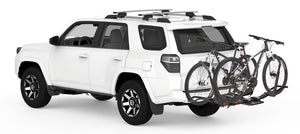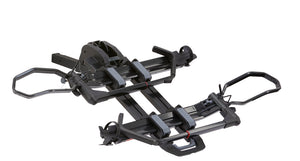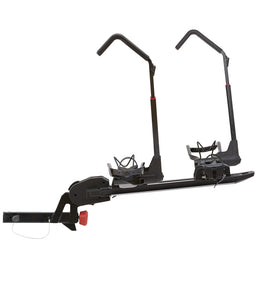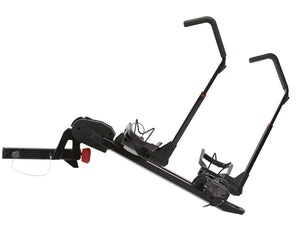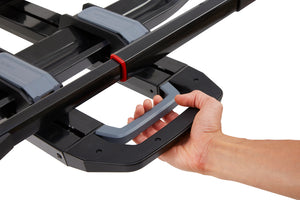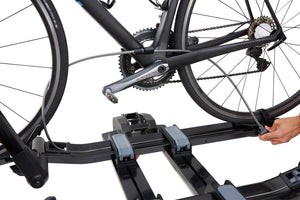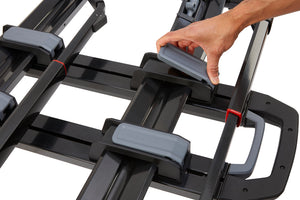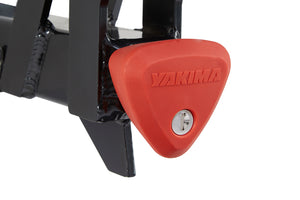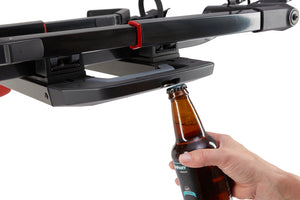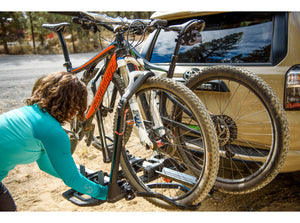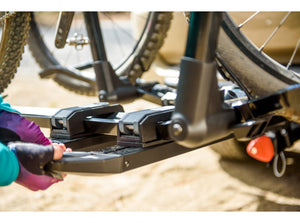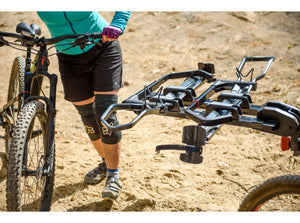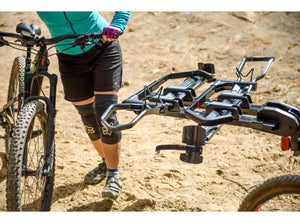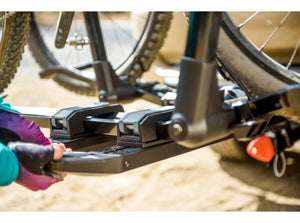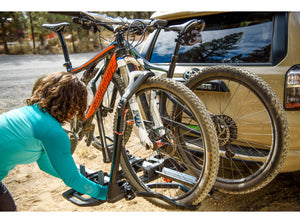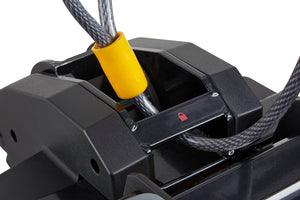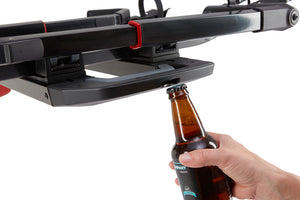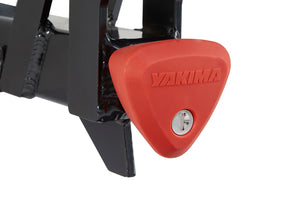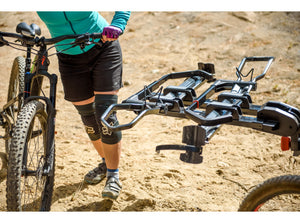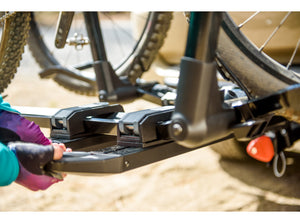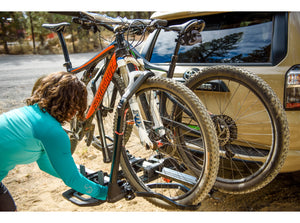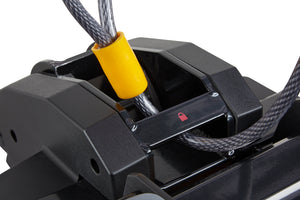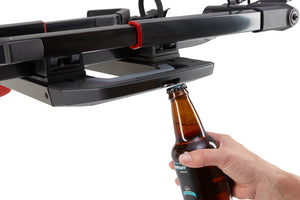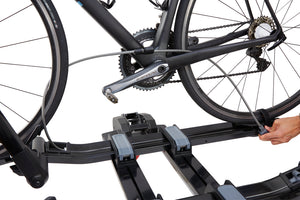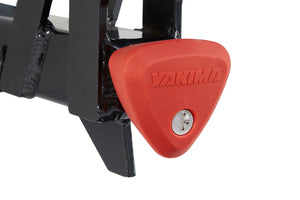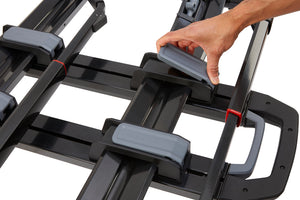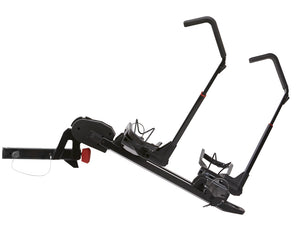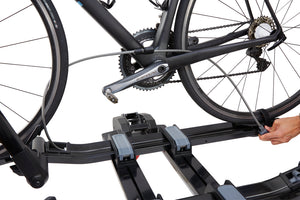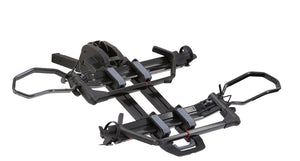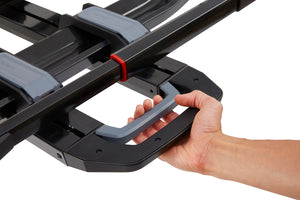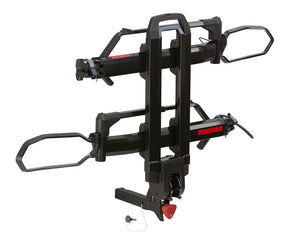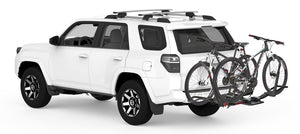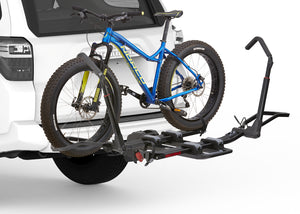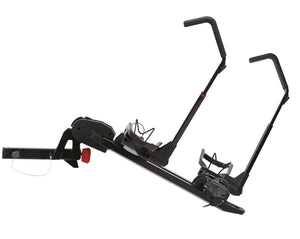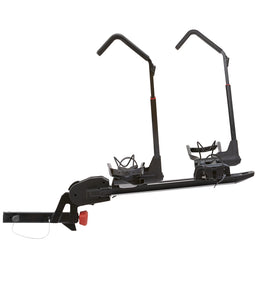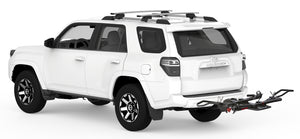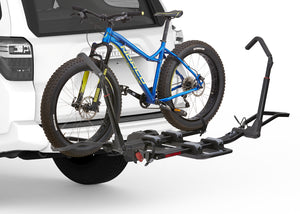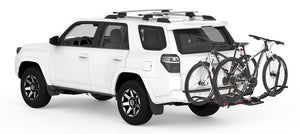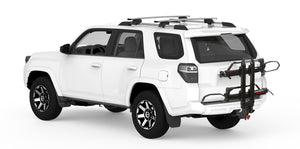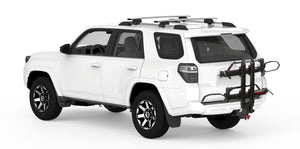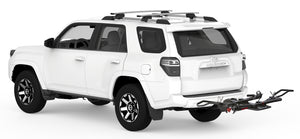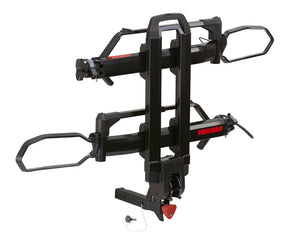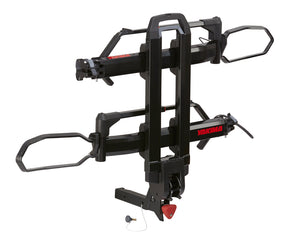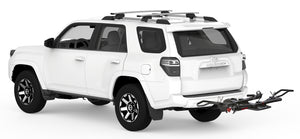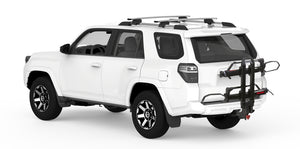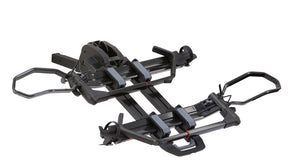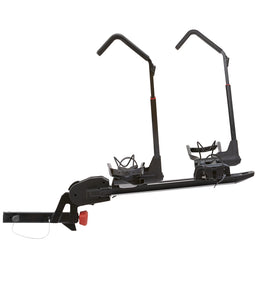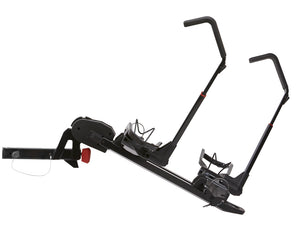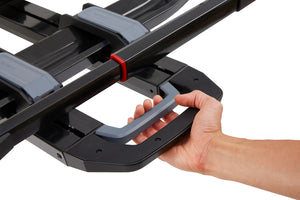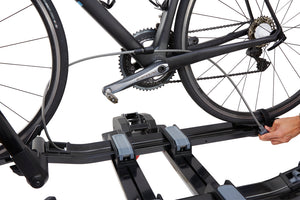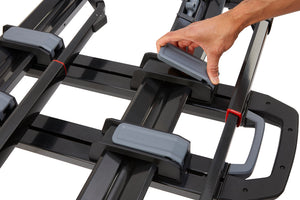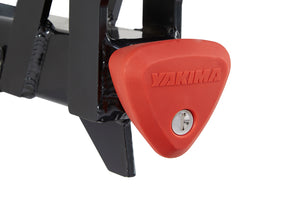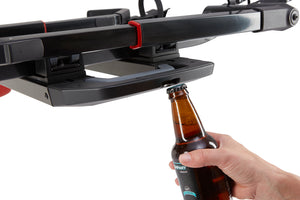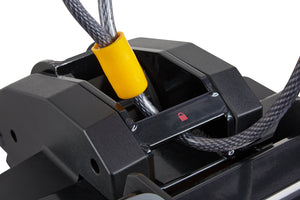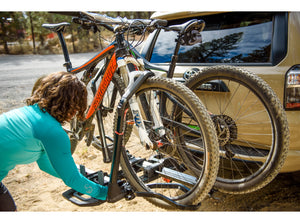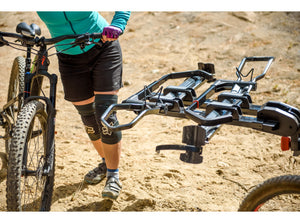 Product Details
Installation
Accessories
Spare Parts
Dr.Tray 1.25" 1.25"
Product Details
Securely carries 26" to 29" wheels and tires up to 4.8" wide
Unrivaled spacing between bikes - up to 18" between each bike
QuickChange lever provides tool-free adjustment while bikes are loaded, minimizing the potential for bike-to-bike interference.
Easy-to-use RemoteControl tilt lever and lightweight, aluminum design makes raising and lowering the rack a breeze
Tool-free locking SpeedKnob™ for a secure and easy install to your vehicle
Extra burly SKS cable lock system for each bike secures both wheels and frame
40lbs weight maximum per bike
Accommodates bike wheelbases up to 48"
Fits 1.25" hitch recievers
Add the EZ+1 and carry a third bike (sold separately)
Product Specs
Weight: 41.00 lbs.
Dimensions: L 46.00 in x W 64.00 in x H 41.00 in
Product Features Video
Dr.Tray 1.25" 1.25"
Installation Details
Some Assembly Required
10 Minute Install
1 1/4" Hitch Receiver Required
Installation Video
Add Accessories to Your Rack
Don't Worry, We Have A Spare
Handy rack for hatchback
I bought this rack because of the reduction in price & because I didn't want to pay over $800 for Yakima's premium tray rack which also offered a drop-down position to allow my vehicle's rear door to open without unloading bikes. Based on the reviews, I'm glad I bought it after the price drop. The rack works OK & as advertised but I can't say it's the most polished Yakima bike rack I've owned. Assembly was no problem & I like the fact the spacing between bikes can be adjusted (though not super easily) I would strongly advise the application of a lubricant to the inside of the receiver hitch as well as the exterior of the bike rack mounting stem because the clearance is tight (which is a good thing for travel) but if the rack is left attached for very long, removing it might be a problem. Once mounted & the tension knob tightened, the rack feels very secure (though not so much on my 2" receiver with a 1 1/4"adaptor). Prepare to apply serious wrist action when operating the release lever to raise the rack to its stowage position or into the lowest position with bikes loaded. I would not recommend this bike rack for anyone who may have strength issues in their hands or wrists. Overall, I'm happy with my purchase but I'm glad I didn't pay the original retail price for it.
Used for 2 years and works great!
We have had the Dr. Tray for 2 years. We have traveled all over with it. It holds the bikes securely and the integrated lock is awesome when traveling. We can take the bikes off or put them on quickly. We use it with road and mountain bikes seamlessly. Build quality is great. I have only needed to lube the front wheel slide once. It tilts easily when not needed. I highly recommend this rack.
Great design, but a high cost
The design of this is excellent, including the integrated security features.
I just don't see $600 of value here. For the price, I would have liked to see this made of aluminum, which would decrease weight, remove the potential for rust, and still allow a healthy profit margin.
My favorite new bike carrier
The rack is pretty simple to use and easy to secure bikes. Rated for 40lb bikes but we tested without a problem on our 50lb ebikes from Trek and Norco for 700miles. Even took them down a pretty rough road for 5miles with no problems. Plus its light enough you dont really have to heft it around once off the hitch for storage.
Don't bother with this one
I am on my third Dr. Tray. The best thing I can say about Yakima is they have good customer service. Everything time I have called for help, they have sent me out replacement parts or entire new rack. Details: I have three bikes and had the +1 to handle this. I also have a 1-1/4" hitch. However, the racks have very light use. We are not avid bikers, just use it 2-3 times a year for family vacation. As others have mentioned, this is a very expensive rack - especially if you shell out money for the +1 bike accessory. I wanted this rack to be easy to use and not cause damage to the bikes in transit (like bar ones seem to do in my experience). What I found instead was it is made cheaply. Yes, the tooless adjustments are great, but things loosen up over time and are made of plastic. But the biggest two complaints are: The main part that holds bike down is very stiff and difficult to use, and can pop free over time, leaving you not feeling very safe. The other is the main red part that locks onto hitch. I have had to replace it twice now, as it gets stuck and stripped. I was on a road trip for 2 weeks and when I got home, it just would not come off. I don't feel like I overtightened, but there is a fine line as it will rock back-and-forth if not tight enough, so you have to find that sweet spot. Yakima recommended lubricant and tapping it with a mallet before attempting to loosen after a long trip. I will try next time. So far they have sent me two locking pieces, a new arm, and two complete racks. Can't complain about that, but if they cannot make some design improvements, it is just more of the same. For the price, I would go with another brand unless you like constantly fixing things and not having a good feeling about reliability/trust.
DR Tray Long term review
I thought the most expensive rack would be the most secure and easiest to use. I have used Yakima products exclusively for 18 years but I am left envious of other brands of tray racks. The sticky hard to operate release lever is not even close to the holdup for ease of use. I am very mechanicaly inclined so if some one has a fix for a redesign of the release button please share it. I will add a front ratchet to secure the bike as others have suggested using velcro straps to prevent the bike from rocking off the rack. If Yakima has improved the release lever is it covered as a free upgrade? The reason for 3 stars is that the 2 stars wouldn't be fair to Yakima as they have had some very good designs.
Difficult to use
Easy enough to install but the arms are always getting stuck. The arms don't slide easily and make it very frustrating to get my bike off the rack. For such an expensive rack, the moving parts need to be easier to manage.
Awesome rack
Easy to use and very flexible for various bikes and tire sizes. Bike felt secure and built in locks are nice. Tire lever sometimes was difficult to release but not a big deal once you figured it out.
Not worth the money
This is a decent rack and I appreciate how lightweight it is. But for the money, some of the components really are crap. The ratchets for the rear wheel are super cheap and flimsy, and are difficult to use with one hand if you are balancing the bike with the other. For the cost of the rack, they certainly could have done better. The swing arms for the front wheel do not slide well at all. The release button doesn't always depress and the arm is frequently stuck and won't slide. These are basic parts that really need to work better for such an expensive rack. It is a good tray rack overall but I wouldn't buy it again. Go with a cheaper rack and you'll probably get the same quality.
Great rack minus one major design flaw
I was about to purchase this rack at my local shop. Luckily they were cool and let me bring my bikes in to mount of the floor model before I purchased. So glad it did. The versatility of this rack with the tool free adjustability of the tray side to side and front to back is awesome! I have yet to come across another rack that is nearly as versatile and easy to configure more loading different bikes while keeping them from toughing each other. BUUUT... the the tray is way too short for modern trail bikes, the wheel cup/cradle is plastic and hangs off the back of the tray rather than being supported on top of the tray. There's a metal pin that holds two plastic pieces together for the wheel cup and mount on the tray. In the store the bikes were secure, but were easy to sway, and with the rear wheel hanging off the back of the tray it was also easy to rock the bike back and almost off the rack. a big bump or sharp turn I could see a bike falling off. Just didn't seem to be smart or robust design like the rest of the rack. This one major flaw is what kept me from buying this rack. May be fine for around town, but long distances on highways rough back roads and such I wouldn't feel comfortable trusting this rack for an expensive bike. If Yakima were to extend the tray to fully support the rear wheel I would buy this rack in a heartbeat!