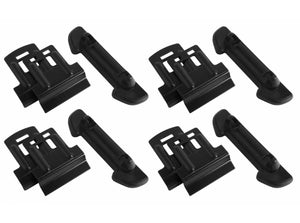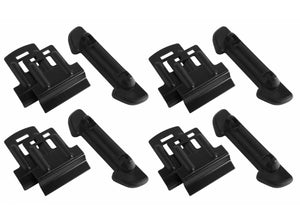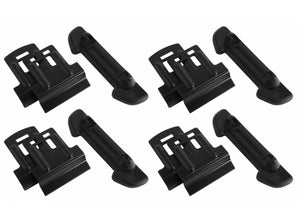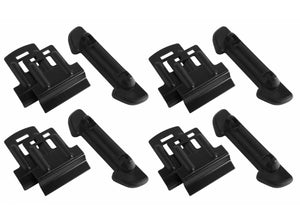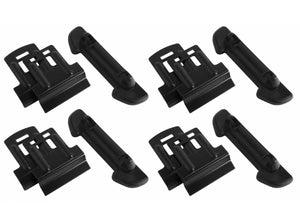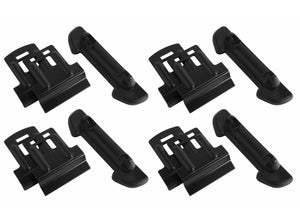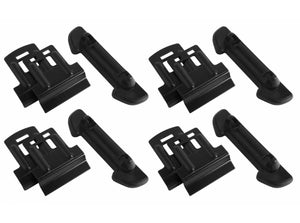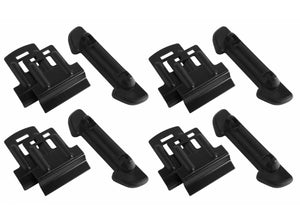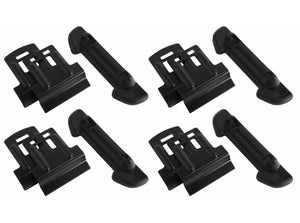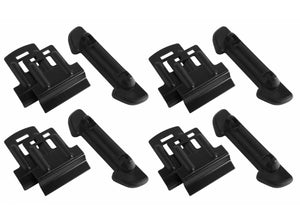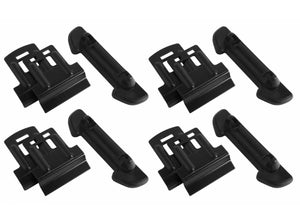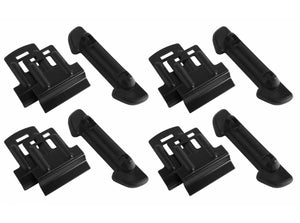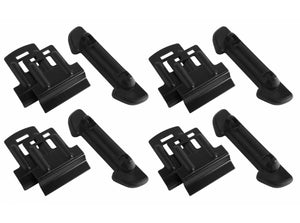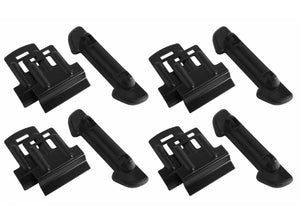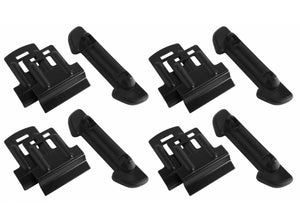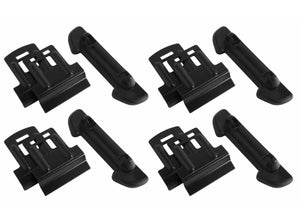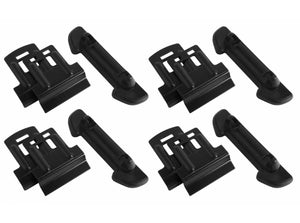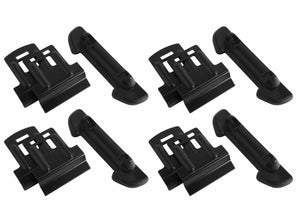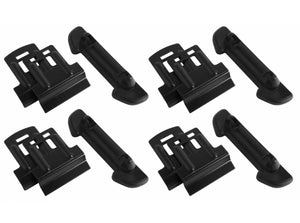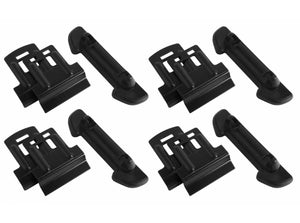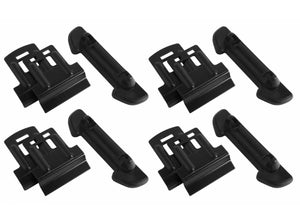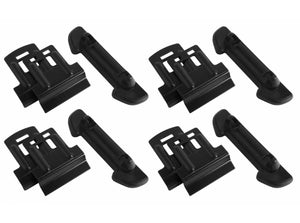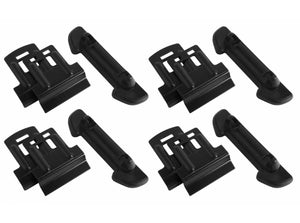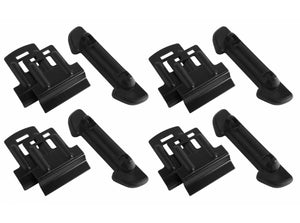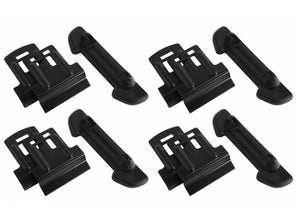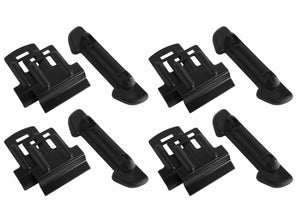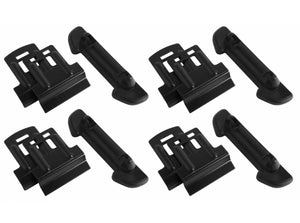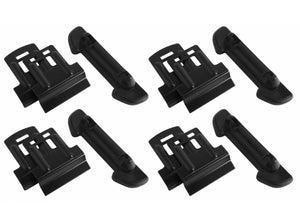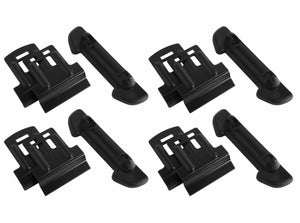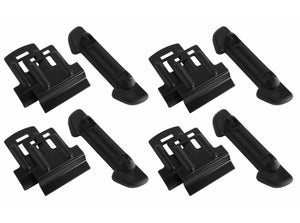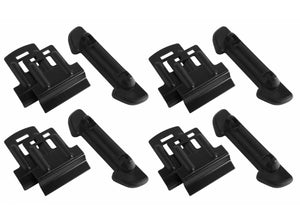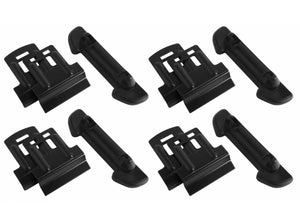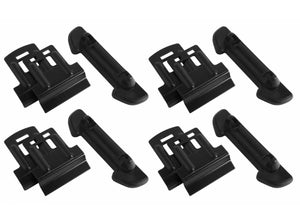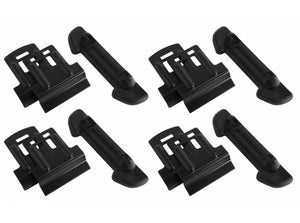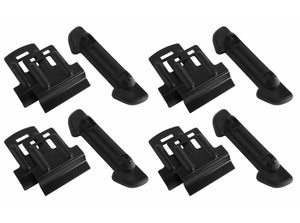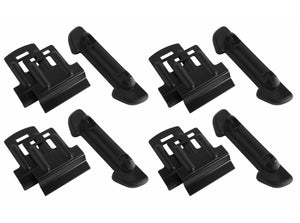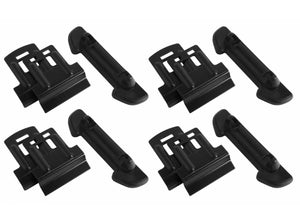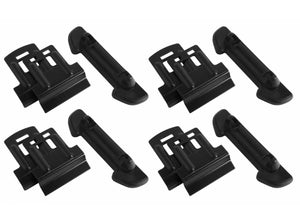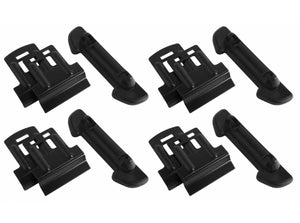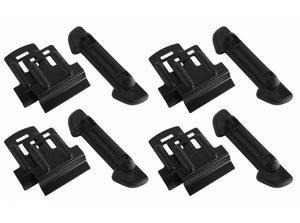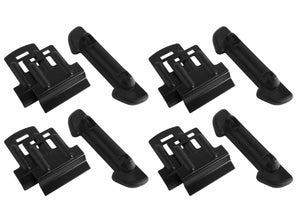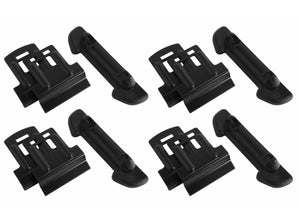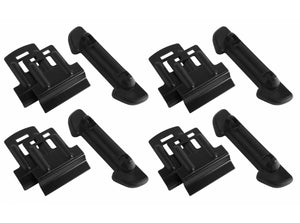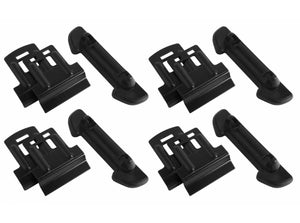 Product Details
Installation
Accessories
Spare Parts
RidgeClip #4
Product Details
Ingenious clips designed to attach RidgeLine Towers to flush-mount factory side rails
Range of shapes lets you find the precise, secure fit specific to your vehicle
Unique inner and outer clip design delivers exceptional hold
Powder-coated stainless steel provides maximum strength and durability
Sold in sets of four – just one kit sets up your system
Product Specs
Product Features Video
RidgeClip #4
Installation Video
Add Accessories to Your Rack
Don't Worry, We Have A Spare
There has to be a less complicated system, no individual parts reduce cost effectiveness
The clips have a rubber or vinyl pad that sticks to the surface that grabs my factory rails. This is an obvious wear item. You cannot buy the pad itself, you have to buy a new set of clips for $144. If they are not right, the rack will move while driving. They do also fall off easily when assembling and when removing from the roof, pull the whole assembly off the roof and tighten down while holding the clips together. this keeps them in place for storage. Place assembly back on roof, and open just enough to fit inside clip, while holding outside clip. Then you can hold inside clip against rail, and do the outside positioning and then tighten. I wish I had gone with a trailer hitch or the BMW factory rack.
worst tower setup ever "designed"...
Between the towers, clips and adapters I'm roughly $400+ dollars into this rack. Luckily I already had the crossbars. I've owned Yakima products for over 20 years and at this point won't be spending anymore money with the company. The ridge clips on their website say "cannot confirm compatibility with your vehicle" after I've already placed my vehicle into their search and these are the clips they recommend? On top of that, this whole rack configuration makes a $60K vehicle look stupid and clumsy. Not sure as to who is designing their racks these days, as once installed the setup is flimsy and not worth the money invested. After a year on my vehicle I'm looking to buy a new setup and throw this one in the trash as I couldn't feel good about selling to another party for any amount of money. Unfortunate as I've loved their products for decades. As we grow to learn, new doesn't always mean better.........
The Sightline has replaced the Ridgeline and it is much better.
Thank the gods (whichever you prefer) for the new Sightline. The Sightline uses the same Ridgeline Clips and the Yakima web sight now provides measurements taking away all the guess work needed for the Ridgeline. The Sightline has spring clips to hold the front and back Ridgeclips/Sightclips on the hooks on the towers during installation. The Sightline is lower than the Ridgeline and looks better after installation. Now if Yakima would put some threadlock on the 4 screws that attaches the tower to the crossbar on all of their towers we would be even more enthusiastic about the their racks.
Persnickety
I work in a store where we sell and install Thule and Yakima racks. The Ridgeline system for flush siderails is the most persnickety of the four types: Basically it is like a Baseline but with (4) four extra clips on the backside of the tower so there are a total of (8) eight clips for a two bar rack. The other thing that makes this system a PITA to install is the way the clips "hang" on the tower. The clips are quite easy to dislodge from the "hooks" that go through them until the rack is tightened in place. Like I said: persnickety. Once it is on it works fine. Apparently there has been a redesign ... so maybe wait if you have a car with flush siderails that takes the Ridgeline towers and clips. : )
agree with Art once fitted do not remove
I have multiple racks both hitch and roof from Yakima and competitors for various combinations of watersports equipment and bikes across multiple vehicles. Art is spot on in his description of the system not being Yakima's most elegant design and giving good advice with the suggestion not to remove once fitted. The issue is that although the system works and the pieces are secure when tightened in place the same is not true when the racks are removed. Once removed the tower pack individual clips are just floating loose and are highly prone to falling off, particularly if they are inverted or jostled. That is definitely a foreseeable event in between the vehicle and any storage. I am right now online looking for a replacement for one outer clip that has gone missing between taking the rack off a couple weeks back for a tight fit in a parking garage and now. That creates a significant problem in terms of near term departure planning and I'm not having much luck buying a new part short of replacing a whole pack for 139. Again it is functional when on though and I understand it's hard to make a system interoperable with multiple rail designs across vehicles manufacturers so still 3 stars.
Worst Yakima design ever
When (if) you ever get this rack system positioned properly, don't ever remove it. This system seems to have been designed by Rube Goldberg. I have been using Yakima products for about 40 years and this one could cause me to switch to another system .