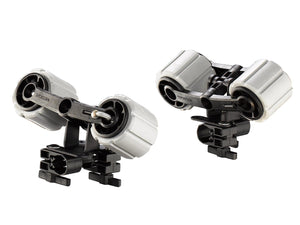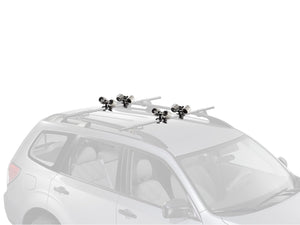 Product Details
Installation
Accessories
Spare Parts
HullyRollers (1pair)
Product Details
This boat load assist system features rollers mounted on pivoting bases that fit many kayak or canoe hull shapes
Dynaflex™ padded rollers protect and grip your hull, then lock into place once loaded
Combine with Mako saddles (for round or square bars) or Mako Aero saddles (for factory or aerodynamic bars) for the ultimate duo of easy loading and boat security
Each set includes one Heavy-Duty Strap and one Bow/Stern Tie-Down
Premium heavy-duty straps with coated metal buckles protect boat and vehicle
Fits rack systems with round or square crossbars
Fits factory or aerodynamic crossbars with the use of Mighty Mounts (sold separately)
Product Specs
Weight: 4.20 lbs.
Dimensions: L 9.50 in x W 3.50 in x H 3.50 in
Minimum Crossbar Spread 24.00in
Product Features Video
HullyRollers (1pair)
Installation Details
Some Assembly Required
10 Minute Install
Resources / Manuals
Installation Video
Add Accessories to Your Rack
Don't Worry, We Have A Spare
Roller Material degrades
I am very happy with the roller but with Texas weather the roller material softens and turns to putty just like the other review. I am wondering if you guys will sell the replacement soft material to mount it back the existing system. I am a big Yakima fan and this is one of the only product that does that.
6 years and happy!
I'm reinstalling mine onto the new subaru. All the parts moved easily from one car to the other. And!!! I still have the keys. I keep the kayak carrier on the car all year - as a North Idaho resident, I'm very impressed. Love it!
Roller material degrades over time, but overall system works well.
Consider this a mixed, but positive review. I've owned two roller/saddle systems for years, and overall they work very well. The only complaint I have is about the material the rollers and the inserts on the Mako saddles are made from, at least the vintage I have. While the current version may be made from a different material ("Dynaflex"?), mine have softened to a putty-like consistency, resulting in material from the roller and the Mako saddles being sloughed off onto the hull of my kayaks as they soften over time. I can no longer use the rollers due to the wear from this material, and I want to stay committed to a Yakima system, so I hope the new material addresses this flaw.
satisfied
The load assist feature of the Hully Rollers work well as long as the vehicle is not leaning to the right or left. The first time I tried to use it, the right side of my car was lower on the right. My 16.5' sea kayak started creeping to the right completely away from the left roller. I unloaded the layak and repositioned the vehicle so that the slant was lower in front but even side-to-side. This worked fine. I paired them with a Mako Aeros and the boat stayed solidly in place with no give or denting on the underside for 600 windly miles. I am very satified.