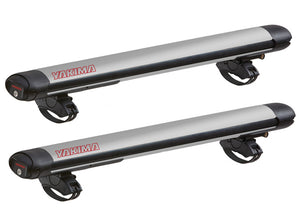 Product Details
Installation
Accessories
Spare Parts
FatCat EVO 6 Black
Product Details
Easily carries six pair of skis – up to 136 mm wide at the tip - or four snowboards
Aerodynamic design delivers a quiet ride and streamlined good looks
Universal mounting system works with round, square, factory, and most aerodynamic roof racks
Integrated SkiLift provides clearance for tall bindings
DoubleJoint™ hinge expands for easy use with thick skis and boards
For easier access to skis and snowboards, the OverHang™ clamp-mounting position shifts the mount further out on your vehicle's roof rack
Large button makes it easy to open with gloves or mittens on
Sleek mirror black finish looks great on your roof
Integrated SKS (Same Key System) locks included
Compatible with T-slot crossbars – just add our SmarT-Slot Kit 2 (sold separately)
WARNING for California Consumers
Product Specs
Weight: 12.75 lbs.
Dimensions: L 40.50 in x W 3.75 in x H 5.25 in
Minimum Crossbar Spread 12.00in
Maximum Crossbar Spread 36.00in
Product Features Video
FatCat EVO 6 Black
Installation Video
Add Accessories to Your Rack
Don't Worry, We Have A Spare
Great Racks!
I got these racks installed on my 21' Toyota 4Runner, and it works great during the snow season. The wife and I snowboard, so we can place both of our boards side by side and still lock down the racks. I had these racks for about two years and didn't have any issues with them. We got these because of the capacity to hold up to four snowboards. Yakima need to redo their instructions because it provided a general idea of how to install the racks but not in detail.
Instructions
Good quality items but the instructions are absolutely dog shit doesn't tell you multiple steps has zero wording and there's no full videos online showing everything,
Looks cool, but needs improvement.
No doubt, the FatCat EVO 6 is the best-looking ski/snowboard rack on the market. That is actually why I bought it! Very sleek and virtually no wind noise at all cruising at 55 mph. Why only three out of five stars then? Well, I wasn't impressed with the build quality at all. First of all, there is a minor cosmetic issue with the Yakima stickers on it beginning to peel off the moment you take the racks out of the box. This isn't a huge deal, and ultimately, I would have just taken them off if had kept the rack. I used this rack TWICE before I sold it. Here's why: Yakima has cheaped out on the design by using a plastic ladder as the securing mechanism. Yes, you read that right; they chose to use a piece of plastic literally millimeters thick to secure the clamps down. Why oh why they decided to do this boggles my mind. The clamping mechanism is what keeps your skis on the car! And what's worse, is not only is it plastic, the ladder steps are so shallow that it will sometimes slip a step when you are trying to secure down multiple sets of skis. I almost used zip ties around the racks as a backup because I was positive any bump on the road would pop clamp right open. To my surprise, I made it up to the ski hill with all of my gear still on my car! Needless to say, I promptly sold the rack and got a Thule Snowpack L instead, which features a metal clamping mechanism with large steps on the ladder! Maybe I am overreacting, but when you are spending $300+ on a ski rack, you want it to last. I could tell that the Yakima would be broken by the end of the season with the use my gear gets. Yakima, if you are reading this, please please please replace the plastic clamping ladders with metal! I will sell my Thule and buy another FatCat Evo if you do this! I routinely drive with $3-4k worth of skis on my car, and I just cannot risk it with the current design.
Reliable, never had an issue
Our set up is these fatcat 6s on 50" airplane style cross bars on a Jeep Renegade. We have had this set up for 3 winters of constant battering. They go on in November and they come off when the snow melts (May - July). Their effect on fuel efficiency is minimal. We live in Mammoth Lakes and have taken these loaded to utah twice and colorado twice. We can easily put snowboards upside-down with the bindings shut. Unless you're crossbars are stealth you should be able to too. On one of those Colorado + Utah (moab and big cottonwood canyon) trips we fit 2 pairs of powder skis, 2 splitboards, and 2 snowboards on it, AND my husband's boards are wides. The snowboard bindings we removed for aerodynamics. We've used the fatcats for backcountry shuttling. Latching does become slightly harder when you fully load it, but that's be expected (that's why there are multiple teeth). We also have a Yakima lockset in them and have never had any theft issues. On an occasion or two we've put a binding just in front of the front fatcat when binding stance was wide and we didn't feel like re-positioning the cross bars. If you can't make 6 skis/ boards fit on there, then you must not be very good at Tetris. Hint: When in doubt, click ski bindings "in" so brakes aren't an issue and put skis on top of a snowboard. 2nd hint: If your snowboard bindings are hanging over the edge of the board (might want to rethink your positioning) tetris them so the greatest overhangs are on the outsides of the fatcats.
So, buy these if you want an aerodynamic ski rack and have a big family and/or a lot of friends.
Replacement for my 10 year old Powderhound
The lock mechanism on my old 10 year old PowderHound finally seized up, to where I decided on buying a new holder. I could have saved money on the Freshtrack, but I don't like its security mechanism (security hex) compared to the FatCat. Installation is easy: See video. It gives clear instructions. It is installed on the VW Accessory rack for my 2016 Tiguan. Without anything on it, it is whisper quiet on the highway (70 to 80 mph). It works like I expect a ski rack to do.
mr
Love the rack. Holds a family full of skis and boards
Great Product- Amazing Team
Ordered the FatCat 6 and LOVE it! It is super easy to mount and we were able to carry 2 sets of ski's and 2 long snowboards with ease! Super shout out to Dave and the customer service team for their help on my purchase, the integrity of the product and support from staff is unmatchable! Signed a satisfied Yakimaniac
10 years and going strong
First, I have to say, I wrote this review because of the other review written by someone who hadn't even put it on his car. I purchased an identical model of the fatcat before it was renamed years ago when they first came out (approximately 2008). I have used that rack for 10 winters and travel 300 miles per weekend to ski. Suffice it to say, I've used them a LOT and here's the truth about these racks. When they are brand new, they are amazing. Yes, at first, they are a bit tricky to get mounted, but believe me, the new foot design as of this writing is way easier than the old double bolt clamp style. The double hinge design lets it adapt to varying thicknesses of skis and boards and snugly holds them all from the fattest racing skis, to the thinnest grom snowboard all locked in at the same time. I've carried 4 boards and 2 pair of Skis, 2 boards 3 skis, any combination you can think of, I've done it. The locking mechanism works beautifully when you only have one board or ski thickness, but if you put two board or skis base to base and they are close to the locking mechanism it can be a bit tricky to get it to latch in place enough that the rack can be locked. For the lock to catch, I sometimes have to squeeze the top and bottom of the rack at the latch together to make the lock easily operate, but this is only when I have it loaded to the max with thick gear. Again, this only happens when this thing is loaded up. I normally transport 2 boards and 4 pairs of skis and I don't have this problem in that configuration. All that said, the fatcat is still in working condition after 10 years with only 2 things that concern me. The rubber that contacts the boards/skis is starting to deteriorate and does not have the same supple rebound it had when younger, but what more can you expect? The mounting hardware used to attach the body of the mount to the mounting feet is starting to rust and might need replacing this season. Full disclosure: I have removed the fatcat every spring to prolong it's longevity and save on gas for the 7-8 months I wasn't transporting winter gear, this also means I've installed it at least 10 times and it gets easier the 3rd go around! As far as aerodynamics, I have owned the more traditional rack of the past and these seem quieter. Bottom line: this is the best and biggest ski/snowboard carrier you can buy and the reason I'm on the site today is because I'm buying another one. I seldom leave reviews, but I felt compelled today because of the above reviewer giving this product a hard time after never even using it - and now you know :) happy trails everyone!
Great Ski Rack
This is a great ski rack. I use on Yukon XL. I love not throwing dirty skis inside the vehicle. Very easy install. I have had 4 pair on top, but never have tried 6. Defiantly the best out there for the money!
Instruction mistakes
Finally went and bought a ski rack. Ive always been a "fit em all in the back somehow" kind of person. I'll keep this as brief as my grief will allow. It looks well built. The universal mounts are great. Curious how the rubber on them will stand up to the test of time, snow, cold hot cold, and Colorado road salt. Havent got them on the car yet but hopefully this will help Yakima improve the assembly process for future customers. The Assembly instructions. 1 star