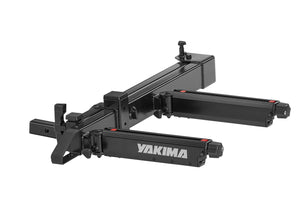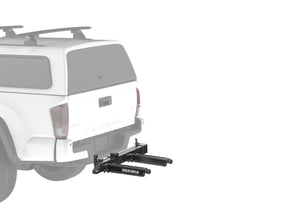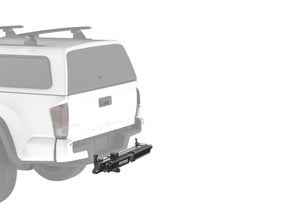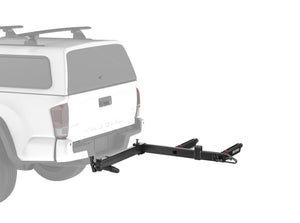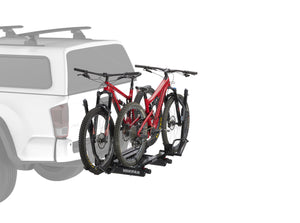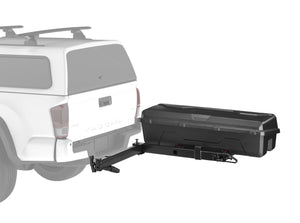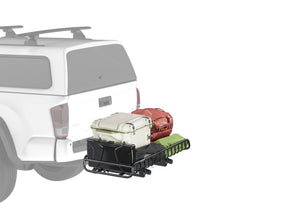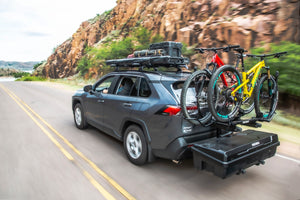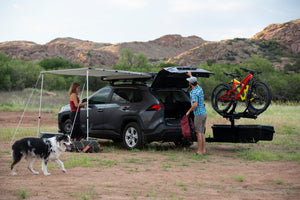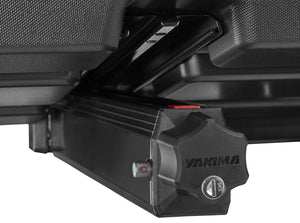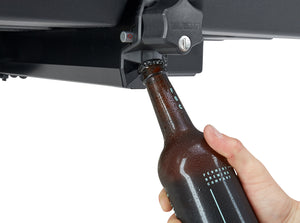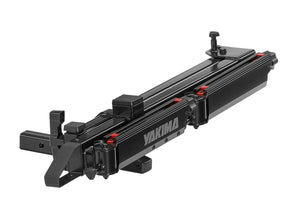 Product Details
Installation
Accessories
Spare Parts
EXO SwingBase
Product Details
Swings away from car with gear loaded to provide easy access to rear of vehicle
Accessories install in seconds using the tool-Free EXO Cleat system and locking SpeedKnobs
Accessory arms fold in when not in use
Fits 2" hitch (class 3 and 4) receivers only
Included HitchLock locks EXO SwingBase to vehicle
Includes 2 extra SKS locks cores for use with EXO accessories
Built-in bottle opener - cheers!
Create a second level on your EXO SwingBase with the EXO TopShelf (sold separately)
Limited Lifetime Warranty
Compatible with the Yakima StraightShot
NOT offroad or RV compatible
Product Specs
Weight: 68.50 lbs.
Dimensions: L 34.00 in x W 49.00 in x H 9.50 in
Product Features Video
EXO SwingBase
Installation Details
Some Assembly Required
5 Minute Install
Installation Video
Add Accessories to Your Rack
Don't Worry, We Have A Spare
Compaitibilty with LR Defender 110
I would like to know how could I assemble the swing base if I didn't choose the trailer hook. Is there any compatibility when my Defender doesn't have the Towing Receiver(VPLET0273).
Or I could only modify my car with Towing Receiver to match the EXO system?
The EXO SwingBase requires a dedicated 2" hitch in order to securely install.
This is the best racking system on the market
So I've had the foundation, the upper deck, the ski rack and the open range deluxe for about a year now. I feel pretty strongly that its among the best racking systems on the market. It's super modular. You can dress it up or dress it down based on the occasion and it feels bomb proof. Expensive? Yes. But based on how its built, and the fact that you can bring it from truck to truck, I could see myself with this system for the next 20 years. I've off roaded on it under pretty heavy conditions and the open range system is honestly the coolest tailgating setup on the planet. I've used it skiing and probably got a hundred complements on the setup. I just ordered the cargo box and am stoked to couple that with the ski rack setup. Having a kitchen sink and full grilling setup is such a game changer with the EXO open range!!
The downsides i've gathered is that if you're heading to the slopes and there's snow on the highway, expect your skis to be pretty gunked up by the time you get there. Not great for your edges but I just wipe em down as soon as I arrive.
It's also kind of annoying to have to open the swing base every time I forget to grab something in the truck bed when I have the upper deck on (which is often). Also, if you have automatic backup sensors in the car, it's pretty annoying to hear them wailing every time you go into reverse as the foundation triggers it automatically.
Overall, if you're a skier, angler, camper, overlander, or just a sender in general, you wont regret having this setup in the quiver. The price is worth it because it's something you can take with you from vehicle to vehicle over time. Whether you have at the trailhead, or if you're tailgating the game, you'll enjoy the feeling of being well equipped the EXO system will give you!
Quality Concerns & Customer Support Hurdles: A Buyer's Experience
Upon eagerly receiving my Exo Swingbase, my excitement was quickly dimmed by discovering that the product was Broken/Defective right out of the box. I understand that manufacturing flaws can occur, but this seems indicative of potential quality control lapses at Yakima as this is a known issue for this product.
Attempting to resolve the issue proved to be a taxing experience. After reaching out to Yakima's customer service, I was asked for photos and videos of the defect. Despite providing these immediately, I was left in limbo for nearly two weeks, having to initiate almost daily follow-ups. While a later representative eventually addressed my concerns (providing a replacement locking arm assembly overnight), the protracted process up to that point was disheartening.
To give credit where it's due, the locking arm assembly was shipped promptly once the issue was finally acknowledged, and installation instructions were provide however were incomplete. But the overall journey left a bitter taste in my mouth. Now, I find myself second-guessing the idea of investing further in Exo Swingbase attachments, wary of both potential product quality and the reliability of the support support.
In conclusion, while Yakima rectified the situation in the end, potential buyers should be cautious. One can only hope that with feedback like this, Yakima takes the necessary steps to enhance both product quality and customer support.
Would think twice before a future purchase.
What I've been waiting for
I have a sprinter RV and this gets stuff outside of the van and leaves more room inside. I have the base and an upper deck with 2 cargo boxes. Stuff that I use every day like hoses, power cords, small clam, chairs, etc go in the top box as easy to get to. Lower box gets clothes, food, and items not needed as often as it takes a little longer to access. Gotta watch the weights but love this setup.
Maximum weight capacity?!
Love this unit! Drove it from the west coast to the east coast w/ the double decker set up! No problems or complaints with our set up. Only thing I can't find is the maximum weight capacity for the main lower base?
It's great, but comes with a few setbacks
Overall I'm very happy with this product. It seems bomb proof, it's very versatile, and is the type of hitch mounted system you could have for 10-20 years easy. There are a couple things that annoy me. First, it's kind of a pain in the rear to take on and off. You've gotta get down under your car and struggle to wrench it in. Second, It's not really secure. For a system I spent $3K+ on, it should have locking bolts on every connection and bolt, not just the main. It'd be easy for anyone to wrench 90% of it away in five minutes. Living in denver, the bums here will steal anything given the chance. Also, because I tend to keep the base on the hitch when I'm not using it, because it's annoying to take off and store, it's really annoying for anyone with a backup camera/sensors. My car sensors on my 2023 nissan frontier are basically useless in reverse with this attached, and with the top shelf and accessories mounted, forget about it. I've got to turn off the parking sensors every time I reverse, which is just annoying. The other downside is that it takes more time to access my truck bed when I need to quickly access it. With a tonneau cover, it becomes a chore to unlock it, open it up, get what I need from the bed, close it, secure it, etc. Overall, if you're looking for a system that is versatile, built to last, and high quality, I'd still recommend this system to anyone that skis/bikes/camps/needs more storage capacity.
Fits great one Defender 110
This unit is great for long trips in my LR Defender 110. I used the straight shot hitch extension to clear my spare tire and the lit kit for extra visibility. One thing I don't like on the lit kit is the rubber plate holder and plastic screws so I had a fab shop make me a metal back plate so my license plate does not swing back and fourth on the highway.
Security concern
I just bought mine and yes the base itself can be removed with two wrenches. This is a huge problem. Yakima, please design two longer bolts with locking mechanisms that will secure the base to the the tongue. Otherwise it's a great system. Thank you
LR Defender 110 Swing Base
What length extender do you require to clear the tire?!?!? It's no where on your website
12,000 miles to Alaska and back
I have the basket (GearWarrior, with a rubber latex bag) and the box, with the lights, on the back end of a 2022 Ford Bronco. I just put 12k miles on them (3k on gravel roads including the Dalton, McCarthy road, and the worse west 50 miles of the Denali Hwy - unending potholes). Not much off-road but some; that was fine with the lighter recommended load maximums. Do put the box on top so you can open it easily - having to reverse the TopShelf/basket is a pain. Generally, it all worked well! There are two things to consider. First, the box kept out water (a lot of Alaskan rain) but did leak in some dry dust. Plan on that for what you put into it. Second, the base and LitKit (lights) got pretty beat up by gravel. No rust to speak of but I am going to easy-sand and paint those pieces (including the hitch part and TopShelf part that fits into the Base. Paying almost $2k for this stuff, it makes sense to take care of it. BTW, I had someone try to get into my Bronco through the soft-top but they left the box and basket-bag alone. And if you are wondering, the Bronco was great and I got 21.8 mpg over the 12k miles. And the Curt 18211 bag was great!