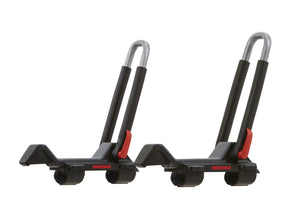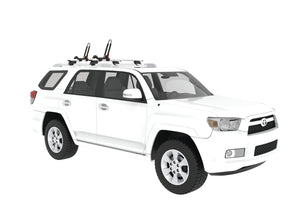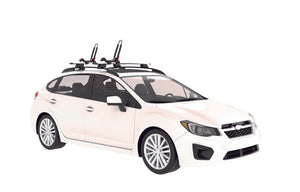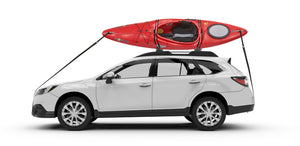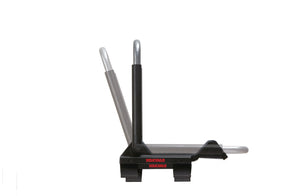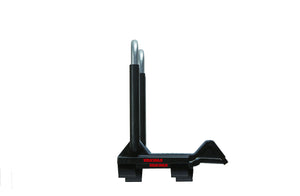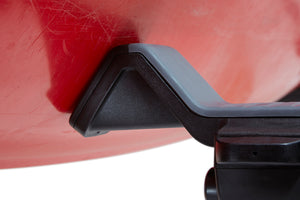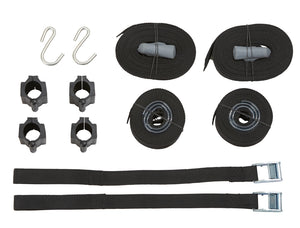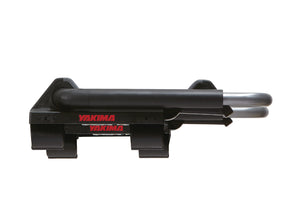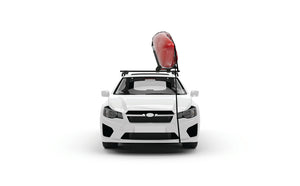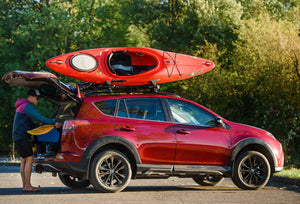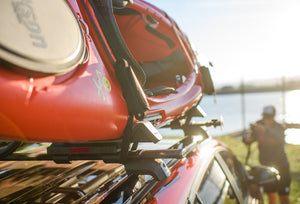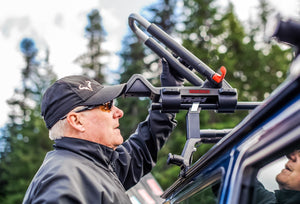 Product Details
Installation
Accessories
Spare Parts
JayLow
Product Details
Carry 1 boat in J-cradle position or 2 boats in vertical, stacker position
Fully assembled out of the box
Tool-free installation
Fits Yakima StreamLine & round, square, factory, or aerodynamic bars
Adjust the upright position with the easy-to-use integrated cam lever
Folds flat when not in use
Heavy-Duty Straps and Bow and Stern Tie-Downs included (HoodAnchor, sold separately, is required for vehicles with no attatchment points for Bow and Stern Tie-Downs)

SKS Locks sold separately
Supports one boat up to 80 lb or two boats with combined weight of 110 lbs or less
Product Specs
Weight: 11.00 lbs.
Dimensions: L 6.69 in x W 6.00 in x H 20.00 in
Minimum Crossbar Spread 24.00in
Product Features Video
JayLow
Installation Video
Add Accessories to Your Rack
Don't Worry, We Have A Spare
Thumbs Up for 1st Season
Bought two pair of the JayLows for our first season of kayaking, because we purchased 3 kayaks. The JayLows on the driver's side of the car whine at 35+ mph because of the three holes in the base for the screw tighteners (not an issue when mounted on the passenger side of the car). Black electrical tape over the holes solved the problem. We like the shape of the JayLows and the versatility in mounting one or two kayaks. Also purchased the SKS locks for the both sets for the peace of mind: easy to install. We have been kayaking every Saturday since Memorial Day weekend and have not experienced any problems, although we have not traveled any further than an hour away. My only concern with these racks is the looseness when in the vertical position. I would expect them to snap into place without any wobble.
Versatile for 2 kayak mounting
I bought the JLow system for the reasonable price and versatility in mounting 2 kayaks. You could theoretically mount a 3rd kayak if your vehicle has a wide roof and you stack the 2nd and 3rd flat (depending on the boats you're carrying). The straps are pretty basic and as one reviewer pointed out, the brackets aren't stainless steel. Of course you want to spread your roof racks far apart and use the bow and stern tie downs with bow in the front so you're not scooping wind into the open bow. Regardless, you should use a cockpit cover to avoid any wind force. Another reviewer mentioned the wind noise when the cradle is down. Don't know why Yakima didn't test that issue and I don't like to put mine up cuz I might forget about it when pulling into my garage or other parking garage around town. My solution is to cut pieces of a pool noodle, put a half-round under my crossbar and a narrow cross section wedged into the crack between the bracket mount and folding bar. Anything stuck in that gap will eliminate the noise.
Awesome in high winds.
I have two Eddyline Equinox (14'). Just returned to AZ from a 3000 mile round trip to the Oregon Coast. Had to evacuate Lincoln City and drive south through insane wind and smoke, along with constant semis, on I 5 (not my first choice, but the only road open). The J Lows, attached to factory Subaru Outback crossbars, were absolutely rock solid the whole way. I did add the Subaru sunroof visor, which removes the whining from the racks, both deployed and folded. I never leave racks on the car, as the AZ sun will eat them up. J Lows are so easy to remove, it is a no brainer to take them off when not in use. Absolutely love these racks.
JayLow
I've used the JayLow twice to transport our kayaks. Set up was not too bad, but right away as we tightened the straps holding the kayaks in place the gray rubber the kayaks are seated in come out of the mount. For the price of these mounts I didn't expect that sort of defect. I purchased two pairs from different stores and each set did the same thing. Disappointing.
Good so far!
I bought these and have taken them on a few trips so far but have only had them for a few months. I got them when Yakima was having their great sale on their roof racks and accessories and we have two kayaks so I figured buying a rack that allows me to take two will save me some cash. They are super easy to put on and take off and take only a few minutes each. It is great you can fold them down when not in use. Quality seems great. I also have the locks for added security. I have had no issues as of yet with these. I have read other reviews about faulty locks but mine have been okay thus far transporting two kayaks. I do use bow and stern ties with my boats for added security. I do not notice any crazy whistling with or without the boats. I love them so far! The only reason I did not five 5 stars is that I haven't had them for a long time so I think time will tell!
Kayaking- Carrying Heaven!!!
ME: Roundhead for the last 25-26 years, with exception to my Dodge Dakota Truck Cap that came with a Thule Rack, I have experienced both major brands. I started with the old fold down Inverted U-shaped Kayak Stackers, which I loved. Since then I have gone to Land Sharks & Hully Rollers. But for my new Jeep - I decided to try the Jaylow so I could carry 2 touring boats if need be without taking up all the roof space. Wow. WOW. WOW! So easy to install. Jaylows came complete with straps and front/rear tie downs. Picking the boat up from the side could not get any easier to load. No more dealing with rollers and getting my boats around satellite antennas or rear spoilers. When I got to my destination, The boats came off quickly and the Jaylows popped off in about 1:30 seconds - I locked them away in the back and was on the water in a flash. Never, has this been so easy. I was worried about road noise between my Jet Stream bars and the Jaylows. Virtually nothing. A slight whistle a couple of times when going over 85 MPH. (I know... I know.... it was crazy keeping pace with traffic in NJ/NY)). Simply a wonderful product and I cannot say enough good things about them ... If you are on the fence, and you might need roof space, do yourself a favor and check them out. And lest anyone think I am spry enough to throw my boats around, I will be 60 next year and these things are the cats pajamas!!!
**READ THIS***OH SNAP - THE JAYLOW
Okay, I compared the Jaylow and the Bowdown. The bowdown is a one yak show! The Jaylow up to 2 yaks! Get some! I just had back surgery 4 months ago, loading my yak was easy peazy! Tying down the yak, was a snap, and you can just wrench the straps down like you were the Hulk. I tied down just the front of the yak, and shook the daylights out of it, didn't even budge. I have an 08 Jetta with Q-towers and round bars I've had forever. The two systems tie down the same, lay flat the same, but the Jaylow can hold 2 yaks, and is cheaper. MORE BANG FOR YOUR BUCK!!!!
Working Well
These are easy to use on my GMC Terrain, and fit well on factory cross members. Kayak loads easy, and stays in place when traveling. Bow tie down is needed for highway. If there was a means to keep straps from sliding down upper arm while loading, that would be helpful. Having to go around and adjust strap up the support arm is a challenge once the kayak is on the rack.
Great option when you sometimes need to carry two boats
I always need to carry one yak, and it works well for that. I didn't really want to invest in another set of racks when I only sometimes carry a second boat. I found this one, and it works well for that - very well. AND They come off easy enough, and they're small enough to take off the upstream car rack, and bring down river to the second car if you need to do that. bonus. The down side is the straps. I hated the straps that came with it. I replaced with ratchet straps, and since the box only had enough straps for one boat, I also bought the bow/stern straps Yakima sells separately. FAR BETTER and easier to use. Other down side is strapping in. There is nothing to hold the straps at the top of the rack, so it becomes difficult to manage. I've been using a rubber band, but that won't last long, and I'm on the search for just the right option that stays there. A bit of a design flaw that could have been solved with a small loop at the top of the rack through which to thread the straps. This is especially a challenge for boat #2.