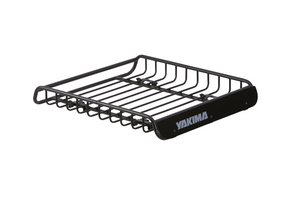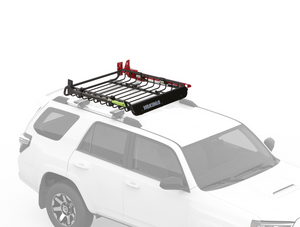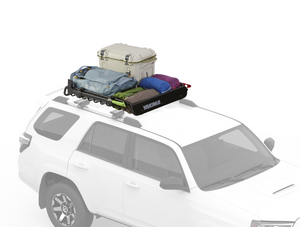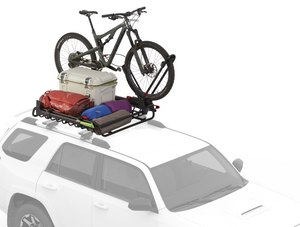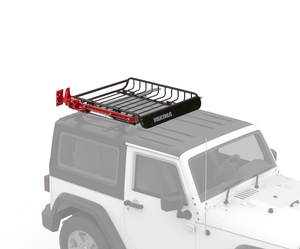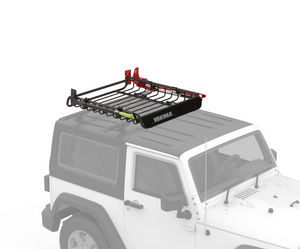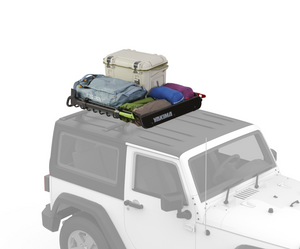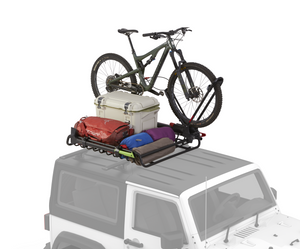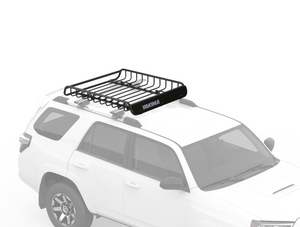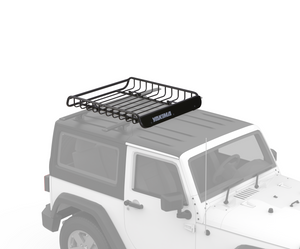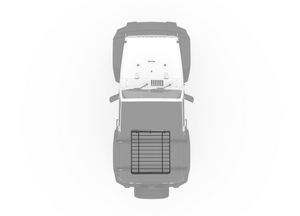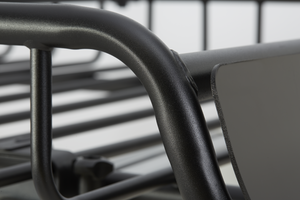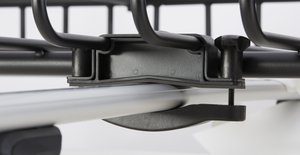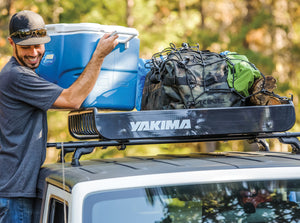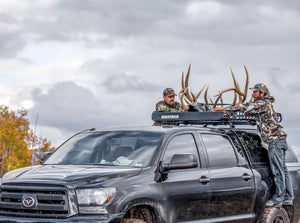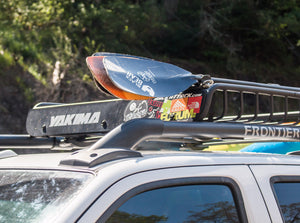 Product Details
Installation
Accessories
Spare Parts
LoadWarrior
Product Details
Quick installation and minimal assembly required
Accommodates most Yakima gear mounts for all your outdoor activities
Weather-resistant heavy-duty steel construction
Optional LoadWarrior Extension adds 18" and expands your cargo capacity by 40%
Universal mounting hardware fits all Yakima StreamLine™ crossbars and factory or aerodynamic crossbars
Custom wind fairing included for extra noise reduction
SKS Locking Bracket sold separately
Product Specs
Weight: 25.00 lbs.
Dimensions: L 44.00 in x W 39.00 in x H 6.50 in
Minimum Crossbar Spread 24.00in
Maximum Crossbar Spread 32.00in
Product Features Video
LoadWarrior
Installation Details
Some Assembly Required
30 Minute Install
Resources / Manuals
Installation Video
Add Accessories to Your Rack
Don't Worry, We Have A Spare
Product decent - weakness is in the details
Product seems pretty solid and was fairly easy to install. Biggest problem is trying to to register the warranty, which is nearly impossible due to absence of important product info in easily findable place. Also, 1 problematic part is out of stock, which is seriously annoying. Without that part, not sure I'd put a canoe on this rack. Not what I expect, given the price point.
So far loving it
Honestly was indecisive on either trading my car in for a truck or just building a whole roof rack system with Yakima and let me tell you it saved me a lot. Maybe at first it was a chunk of change but it was well worth it. Most of the other brands that are cheaper won't last long or have the warranty or customer support that Yakima does.
Thats why I chose the LoadWarrior. To go along with the rest of the Yakima rack. As I am currently in the military. It helps to load up all my gear and be able to move in a days notice if need be. No stress to find a moving company etc. And when I think of gas mileage. Im just happy I didn't get a truck. Definitely looking forward to using this a lot more!
Shopping for my second basket.
I'm in the process of shopping for my second basket for our second vehicle for the kids in college and their travels, and saw the reviews for this. I have had a Load Warrior for the last 15 years mounted on my primary vehicles and it has outlasted 3 of them. It started on an '06 Pathfinder for 150k miles. Then was moved to a '13 Pathfinder for another 100k. Finally, it is on a 2017 Rogue for another 100k. It has been in both extended and regular mode depending on the vehicle with light bars, shovel mount, axe mount and CB antenna mount. After 350,000 miles and 15 years, this thing is still rock solid. Sure, it shows signs of age, and some pitting but it has been through many great adventures. It has even served as drive-in sitting for 7-year-olds. Great product.
Cross Country Trek in a XV CrossTrek
I purchased the Loadwarrior mainly to give myself extra space inside my car for a cross country trip, starting in Seattle and ending in NJ. This was not going to be a straight run either. I wanted to see the most of the west coast before heading back to boring ol NJ. That in mind, I had some expectations that I may need a full-sized spare on this trip as I was not sure in what conditions I could end up in with a flat. I purchased the spare tire kit and locks as well. All three were easy to assemble and mount and it gave my car a nicer look. An extra set of hands and eyes could be helpful, but not necessary. I was able to do the whole thing my self in about an hour.... I wasn't in much of a rush either. The Loadwarrior was definitely a warrior throughout the 3 week, 6,000 mile excursion. The fairing held up through all kinds of weather (sandstorms too) with no damage. The bugs washed off as well! As expected, it makes some extra wind noise, no matter what the condition or speed. I have a sunroof, which adds additional things to consider. When the bugs hit the fairing, they fall into your car. Adjusting the sunroof to open to where its closed beyond the fairing made a difference. Not only with the dead bugs, but the noise as well.
Be careful using this product
I recently purchased the Loadwarrior and the Loadwarrior extension kit for my 2015 Toyota 4Runner. Along with the basket, I purchased the spare wheel/tire mount and the high-lift jack mount. All parts were purchased new and professionally installed at Rack It (an authorized Yakima dealer in San Diego, CA). Following the installation (by a Rack It employee and checked by me and my girlfriend who both used to install Yakima products at EMS and REI), we were confident the new rack system was up to the challenge of our long weekend in Baja. Following an 11 hour journey south (all on paved roads "hwy 1"), we reached a dirt road and began the 22 mile stretch to Punta Lobo (one of the seven sisters). During our trip down, the Loadwarriors' mounting brackets wiggled themselves loose and worked their way off the front and back steel aero bars. The Loadwarrior basket along with my spare wheel and high-lift jack fell off the cross bars and landed on the side of my 4Runner. We were in utter disbelief. I don't blame the installer for what happened. I blame the faulty mounting brackets that are hand tightened to secure the basket to the front and back bars. After reattaching the mounting brackets and cranking them down to the best of our ability, the cage came loose on two other occasions during our weekend. Luckily we caught it in time and cranked them back down. Clearly Yakima knows these mounting brackets are faulty b/c the newer Yakima Offgrid basket comes with a newly designed footing that is much more secure and lockable. I can't believe I'm the first person this has happened too. This is a warning to anyone using this product. Be careful and always check the mounts on your Loadwarrior to confirm they are attached securely and not coming loose due to wind and road vibrations.
High Price, High Quality
Product is priced high but the quality is also very high. It hasnt shown any signs of rust or wear and fits securley to my stock 2004 Nissan Pathfinders crossbars. If you buy yakima it will last. Cant guarntee that with cheaper brands
Load Warrior
Overall good product. The wind fairing could be a little more angled. The off grid basket wasn't for sale when I bought the load warrior. I lose about 2 miles per gallon with the load warrior (2018 Crosstrek) Not a big deal because the extra storage space is nice. But if the Off Grid was on the market I would have bought that one.
Doesn't Fit Ford Focus
Does not fit Ford Focus 5-door. the spacing between mounts is approximately 30" while the Jet Stream bar set up on the Focus is 32". You wouldn't think 2" would make a big difference but the connection points looked awful and I questioned the integrity. Customer Support did not provide any comfort with the fit, they just said it should be fine and asked what I would be hauling in it. Would be nice if you could adjust tune. I will be returning this.
2017 RAV4 Fits but noisy
This is a well built great product nothing wrong with design. The design of the RAV4 cross bars make this install a little longer than 5 mins more like 30 - 40 mins playing with the fit. There is a sweet spot where everything fits and works but takes time. You have to play with the position of the cars bars and the mounts. Once finished it is solid. The stock cross bars only are rated for 100 lbs so might be upgrading to Yakima Cross Bars. The only other isssue is you will hear noise from the rack but that's poor cabin design by Toyota. Overall a Fantastic Product and get the net it has clips that fit to the design of the rack.
Over priced Junk...
First of all the unit comes in 2 pieces so rusting is inevitable and it makes the unit some what flimsy. The mounting system that's required sets the rack 56" above the roof top so on top of a lifted vehicle the rack is very difficult to access but more importantly the drag from the rack catching all that air is felt while on the highway and the whistling is quite noticeable. I've had my rack for 2 years in central florida and my jeep is garage kept yet the rack is rusting at all of the weld locations and the union locations as well as the rack mounting hardware. I love Yakima products but they didn't think it through on this rack.