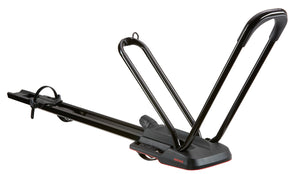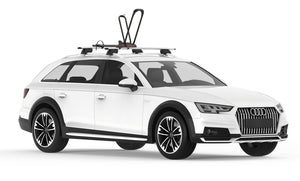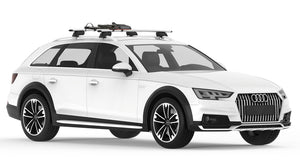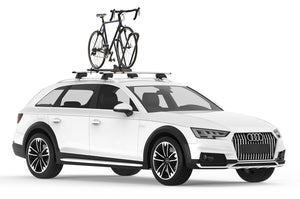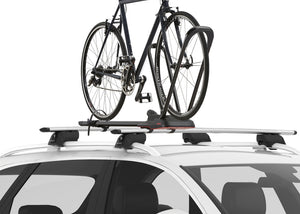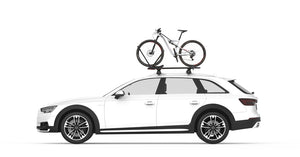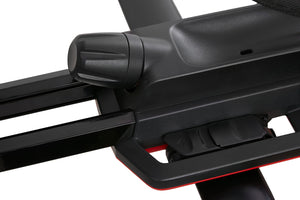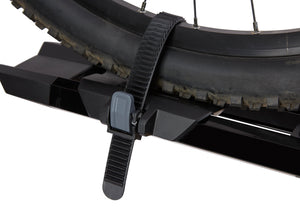 Product Details
Installation
Accessories
Spare Parts
HighRoad
Product Details
New wheel hoop fits 26" to 29" wheels and tires from 23mm to 4.0" with no adjustment needed
New integrated TorqueRight™ knob quickly and easily secures the bike with precision
Requires no wheel removal and makes no contact with the bike frame - a great option for carbon fiber bikes and custom paint jobs
Sleek, low profile tray minimizes hatch interference
Universal mounting hardware fits all Yakima StreamLine™ crossbars and factory or aerodynamic crossbars
Tool-free, universal mounting hardware fits most roof racks
Add your own bike lock to the integrated lock loop for additional bike security when your vehicle is parked
Easily convert to integrate with T-Slot crossbars with the addition of a SmarT-Slot Kit
Add SKS Locks (2) to the included TailWhip™ cable to secure your bike and mount to your roof rack (sold separately)
Accommodates bike wheelbases up to 48"
Product Specs
Weight: 18.00 lbs.
Dimensions: L 56.00 in x W 9.50 in x H 4.50 in
Minimum Crossbar Spread 18.00in
Maximum Crossbar Spread 35.00in
Product Features Video
HighRoad
Installation Details
Some Assembly Required
10 Minute Install
Resources / Manuals
Installation Video
Add Accessories to Your Rack
Don't Worry, We Have A Spare
A good, stable mount
The HighRoad definitely keeps bikes well-attached to the rooftop. I don't need to worry about the bike blowing over in cross winds as happens sometimes with downtube-clamp racks. The materials and craftsmanship of the High Road are very good and the integrated whip lock is very convenient. As others state, longer wheelbase bikes, and larger frame sizes sometimes don't fit on the 48" rack length. The back wheels of my MTBs barely hang onto the rear wheel tray, which also makes loading the bikes more difficult than it would be if the rack was longer. The HighRoad could really use another 4" of length. the plastic straps that hold the High Road onto the cross bars seem like they could be easily cut by a thief. Also, I don't see what is preventing someone from cutting the plastic crossbar straps with a Leatherman at the trailhead and taking the whole HighRoad away, The HighRoad is a really good rack - two changes to the design and materials would make it nearly perfect.
Perfect solution
Got this for my 2020 Subaru Outback with factory racks. Brilliant design and great for quick on/off transitions. There's a bit of flex in the factory racks which causes a little bit of bike side-to-side movement during tight turns. Nothing excessive, and can be remedied for longer, bouncier rides with tie-downs attached to handlebar grips and fastened to side rails. Rock-solid then (but will result in a little extra noise from flapping straps), but, again, not necessary for most road trips.
Also, my mountain bike has 49.5 inch wheel base, which is beyond what the specs say is workable. Not a problem. I'd say you could easily go up to a 50" wheelbase and still get a good grip with the rear ratcheting strap. I love this rack. No blocking of rear car camera. Less dust getting on bike during transport. No weird mishaps with automatic Subaru hatch openings.
Highroad bike carriers for Mtn Bike Adventures
This was the best rooftop carrier I could find for my new Mazda CX50. The factory Mazda crossbars are silver Yakima Aero bars with the T-Slot on the top. I've been using the Highroad bike carrier for 8 months, several hundred miles of securely transporting my Mtn bike without any issues, it has worked great for me. My 29" Ellsworth Evolution Mtn bike (size large) just fits... like some others have said, it should be a touch longer for better compatibility with modern bikes - measure first. I went with these because of the design, the way it holds the front tire works for cabon frames and it is compatible with most front fenders on mtn bikes, the low profile mounting straps, and the T-Slot mounting kit option. The clearance under the front crossbar on my car when the sunroof opens is extremely limited. I just switched to the T-Slot mounting Kit 1 system to gain more crossbar space for other stuff up top (800mm wide Mtn bike handle bars-two bikes facing forward, a cargo box, 3rd bike carrier, or other stuff), the T-Slot kit was very easy to install. The supplied mounting straps do work great, easy to install/remove the carrier, the T-Slot Kit is also easy to use(just remember to keep track of the mounting hardware when removing the carrier). The carrier doesn't rattle at all with or without a bike on it (I always turn the knob clockwise 1 turn or so until it makes contact with the main part of the rack when empty to prevent rattles). I just picked up a second Highroad bike carrier with the T-Slot mounting kit, now I'm ready for more adventures with friends in the Northeast.
Versatile
Really good, well-made rack - the use case for this is if you want a rack for a variety of road and mountain bikes with a variety of frame materials and axles. Many mfgs will say do not use a downtube clamp on their carbon frames. A fork clamp rack sounds great and looks "pro", until you realise you need hundreds of currency units of extra adapters for 9mmQR, 12mm TA, 15mm TA (maybe even 20mm?) and if you have the wrong adapter mounted you will be (a) swearing and (b) late for your ride. I rider L/XL mountain or 58-61cm road/gravel frames and have had no wheelbase issues. Width is not an issue - I use this with rubber from 25mm to 2.8" If you have a big enduro frame or a tandem, you might need to measure first.
It saved my bike and car from damage
2years going and survived a crash. None of us want to admit, we do forget stuff. I had an out of normal riding schedule were I needed to quickly leave work to join a ride. So I put bike up on top and drove to work. My mind was on auto pilot thinking of work tasks as I drove into parking garage, and Yep , you got it, Bamm! the bike hit the over head garage bar and the Yakima rack Ejected my bike straight out the back of my car.
What was the damage? a paint scratch on the bike head tube and the Highroad rear tire hold down unclipped from the tray and stayed with the wheel. it does not re-attached to the tray and secure as did before, but I just added a velcro strap to insure its secure. This was a Extremely big save for my bike and car. Huge Kudos for the Yakima HighRoad design team! . Cons, One issue is that the Front tire front hoop has two rivets holding it to the rack, and those rivets become loose over time , I'm sure it has to do with my car's stiffness and these awful California roads, letting the bike wiggle side to side. So i replaced them with screws. It fits my 29lbs Full Suspension size large very well. The cable fits through rear left frame and 2 spokes to lock back to itself. its really just a theft deterant. not long enough to reach through both sides of frame and wheel. The rack is completely quiet, no rattling, no wind noise.
Great but Yakima really missed 1 detail
Easy to install. Easy to use. Overall pretty great. Yakima REALLY overlooked 1 detail. There is no cushion or dampening when the bars fold down so you hear them rattle when you hit any bumps.
I love the small loop for U locks!
Good rack, but security…
This rack is up to Yakima's solid standards and holds the bike securely, but it isn't perfect. My main issues regard security. First, unlike the HighSpeed (which I also have) the ratcheting knob for tightening the wheel attachment has no lock. Second, the theft inconvenience cable is too short to take in both chain stays on a Specialized Roubaix, it needs AT LEAST another 6 inches. Third, the eyelet welded to the clamping bar that holds the front wheel is installed at an angle that prevents use of a top end U-lock, and the opening is also too small. These faults make it very difficult to secure my bike to the rack with any kind of confidence, and they seem like easy design fixes. I'll try to bend the eyelet to a useful configuration, but I'm sure that will crack the enamel. Better than losing an expensive bike…
Front wheel locking mechanism is good
It's too short for bikes longer than 48" measured from axle to axle. I have two bikes and the shorter one is 47" and barely fits and the longer, which goes off the end is 50". Also the rear strap requires me to wear a leather glove to be able to release it despite pushing on the button as illustrated in the directions. What's strange is that I have an older version and it is longer and the rear strap is secure and has always been easy to release.
Love this rack!
This thing is awesome! I had a cheap rack that clamped on to the down tube and I was nervous every time I transported my bike. Kept an eye out the sunroof more than the road. Bike swayed side to side by several inches. Especially in the wind. This High Road is super secure! I don't worry a second about my expensive bike! The Torque knob thing is super simple and quick. I have have my bike loaded or unloaded in seconds and with no guess work! I would by this rack again over and over. Highly recommended!!
I have a semi wide tire 3.25" Large size Cannondale Mountain bike and I have no problems with it fitting.
Great build quality, too short for modern bikes as others mentioned
I bought this yesterday and installed it. It's a very stable, solid, high quality rack. But i'm surprised Yakima doesn't realize modern bikes are longer. My 2021 Marin RiftZone, size Large, is too long and the rear wheel hangs off the back. About 3" longer than the rack will go. I don't get it. Was this designed 5 years ago? Imagine if you road an XL or XXL, you couldn't even use this rack.