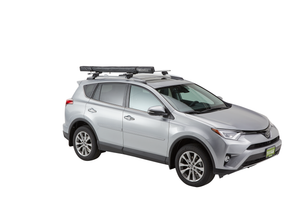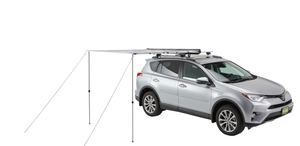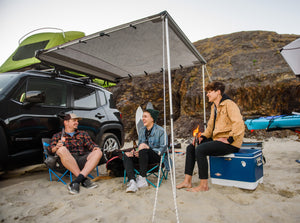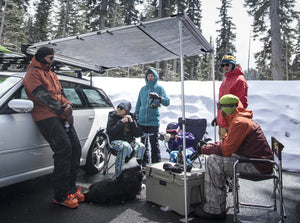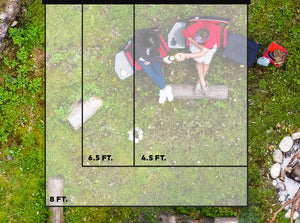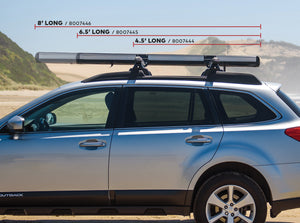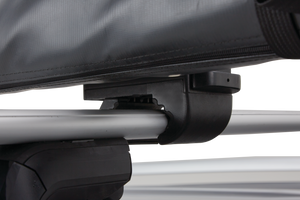 Product Details
Installation
Accessories
Spare Parts
SlimShady 8'
Product Details
​Universal tool-free mounting hardware fits most roof racks
Provides 64 square feet of sun and weather protection (8' x 8')
Rolls into a 8 foot long case when not in use, leaving tons of room on your roof rack for other gear
420D polyester fabric with PU coating is light, durable and waterproof
Easy to pitch – just pull it out, prop it up and settle in
Super-simple attachment – no tools required
Locks to roof rack with included SKS Lock Cores for added security
Product Specs
Weight: 33.90 lbs.
Dimensions: L 96.00 in x W 96.00 in x H 0.50 in
Minimum Crossbar Spread 27.00in
Product Features Video
SlimShady 8'
Installation Video
Add Accessories to Your Rack
Don't Worry, We Have A Spare
Pretty good
It's a good awning but it's harder to set up than it needs to be and is difficult to set up with one person.
I believe these small changes in its design would greatly simplify its set up, especially for one person.
1. Have the arms lock into place when fully extended. One of the most difficult parts of setting it up is getting the arms extended to the correct length. There should be two lengths for the arms, retracted and fully extended because you need to have the arms fully extended, if they aren't the awning won't be tight and will collect water if it rains.
Even if you have two people, it can be hard to get the length of the arms correct.
Maybe have a retractable pin at the end of the arms to attach to the metal side support.
2. The arms should not be able to swing past 90 degrees. If you are setting up the awning on your own, it's a real pain when they swing away from you. Even with two people this can be a problem. Again this no need for them to swing past 90 degrees so don't let them.
3. I like that the legs have adjustable height but it is a pain getting them equal. Put the inch/cm count on the legs so you can easily match the height of both legs.
Great product!
This is an absolutely great product but it would be super cool to have a compatible bug net accessory that could be purchased separately!
New Yakima Slim Shady 8' awning
Got this product last week from Rack attack Portland Oregon. Its on my roof now. Will update as I use it.
I have couple of Yakima products and Rack attack team asked me to come by to sync all the keys. will do that this week.
Great awning . . . But. . .
I love my Slim Shady 8' awning. Super easy to install and easy to setup. I do have some issues that I tried to address and receive support for. The three external straps are cinched with buckles that are very soft plastic. Right out of the box they were cinched so tight I had to really wrestle to get them to release. Because of this, they were deformed and already highly stressed. The center buckle snapped off after the second time using the awning and the remaining two are ready to break any time. I have since purchased replacement buckles from Amazon since I can't get any help from Yakima. I also had one leg that was bent and couldn't adjust to a height that was really usable. It cost me $60 plus shipping to PURCHASE a replacement because if I relied on trying to get a warranty replacement, I'd be waiting forever. Customer support is almost non-existent.
I love Yakima products but I'm extremely disappointed in the support.