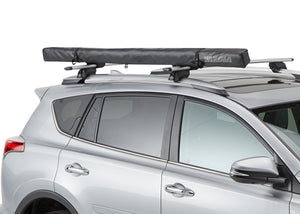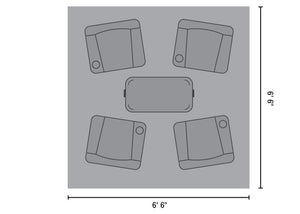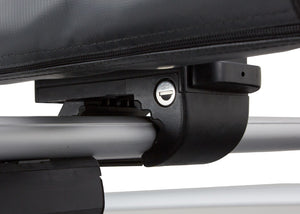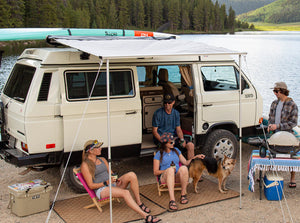 Product Details
Installation
Accessories
Spare Parts
SlimShady Awning OG
Product Details
Origonal Yakima Logo pattern fabric design from the 2017-2019 model
Universal mounting hardware fits most roof racks.
Provides 42 square feet of sun and weather protection
Rolls into a 6.5 foot wide case when not in use, leaving tons of room on your roof rack for other gear
420D nylon fabric with PU coating is light, durable and waterproof
Easy to pitch – just pull it out, prop it up and settle in
Super-simple attachment – no tools required
Includes locks to roof rack with SKS Lock Cores for added security
WARNING for California Consumers
Product Specs
Weight: 20.00 lbs.
Dimensions: L 78.00 in x W 78.00 in x H 16.5 in
Minimum Crossbar Spread 24.00in
Product Features Video
SlimShady Awning OG
Installation Video
Add Accessories to Your Rack
Don't Worry, We Have A Spare
Solid and high quality built but no ENCLOSURE available
Had the Slimshady 6.5 about a year pair with the LockNLoad platform. Used about 5 times, setup is easy. most of the time I have it up by myself within 10 min, but with extra hand is a lot easier and faster. I like and dislike this awning. Like: Easy to mount On and Off to the crossbar without any tool's, built quality is top of the line., and looks very good!
Dislike: The mount comes with the awning takes up way too much space on the crossbar. About 10 inch wide section of my rack has been block by the mount and I can't put stuffs on it. I ended up switch the mouths to a conventional metal bracket. Also this awning has zero accessories. Enclosure room, LED light mount etc… and did not compatible with other brands enclosures! I really hope Yakima will make an enclosure asap before I sell it on FB and get the ARB or ironman awning.
It looks like you got a great deal on a product that his since been discontinued, better yet revamped! We have several new models out on the market but the Slim Shady OG or Original was our very first iteration. We hear our customers loud and clear and hope you like our latest improvements. Take it easy!
Response to man looking for enclosure
I found this on AMAZON. ARB 813108A Awning Room (Deluxe w/Floor 2500mm x 2500mm Heavy Duty) for ARB Awning 814101 or ARB4401A
by Addiction4WD
Learn more: https://www.amazon.com/dp/B071NP2QNC/ref=cm_sw_em_r_mt_dp_GYG8160Z5N2396KFMFDD
Great Awning, but may replace
I love the awning and not having any issues, but hate that there is no screen or enclosed room/sides that will attach. I hate this so much I may sell and replace with a different make. I can't believe that this is not an option yet. If anyone knows of an aftermarket screen/net awning room that will work please let me know, but I am not finding any that are 6.5' x 6.5'.
1 year in... no complaints
I've had this awning for just over a year now and using it regularly for overlanding on my Toyota Tacoma. So far so good, easy to deploy and put away. Works fine with my SkyRise RTT. We didn't like the included rope / ground stakes so we replaced them with reflective 550 paracord and heavy duty tent stakes.
Well constructed, very small protection. Wish they covered the vehicle rear.
As usual a solid Yakima build. I have not had any of the problems others have mentioned. When traveling I have it zipped up in a cross-country ski bag, for extra protection. Easy to put up. I use Yakima RoundBars, and I have found that the longer round bars will accept more accessories. Whatever crossbars you purchase, get the one that are nearer the full width of your vehicle. Awning works as described BUT for those of us with pickup trucks with camper shells, or even SUVs or vans with rear tailgates, it would be much more useful if it could be mounted on the REAR of the vehicle to provide shade and added protection from rain and snow. Many of us sleep IN our vehicles and this could serve as a vestibule for the rear opening. Would also be helpful if there were optional curtains/walls that could provide a little more room and privacy (and shade!), but that is something I think I can fashion for myself.
Great for Shade and light rain
The awning is on an F150 on the other side of a SKY RISE tent. It is on the outside of 78" round bars. It is 82" from the ground. It works well as a shade and light rain protection. It is not made to protect from blowing or heavy rains. It will accept the SKY RISE accessories such as the lights and sky hooks which use the tent channel. The SLIM SHADY has two channels for the accessories, one on the outer front and one next to the storage area adjacent to the vehicle. Very easy to install, deploy and redeploy.
Nice, but a flaw with Bar/Leg locking mechanism
We are 3 years in to using these with our T@G. We love the quick shade & rain protection. We always put these out... my reasoning for a non 5 star... is the locking mechanism, they began to fail immediately... all 8 have failed. Solution hose clamps. Now it's easy again to put up. It's expensive for the locking mechanism should have lasted longer. Bottom line, I'd buy again.
A good awning
I've had this awning mounted to my E250 van for a while and have used it quite a few times. Overall I've been psyched on the performance. Pretty easy set up and tear down, and it's stood the test of time. In the beginning when I first got it, one of the poles that drop down from it and go to the ground broke. The internal plastic tightening/loosening mechanism broke after only the 2nd use. We were up in the back of South Mineral Creek near Silverton CO camping and it was raining pretty good. A little duct tape and we made it through no worries. When I called Yakima for a warranty they immediately shipped out a replacement part at no cost and it arrived in 2 days. What service!!! Since then I've used it many times and it's doing great. Cheers for a good product.
Works great with Skyrise.
The reviews that say this awning is not compatible with the Skyrise tent are completely wrong. I use my awning along with my tent all the time. You simply have to mount the awning a few inches away from the tent so that there is room for the rain fly poles to mount to the tent. It is a complete non issue if you understand how to use Yakima rack systems at all. The awning is built well, works very simply, and can easily be set up with one person in just a couple of minutes (I usually camp solo, and set up everything myself with ease). The awning is great for providing some shade and for providing some protection from the rain (if you expect any awning to block all of the sun and all of the rain, then you should just stay inside). Personally, I love the awning and would highly recommend it to almost anyone - especially for the price (you will not find a comparable awning for the same price). It's a great product, and it makes being outside more fun!! Get one!
Not compatible with Skyrise Tent
We bought this to use on a week long trip to WV, coupled with the Yakima SkyRise tent. I'm sure glad we picked this up, as it rained the entire week we were there. The awning did a great job of providing cover from light rain (as opposed to heavy, coming down sideways rain... which probably would have gotten us wet). The major complaint is that this does not work well, if at all, with Yakima's SkyRise tent. The awning blocks the tent's rainfly poles - which means we couldn't pitch the rainfly on one side, and our tent got DRENCHED as a result. It was also very difficult, and extremely frustrating, trying to mount both the tent and the awning... as the awning got in the way and we couldn't reach the knobs to tighten down the tent. It was a really frustrating setup, and really disappointing as they are both Yakima products. If you're just looking for an awning, this did a good job. I'd like to see a larger size option in the future, though. It was just large enough for our two chairs and the dog bed, without getting so close to the car we risked scratching it. This was tricky to set up or take down solo. It's easy to have a pole come loose during setup which can then smack into your car. Also the tie down strings tend to swing out and hit my car during setup. So I'd recommend two people - and with two its a very easy process. The zipper on the bag gets snug around the corner... and I worry that will rip eventually. I think with a better mount (that doesn't interfere with tent mounting and deployment), and some sort of safeguard to keep the poles from swinging down, this would be a very solid awning! I hope they come out with an attachment to extend the length or attach to the sides in the future, as other awnings have.