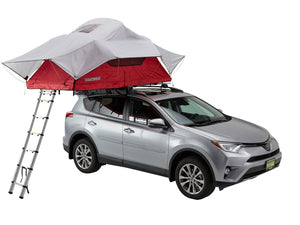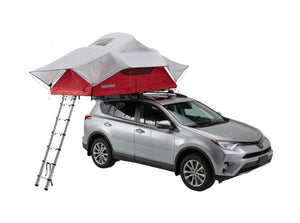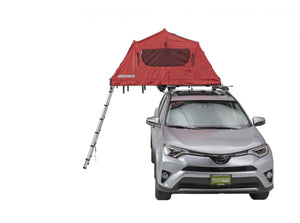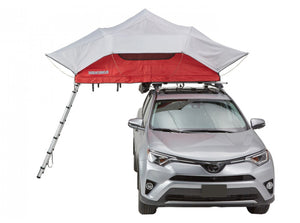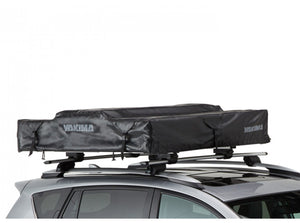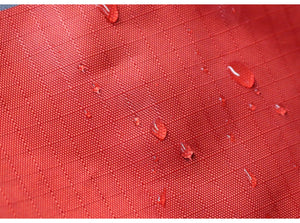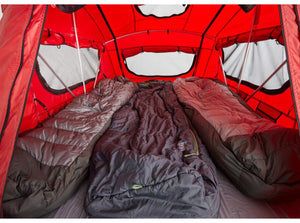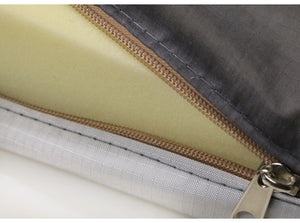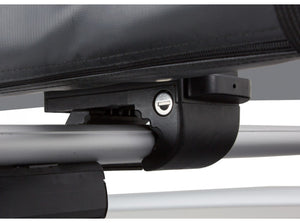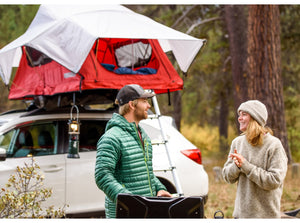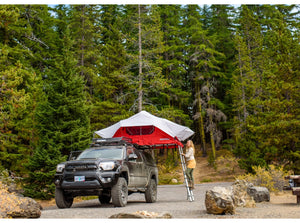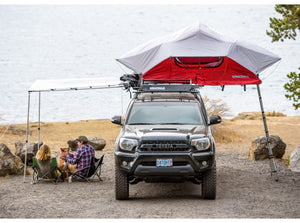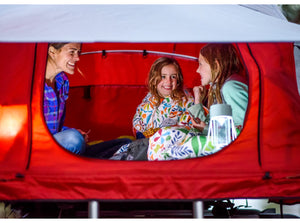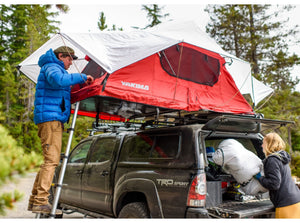 Product Details
Installation
Accessories
Spare Parts
SkyRise Small, Red
Product Details
Two size options provide room for two (small) or three (Medium) and fits a variety of vehicle shapes and sizes
Easy to pitch design means less work and more play
Thick, 2.5" wall-to-wall foam mattress provides cushy comfort
Mattress includes removable cover for easy cleaning
Made from the same lightweight and breathable materials as backcountry tents - 210D nylon
All windows and the one skylight have solid and mesh panels that zip open to improve ventilation and provide a view of the starry skies
210D nylon rainfly with PU coating protects you from the elements
Aluminum poles are light, strong and pre-set to make pitching a breeze
Tool-free vehicle mounts means it's easy to put on and quick to take off
Locks to roof rack with SKS Lock Cores (included) for added security
Ladder and all hardware are included for easy set up
Tent FAQs?
WARNING for California Consumers
WARNING for California Consumers
Product Specs
Weight: 95.00 lbs.
Dimensions: L 48.00 in x W 42.00 in x H 16.50 in
Minimum Crossbar Spread 26.00in
Product Features Video
SkyRise Small, Red
Installation Video
Add Accessories to Your Rack
Don't Worry, We Have A Spare
Waterproof
Love our Skyrise. We have been out in three days of rain. We have been out in a night of hail. Rain fly is fantastic. Have to take a moment to pull base runner tight so Velcro is attached at side vents and flip bottom seams down. Then let it pour!
No Opinion on the Tent Yet
I don't have an opinion about the tent yet, still waiting on all the parts and pieces needed to mount it to the trailer. Using the web site as a guide I ordered mounts that I believed would allow me to mount the tent. The order was shipped from three different warehouses, the tax rate was different for all three shipments and I paid three different rates for shipping even though two boxes were identical. (All three came from the same town.) I called their C/S number and after 20 minutes on hold I was told the tax and shipping would be corrected. Can't say for sure if it ever was. Tried to do a test fit on the floor and discovered to my amazement the adapter and rings needed to mount the round bars was another "accessory". The cartoon instructions didn't mention the needed "accessory" just showed a drawing with no explanation. The instruction sheets are another sore point, NO DETAIL, just cartoon drawings leaving the reader to figure out what the hidden meaning is. In short, the instruction sheets are poorly done and provide just the smallest amount of detail, drawn by a three year old. So, for an $1100 tent, over $500 so far for the mounts and over three weeks of waiting for parts to arrive, the tent is still on the ground and the mounts are still in their boxes, unused. I hope the tent lasts as long as the wait times.
Great product, small durability issues
I have been using the Yakima Skyrise for over a year now all over the united states and absolutely love what it offers. To be off the ground on a memory foam style mat is extremely convenient, as well as the fact that it is on your roof and not taking up space in the trunk. It is lightweight enough that I can get it on the roof of my car by myself, with a bit of effort. I have had no leakage into the tent, even in heavy rain. The downside that is slowly becoming bigger is that the ladder, when stowed, not only dents the underside of the tent but rubs the protective coating off. While it is only the bottom of the tent the fact that it is caving in one of the support plates is extremely disappointing. Overall, this is a great product that is well worth the money, however, could use some updates on durability. Unsure if I would by again.
Love the SkyRise!
I bought this back in June for my RAV4 after seeing some people online that had them and I did a lot of research about rooftop tents after, I liked the idea of being off the ground and saving space in the car. Yakima definitely has the a low and fair price for what you get! We've taken it out at least once a month since, if not more! I bought the Yakima streamline crossbars and timberline towers as well, they're on the Factory side rails that came with the car. Yakima has a warranty for it if you have their crossbars and everything is installed correctly so I wanted to be safe, never had any problems! We're from Wisconsin and we've taken it all around the state and down to Tennessee and its held up great going 90 on the freeway. It's really nice to be off the ground and it's a nice view as well! It has its good and bad things. It's a quick and easy set up, about 4 or 5 minutes. Tear down takes a little bit longer but it's expected, it's a lot of up and down on tires but it's a tent that goes on top of your car, what else can you expect haha! Lots of straps but again it's expected to make sure everything is secure while you're driving. The rain fly takes a few minutes to put up as well, maybe an extra 5 minutes, we don't Velcro the rain fly to the poles because it's just too much of a hassle, we just hook the clips together and put the poles on and it still works great, doing it from inside the tent seems to be the easiest way to do it. The ladder wears a bit on the bottom of the tent when packed up but it's a simple fix by putting a towel or two underneath it and problem solved! A lot of other reviews complained about leaking and a wet mattress, and condensation in the morning. Although it goes on top of your car it's still a tent, it has all the same issues a normal tent does. We fixed the wet mattress corners from rain by putting a microfiber car towel in each corner and haven't had any wet corners since. Again it's still a normal tent and putting things against the sides will end up damp sometimes but it's just something to keep in mind. We fit 2 people and a 60 lb dog in ours comfortably and we manage to keep things off the walls for the most part. As far as condensation goes we've only experienced it the last 2 times we went camping and that was in December so we had all the windows closed to keep it warmer, usually we sleep with at least one window open when it's warmer and have never experienced condensation. Overall it's a great tent and I love being up off the ground! It has its ups and downs but they're all fixable!
Good once Pitched
Once pitched the tent works as intended. It's a good space to spend the night - and the mattress is comfortable. Four zipper windows and a door, each with insect netting - one netting window zipper failed on the first trip - but I managed to re-track it, I'll never open it again. The door is practical having just two side zippers and a bar at the bottom to keep it straight/weigh it down. There is no central hang loop for a light - so one has to hang a light on one of the tape runners which line each side of the roof. There are two small pockets either side to store stuff, not ideal. There is no ceiling storage/loft. Not sure about the ladder - releasing the rungs is a three-handed task, so is collapsing them, this is very inconvenient if you've mounted the tent on a high vehicle, especially when trying to close the ladder up for stowing. Once deployed it works, although it flexes a lot. The fly is pre-installed and can be removed. The spring steel "poles" are a bit awkward to install. Although I can reach all positions by hook or by crook. I have problems with the cover - it's a tricky fit if you don't get the tent fully closed and cinched with the two velcro straps. Both corner zippers failed after one trip. One I managed the re-track and the other is toast and the corner flaps in the in wind - o well. Why zippers were used I don't know, as they are an infamous failure point on gear - so I'm going to have to find a solution. Technically it's still in warranty but I can't see a new cover solving this inherent design weakness. But disappointing considering the $$ I shelled out. I've been backcountry/alpine/polar camping for decades and know a lot about tents - this is not an easy set up in comparison to professional grade mountain tents, and also costs considerably more. I can't help thinking that there may be a market for a 50lb max single wall roof-top tent which really is easy to pitch.
Great tent for the roof.
Ok, I'm a retired guy who travels full-time, and when I discovered rooftop tents in videos on Youtube, I checked out the history of Rooftop tents to realized they are not something new. I was then surprised at the prices over $1000.00, and it wasn't until the recent 30% price drop REI offered that I made the plunge. I'm 5'10" 265 lbs, and this tent is holding up well after purchasing the tent in Massachusets just over a month ago. I was so surprised and impressed with the comfortable sleep with plenty of ventilation I have had with the mattress. The skylight allows for incredible views of the night sky. The previous reviews were describing wetness from precipitation, which I have not have experienced torrential downpours, I noticed how Yakima has resealed the interior seams of the tent and fly. I have purchased the accompanying annex which is an incredible addition offering privacy and for me a place to write this review. My setup takes less than fifteen minutes, from unbuckling the snaps of the tents cover, unfolding the tent, sliding the annex into the slots, retrieving and unfolding my REI table and chair from my Yakima cargo carrier ending with hammering the steel pegs into the ground securing the annex. I would recommend this product for shorter height vehicles as opposed to my 2013 4-Runner where I climb on top to un-secure and secure the tent cover for travel. I would like to see Yakima offer a screen for their awning to avoid the pesky bugs to enjoy and warm summers evening. All an all a great product that I would recommend.
Why don't you have one?
I purchased the SkyRise tent on 6/23/18 from a local REI. Yakima made the product very user friendly, and easy to install right out of the box. The Small is very spacious for two people, and only takes minutes to fully set up. I would recommend this tent to anyone with the capability to mount it. I am excited to see the places this tent will take me to explore.
Get way to get off the ground
I purchased my Skyrise Medium this spring and have enjoyed using it this season. The only issue I had out of the box was a ladder bracket that didn't have a hole. I drilled a hole and solved the problem. We haven't had any leaks or reliability issues. This is a quality product that fits my needs well. We'll see how it holds up next season.
Great way to camp on the go, some fixable issues
This July, 2017, I took a 3 week road trip from Seattle WA to Santa Fe NM and back. I bought the 2 person version, and used it most nights. My experience was overwhelmingly positive, though there were some quality issues like misaligned Velcro at little flap covering the hinge point, and I have some suggestions for design improvements. I have a Honda Element which accommodated the tent well, though setting it up would be difficult for anyone of normal height because the Element is very tall. I am also, so I was able to set it up well enough, with some practice. The collapsed ladder is very hard for even me to reach while it is sitting on top of the folded tent. And lucky for me I was travelling solo, because at 6'5", I was only able to sleep in it by lying diagonally. On the plus side, it was wonderful to slide into a national forest just before dusk knowing all I had to do was find a fairly isolated forest service road where I could pull off and spend the night. I had it up in 10 minutes, with a few more minutes to toss my gear in, and the same in the morning to take it down. I was able to stay in many places where setting up a tent was not an option, like paved parking lots, or small gravel lots surrounded by trees, lumpy or rocky ground, etc. It gave me all the freedom of having a camper van at a fraction of the price. I always slept comfortably and felt secure. My biggest suggestion for improvement would be to enlarge the holes into which the rain fly stays are inserted. They are drilled to nearly the same diameter as the stays, which means that the stays need to be inserted first, then you need to grab the hooked end with one hand, and the rain fly grommet with the other, in order to attach the rain fly to the stay. But you are doing this while standing on the rear wheel, or perhaps in the car doorway, which is quite awkward since you have no free hand to hang on. I found that it was sometimes easier to stay standing on the ground and use the rain fly stay to reach up and insert the hooked end into the rain fly grommet first, then holding the end of the stay with both hands and bend it into alignment with the hole in the tent floor and insert it. The only problem with this method was that it was often very difficult to get the stay perfectly aligned with the hole, and until it was, it would not insert since the hole is nearly the exact same size as the stay. There appears to be no reason for the hole to be so precisely drilled to the same diameter as the stay, it could be made much bigger so that the stay would insert easily, and would still hold the stay and rain fly securely. I may sell my 2 person version and trade up to a 3. One other issue is that it is impractical that one could remove the rain fly and use the tent without it. I found that once the tent was installed on top of my Element, the buckles that secure the fly to the top of the tent were nearly impossible to reach. Assuming I could have gotten the fly off, it would have been just as difficult to put back on, which you would of course need to be prepared to do if the weather changed. I am not sure how, but a design change that would make it simpler to remove and replace the rain fly would be nice, since then you could remove the fly and save the time needed to insert the 8 rain fly stays and connect them to the fly. And perhaps the ladder ought to have a line attached to it so one could deploy the ladder without having to climb up and reach over the top to get a hand on the thing.
Prepare to be unpaid salesperson.....
......for this tent. So popular wherever I go. Currently in Acadia; and even park rangers have stopped to talk to me about it. I have the bed rock rails in my pick up for the mount which makes set up and take down easy for my vertically challenged frame..... Was in heavy rain this AM and no leaks. But I did put the rain fly up..... weird how tents don't leak with the rain fly on.... Condensation is typical of any three season tent. Since I was on top of the truck, I am able to use a battery pack to run a 12 volt fan; which helps. Great product. Much lighter than typical RTTs; which make install and removal easy. Highly recommended. How can I link a photo?.....