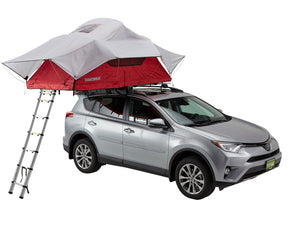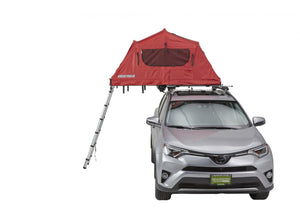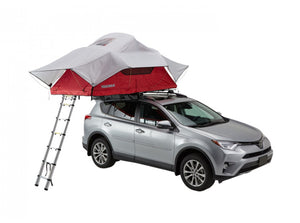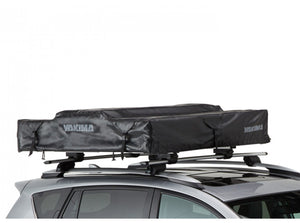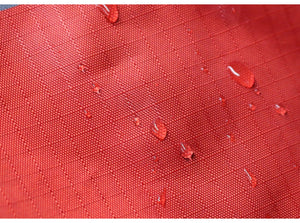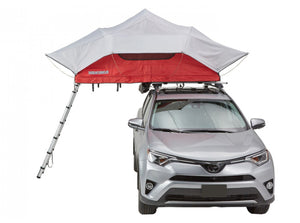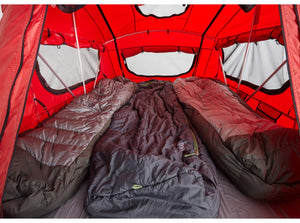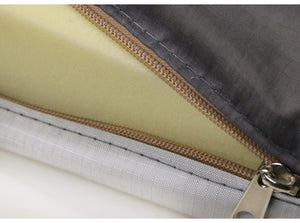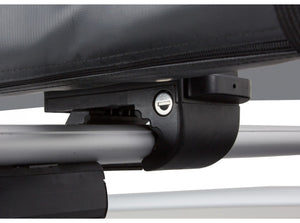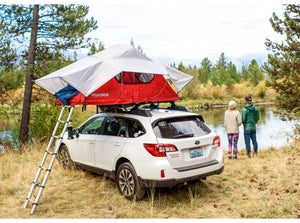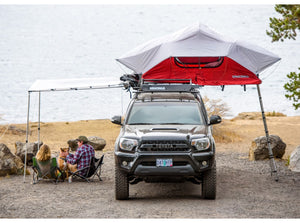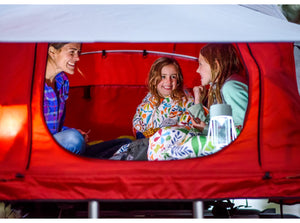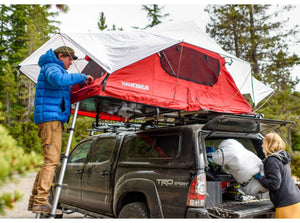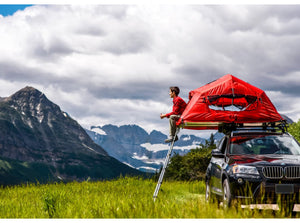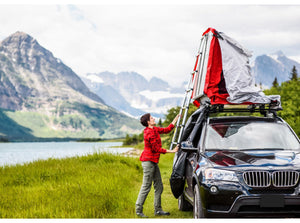 Product Details
Installation
Accessories
Spare Parts
SkyRise Medium, Red
Product Details
Easy to pitch design means less work and more play
Thick, 2.5" wall-to-wall foam mattress provides cushy comfort
Mattress includes removable cover for easy cleaning
Made from the same lightweight and breathable materials as backcountry tents - 210D nylon
All windows and the two skylights have solid and mesh panels that zip open to improve ventilation and provide a view of the starry skies
210D nylon rainfly with PU coating protects you from the elements
Aluminum poles are light, strong and pre-set to make pitching a breeze
Tool-free vehicle mounts means it's easy to put on and quick to take off
Locks to roof rack with SKS Lock Cores (included) for added security
Ladder and all hardware are included for easy set up
Tent FAQs?
WARNING for California Consumers
WARNING for California Consumers
Product Specs
Weight: 115.00 lbs.
Dimensions: L 58.00 in x W 48.00 in x H 16.50 in
Minimum Crossbar Spread 26.00in
Maximum Crossbar Spread 40.50in
Product Features Video
SkyRise Medium, Red
Installation Video
Add Accessories to Your Rack
Don't Worry, We Have A Spare
We rent this tent for 4 seasons now on our Kia Sportage and it has worked flawlessly.
At Outdoors RV Rentals we rent this setup along with the slim shady awning and annex for 4 rental seasons and our customers have just loved it. As we are sold on Yakima products and along with the people at Rack Attack in Portland, Oregon that installed this setup. We were afraid of stuff breaking since our customers are mostly newbies so we ordered extra parts from Yakima just in case and they are on our shelf collecting dust. Great purchase and will buy more products in the future. Thanks Yakima
Excellent Overall Value
I've had my Medium Skyrise Tent for 3 years now and am really happy overall with the quality of the tent. I only have a few complaints about it but understand that for the price, you can't have it all. I would highly recommend this tent to anyone looking for a roof top tent
Pros:
Easy setup for 1 person
Well priced. A lot less expensive than other tents out there
Easy to install on the vehicle. Installation takes just a few minutes
Comfortable mattress, leak proof
Sleeps 2 adults very comfortably or 2 adults and a small child.
Very durable rip stop waterproof material that seems to last

Cons:
Ladder rubs against the bottom of the tent while the vehicle is in motion. This is easily fixed by adding a piece of self adhesive rubber protector
Ladder takes a while to fold up, unfold and adjust.
The tent often shifts out of the floor track that it slides into and needs to be adjusted and shifted which can be a bit of a pain and can cause a gap on the sides at the hinge or in the corner.
Standard bed sheets do not fit and you need to purchase the Yakima sheets which are hard to find, or you need to create your own sheet
Great RTT for the price!
I purchased my tent just after Christmas and have used it about 8 times so far. Every time I've camped, I've had people come over to my truck to gawk at my tent. The material is lightweight, but seems strong. It's a breeze to set up and take down - even with the rain fly it takes me less than 5 minutes. It's comfortable and it's great to be up off of the ground. Room enough to fit two adults easily. Three would fit, but it might be snug. The only issue I had was the tongue and groove joint between the two pieces wasn't fitting properly. I took the cover off completely and it worked like a charm. (Customer Support was awesome). Also, the first few times you use it, you will find aluminum shavings that fall out when opening and closing the tent. Just sweep them up to avoid rubbing holes in the fabric. Overall, it's a great product and it's a bargain when comparing to other models of similar size.
Could be so much better ....
We used our SkyRise on a four day trip. Things we liked (and this is comparing it to a CVT) * It is light weight. * It is easy to install and remove from your vehicle or whatever you have it on. * It can be set up/deployed by ONE person, EASILY. Things we did NOT like: * It leaks when it rains, just a little bit, but it does leak. We were in light rain for 60% of the four field days. The leak, at least one of the leaks, appeared to be coming from the sky lights on the fly. * The ladder can NOT be collapsed with a master release at the bottom. And this style of ladder IS available from China folks. Why oh why? What would it have cost, $30 bucks more? Come 'on. Seriously. Putting up the ladder is a huge PITA. * There is a known issue of the ladder marking up the floor in transport mode. We mitigated that with some self adhesive rubber strips, but why not just put them on at the factory? Or make a 'Yakima' door/ladder matt (hello marketing?) and include it with the purchase. I can hear the excuses now, "We actually discussed this in a meeting but ..." Come on folks. * There is not enough head room for folks who are 6 feet tall or taller. My Todd Bibler 'I' mountaineering tent from the mid 80s had more head room at the apex. * There is no option for a condensation mat. We had to buy one from another supplier. Do yourself a favor when you get back from your first outing with your SkyRise. In fact, BEFORE you cover it up to drive home, take a peak UNDER the bed when it is folded. Do that and you will see water droplets ALL OVER the bottom of the floor and bottom of the mattress cover. Store it like that and you WILL have a mold issue. Yakima should make an anti-condensation matt mandatory with these, especially since BOTH layers of tent material are waterproof. We used two electric fans during the night (an inflow and outflow) to move air through the SkyRise and still experienced EPIC condensation build up UNDER the matt. So that is a major issue with the SkyRise design. On the positive side, with the fans going at night on low there was no condensation build up on the inside of the tent walls or ceiling. * The black traveling cover LEAKS. We drove in rain on the way there and some on the way back. The tent had some minor evidence of water intrusion from the cover not sealing properly. So I would NOT leave it on your car or trailer when not in use, and if you drive home in the rain, you had better take it apart and dry it out when you get home. This is probably an issue with everything made in China that requires sealing. The mass production and low wages will NEVER get it right. And yes, Americans making American gear can get it right almost all the time. Just as Todd Bibler, Bob Smith, Ken Roberts, Woody Keen, Royal Robbins, or any other small, niche outdoor gear manufacturer who used to make their gear here in the USA. * Every time you step or press near the center of the floor along the hinge line you will hear a 'pop' sound. This is because the hinge interface is not well executed. There is nothing structurally wrong, nope, you will just have to get used to expecting and, yep there it is, hearing that pop sound that tells you that you are kneeling on the center line of the floor with too much weight.
Sleek, stylish, fun!
Just got my tent last week broke it in over memorial weekend. Set up was fairly easy however, I would highly recommend a second set of hands. I set this up on cross bars I have over the bed of my Tacoma. One word of caution to those who may be in my same spot....make sure your cross bars will support the clamps on this tent. I ended up having to go with a set of KBVoodoo crossbars so I could still use my bed tonneau cover and these bars are pretty thick. They are no where near the same shape or size of the Yakima or Thule bars which these were clearly created to best fit. The tent attached securely but after the long very rocky drive up the canyon I had to re-tighten as the tent seemed to bounce lose. If anyone has suggestions on how to better attach to my larger rectangular shaped bars I'm all ears. Overall I love the tent, the cushion was very comfortable and the star gazing skylights were cool. My 3 year old soon loved it and thought it was the coolest thing ever. To me this is all the matters. Yes, its substanitally more than a traditional tent but if you have the money for it you wont regret it. Its so nice not have to worry about set up or take down and it keeps you off the ground away from the bugs.
First day.
As an avid hiker, backpacker, and climber, I was never a fan of "glamping". But with children, and more music festivals in the plan, it was time to jump in. After a month of research, looking at every brand comparable, I (unconfidently) ordered the Skyrise 3. I did not need a heavy duty, ruggadized, overlanding tent. I needed easy, light, durability, and stylish. So the choice was made! The order started arriving a week ago, and I started outfitting my truck. First I installed the Track (for a "naked" roof), and on went the Landing pads. The detailed instructions were perfect and it was installed with ease. Next, my Skyrise Towers and large Corebars showed up. Again, excellent easy to follow instructions made installation simple. Then I picked my Skyrise 3 up on Sunday; and it rained/snowed all day Monday! (So I was going crazy having to wait). Then this morning, the sky's were clear, and I was ready to get it onto my truck! Once again, excellent instructions. I installed the tent, by myself (against recommendation), in about 3 hours; Including coffee breaks and messaging. I could not be happier with every Yakima product that I purchased. I'm heading to a music festival this weekend, so I will update the review about the actual tent early next week!
Skyrise wind tested!
Recently purchased a medium SKYRISE tent. Arrived in less than a week after ordering. Assembly was simple and quick but you do need two people to assemble and place it on your roof racks. The adjustable rack clamps and the tent being light weight were my main reasons for purchasing this tent. I read other reviews where leaking was an issue when this tent first came out but it looks like it's since been corrected. The rain fly that I received is different than the website pictures (website: white w/ black piping) as my fly is a light grayish color. The tent looks really well made and I'm extremely happy with it. I recently took it on a four day camping trip to Joshua Tree National Park. The first day I arrived close to midnight and thankfully set up was a breeze, even in the dark. I was able to set up the tent in about 5 minutes. Then, on the last day the ranger advised us that there would be 40-60 mph wind gusts that night and I was worried that the tent wouldn't hold up. But we decided to stay and test out the tent. It was definitely a night to remember but the tent held up extremely well. The only extra thing I did was to stake down the ladder side so that the wind wouldn't lift up that end and knock the ladder out of its footing. So far, I'm very happy with this tent.
Better than expected
I got mine on a whim, and i haven't had a single regret. It has prompted me to go camping more often than i would have imagined. The build, assembly, and set up was super easy. I can be set up in 5 minutes, and it is comfy and really wind resistant. It folds up just as easy as it comes out, and is lighter than the others i researched.
Great Product
Couldn't be more happy with the installation. Mounted above the bed of my Chevrolet pickup on the Yakima Bed Rock mounting system. Everything mounted without a hitch and with all included tools I had the Skyrise 3 mounted on the truck in about an hour. Once mounted, I did have to vacuum out alot of little aluminum shavings from the manufacturing, but once done all is good. Adjusted all the straps for the rain fly and left it attached when folded back up ready for our first deployment. This tent was our first attempt at RTT camping. After spending months researching online many brands and seriously establishing what were the main features that were applicable for our style of camping we eventually purchased the Yakima Skyrise 3. Main feature being weight, the tent would have to mounted and unmounted by ourselves, and the Skyrise 3 easily meets that requirement. The mounting system also had to be able to mate easily to our cross bars, but that was addressed when we found and purchased the Yakima Bed Rock system, so the two biggest points of contention were obviously behind us. Now, we will see how well these materials hold up over time and use. My wife did say that the really likes the way the tent looks mounted up on the truck.... Thats a big plus in my book.
decent design, poor quality
Context: I've been a happy Yakima customer for 25 years, thanks to the consistent quality and durability of their products; two cross bars and a set of SKS lock cores have already served me well for 25 years over five different vehicles. So of course, after spending 3 years cross-shopping rooftop tents, I was excited (to put it mildly) to see that Yakima finally entered the game. Combined with REI's bulletproof customer service policies, an affordable Yakima-branded tent was too good to pass up for this summer. Unfortunately, the Yakima SkyRise tent has neither the quality nor the durability to be worthy of the Yakima name. It's a decent design on paper, but the workmanship and material selection are WAY below the bar for name brand goods, let alone for a tried and true brand like Yakima. I have a feeling Yakima's product folks were simply too inexperienced with "soft" products to realize they were short-changed by their white label suppliers, and just HAD to put out a product for the 2017 season come hell or high water. The engineer in me suspects parts and materials were chosen to handle 1x safety factors rather than the 3-5x a reputable manufacturer would use for products in the USA. This is a rookie mistake, and not befitting the generation-long reputation that Yakima had previously earned. If you buy this product, you have wasted your hard-earned money. Circumstances for this review: I've slept in my 3-person "Medium" SkyRise about ten nights in the two months since I bought it, all "dispersed camping" scenarios in National Forest land in the PNW. I have not yet used it in more than light rain or in temperatures below 40 degrees. I am 5'9" 170lbs and camp with a 45lb dog. The Good: -- It's a rooftop tent for under $1500, under $1000 if you use your REI 20%. That's hard to find. It is _awesome_ to pull up to a campsite that sits on lumpy/cluttered ground and know you will have a flat and warm place to sleep. -- It's stable and light (~100lbs for the 3-person), meaning it will fit on more vehicles than a lot of the competition and for the ones Yakima has tested and approved, you know you're golden. -- The 3-person tent is very roomy compared to regular ground tents like the REI Quarter Dome 3. It won't be comfortable for three human beings, but two people and a dog plus a backpack or two will fit easily, even if you're tall. Interior length is very generous for the capacity rating, and peak height is good. The "folding book" design means you get a lot of sleeping space for relatively little roof space. -- Setup is very fast and easy, provided you forego the rain fly. I've got it down to less than 5 minutes without rushing it. -- Mounting was fairly easy. There is a good amount of adjustability and stability in the brackets that attach the tent to the roof rack cross-bars. This is an area where Yakima excels relative to the competition, as one would expect. -- The vinyl weather cover - the one you use when the tent is all folded up and you're driving down the highway - is fairly durable, except for the stitching (see "The Bad" below). I assume this is because Yakima has prior experience with vinyl covers. -- The telescoping ladder is decent. It's stable and plenty strong. You'll have to experiment to see which sections to expand to match with your car's roof height, but once you figure it out you're in good shape. Unfortunately the fittings that attach it to the tent frame are weak and wobbly with a few hollow aluminum rivets that seem to have been chosen for 1x safety factors (again, 3-5x would be typical for applications bearing the weight of human beings). -- There are plenty of windows and vents to give you all the visibility and ventilation you need. Every flap has an eye-and-toggle fastener to keep it open. Like with any double-walled tent, just be sure to use the rain fly if you want to prevent condensation inside the tent on cool nights. -- I was worried my dog would have trouble getting in and out. Your mileage may vary, but my little guy loves being in the tent and cooperates as best he can. He will prop his paws on the first rung of the ladder when he's ready for bedtime. He wears a harness with a "briefcase handle" which allows me to lift him up and down. -- It's a conversation piece. People will ask you about it, want to climb up and look inside, and tell you they've been thinking about getting one for years. it turns out a LOT of people want rooftop tents but are afraid to pull the trigger. If you're into that kind of thing, it's cool. If you don't love the tent yourself, it may be hard to keep the fantasy alive without demurring or lying. I've resorted to telling people "if you need a tent this season and you can't spend over $2k, do it. Otherwise get XYZ or ABC brand, or wait two years until Yakima fixes their mistakes." The Bad: -- Many woven and/or sewn pieces started fraying badly from the moment I started using it. That includes the vinyl weather cover and var...