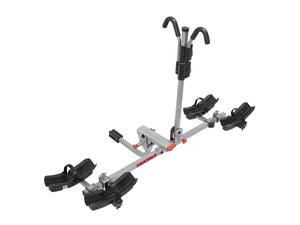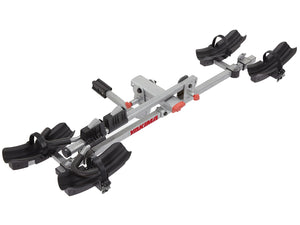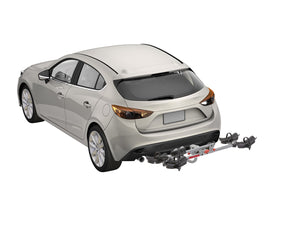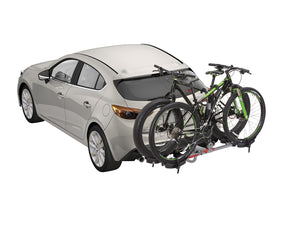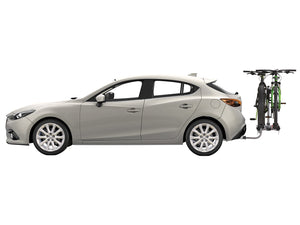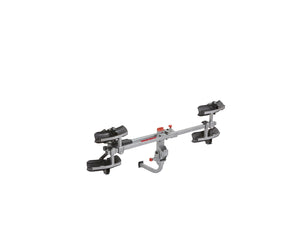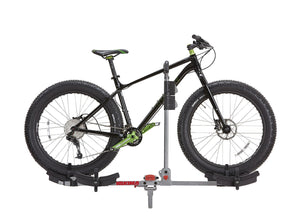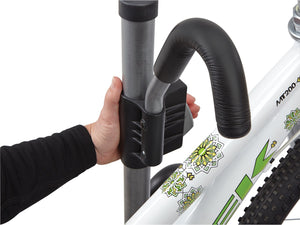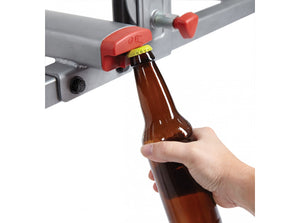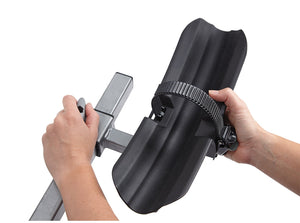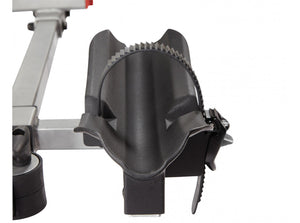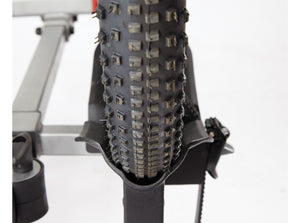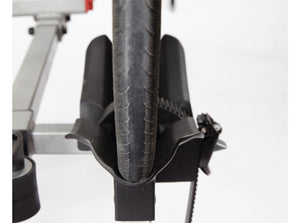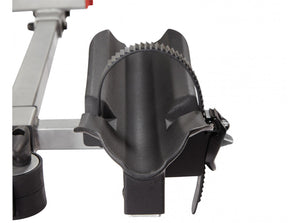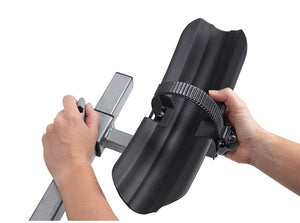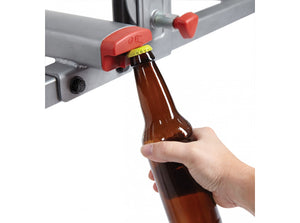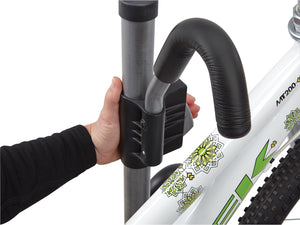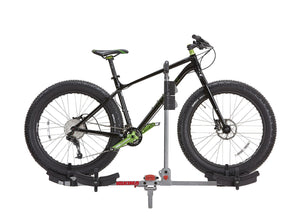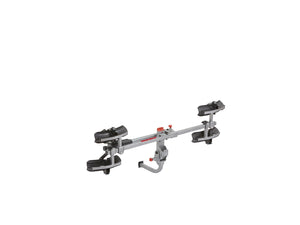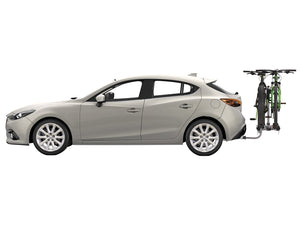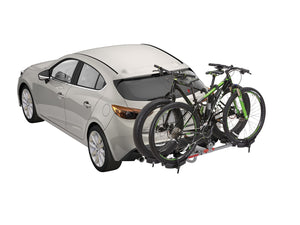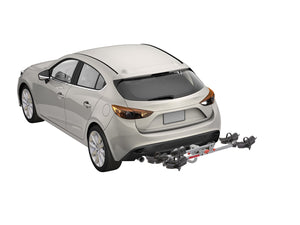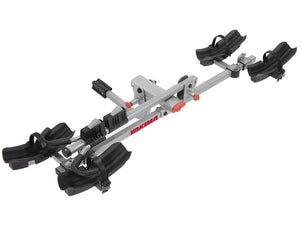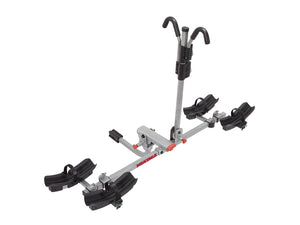 Product Details
Installation
Accessories
Spare Parts
TwoTimer
Product Details
Transport two bikes regardless of frame design, suspension, or wheel size
Ideal for fat bikes, kids' bikes and fenders
Secures bike by the frame with padded arms
Fits 1 ¼ or a 2" hitch receiver right out of the box
Low tray height for quick and easy loading and unloading of bikes
Folds down with bikes loaded for rear-of-vehicle access
Folds up when not in use
Accommodates tires up to 3" wide and up to 4.5" wide with Fat Straps (sold Separately)
Accommodates bike wheelbases up to 48"
Maximum bike weight 45lbs/20.5 kg (Total maximum load 90lbs)
Compatible with the Yakima BackSwing

and

StraightShot (2" set up only)
Product Specs
Weight: 39.00 lbs.
Dimensions: L 50.00 in x W 24.00 in x H 18.00 in
Product Features Video
TwoTimer
Installation Details
Some Assembly Required
30 Minute Install
1 1/4" Hitch Receiver Required
2" Hitch Receiver Required
Resources / Manuals
Installation Video
Add Accessories to Your Rack
Don't Worry, We Have A Spare
Very Good Rack with a Few Downsides
Had this rack for several years already. It is on the heavy side, but I guess this is good as it is sturdy, so this is actually a good thing.
BUT:
#1 The hook assembly is made out of plastic and I am concerned it might break. It already wobbles from side to side
#2 Because of vibration, I lost one of the wheel trays as the bolts get loose all the time
Aside from this, it is a solid rack. Make the hook assembly out of metal or a stronger material and find a way so that the bolts do not get loose and it is gold.
Reliable Rack
I have absolutely zero complaints about this rack. We've had this rack for at least 5 years and have hauled it over every state west of the Rockies. At first I thought it was kind of wobbly when installed into the receiver and then I realized that if you thread the bolt all the way in and then tighten it with a wrench, the wobble disappears. I just wish it was stout enough to hold the two ebikes we just purchased.
unsatisfied biker
had many zakima racks but this two timer is poorly built and vary heavy for seniors, will not buy another
not very durable
My two timer with the 4 timer extension review. first if you leave near sea or where there is some sort of salt on the road. You will see rust forming badly after one year. I am on my third tray-hook-mast assembly and on my second tongue assembly . The hook as been replaced two time. and i have passed true a lot of the strap (they get very brithle with time , the material is not flexible/durable and the design of the opening in the bottom part with to tinny material tab is very fragile.) . Service side , first time some part was remplaced under warranty but the second time i needed to pay out of my pocket. In my book if a rack is not doing 3 years without needing major part . its not a good design . Maybe the version 2.0 gonna solve the situation. I used a lot of yakima in the past with good succes but the two/four timer are not up to standard .
It's a perfectly good bike rack...
I've had this rack for years with no issues (knock wood). From 29ers to Beach Cruisers to BMX bikes...they all fit fine. I hear some of the complaints about wobbly joints and the need to retighten nuts / bolts but these are simply part of the deal with an entry level hitch rack. I simply keep bungees on hand for added tie-down security and periodically tighten things up a bit. In the end it comes down to what you need...I have multiple bike frame types / sizes for my family and didn't feel like dealing with the need to remove the front wheel for a roof mount (which I have 2 of and are secure AF. But then you have to store the front wheels inside an already packed vacation mobile which can be a pain in the arse) so I got this capable hitch mount rack. All in all it works fine. Just maintain it properly, wrap a bungee or two around the bike frames then go out for sushi with the $150 you just saved by not getting the more expensive rack.
Broken clips
I bought this rack 1.5 years ago and have two clips that have broken. I am now using bungee cords to keep my bikes attached. Don't think these should have broken so soon…plus I can't find any replacement parts. This is super disappointing. I would recommend researching a stronger more durable/reliable rack.
Overall I like it, However...
Nice and convenient. Can rack two bike in a couple minutes. But I agree with others that say the joints are rather loose so the bikes flop around a lot when going down rough roads. Also make sure you check the threaded connections as they loosen up. A big problem is lack of replacement Lock parts. Really? Out of stock for months for the hitch lock? WTH? Not cool leaving my rack vulnerable to anyone with a 3/4" socket wrench.
Can't recommend
We're going into our second season carrying two e-bikes on this rack. So far the cap on the mast has come off and the both the left and right tire strap tensioners have cracked and the bike shop that sold us the rack is working on getting replacement parts. The sliding hooks can be a struggle to raise up and down. If you are planning to carry heavy bikes invest in a better rack than this one, it's pretty much a piece of junk
Works Great!
The TwoTimer was out of stock at Yakima so I bought it from one of their authorized dealers. When delivered, the heavy cardboard outer box was damaged and I thought, here we go — damaged and missing parts. But the parts were all packaged very well inside and everything was there and in great shape. The rack went together easily, except the directions about adding the tire trays "as pictured" was vague. I had to fit the rack to a woman's bike with fenders and my road bike. My wife's bike has a longer wheelbase and weighs 36 lb. I needed to put it inside on the rack (close to the car) but the tall stabilizer hook was for the inside bike, and it is added to the mast first so it is below the short hook (you cannot switch positions of the short and tall hooks) and I couldn't quite get the tall hook to tightly grab the frame. Then, eureka!, I turned the bike to face the other direction and it fit fine using the tall hook. I had to adjust the wheel trays a bit to fit the longer wheelbase and realized I actually had two wheel trays backwards, but it was hard to tell until I had the bike perched on the rack and ran out of wheelbase room. I put my lighter road bike, as recommended, on the outside, cinched down the short hook and strapped both bike's wheels down. I read some reviews about the padded hook possibly scratching frames, so I added a piece of foam pipe insulation under each hook. I had plenty of this insulation laying around because I used a bunch of it on my bikes with my previous trunk mounted rack. The bikes would swing and clash unless all touch points were padded. My wife and I tested the rack today on a short trip to a nearby park. The bikes hardly moved on the drive over and back. The bikes were easy to remove and put back on the rack. So A+ Yakima! I did as one reviewer said and took a picture of the bikes' orientation so I wouldn't have any trouble if I forgot after not using the rack for a while. I am very satisfied with this hitch mount rack.
Mostly good for 5 years
We wanted a rack that could hold our commuters and our mountain bikes - adjustable and no concerns about fenders.
It's a pain in the butt to try and load two bikes due to the dependence on top tube heights. "How did we orientate them again?" My next rack will have independent securing hooks for sure. Like others, I've had serious rust issues, it's survived 5 years though... but it's really limping along now. Time for a 4 season rack.